News
I debated whether the headline for this story should be about the fact that Apple has now approved Bobble-Rep, an app that the company had previously rejected. The other option was to make the headline "Macworld contributor Lex Friedman can predict the future."
That's because when I first wrote about the app—which features contact information for every representative in Congress, along with bobble-head caricatures of each by MAD Magazine artist Tom Richmond—I concluded:
Stay tuned for Macworld's "Formerly-rejected app now welcomed into the App Store after outcry" story, coming soon.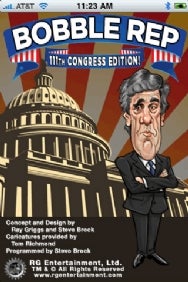 Indeed, that story's time is now. Apple has reversed course; developer Ray Griggs told Fox News that an Apple rep called him on Friday, letting him know that Bobble-Rep would be approved unchanged.