News
Don't look for any Apple executives at the next U.S. Chamber of Commerce mixer wearing any of those "Hello, My Name is…" stickers. The computer maker has resigned its membership in the business trade organisation, citing opposition to the U.S. Chamber of Commerce's stance on greenhouse gasses. The trade group has been a very vocal opponent of current legislative efforts to reduce greenhouse gasses.
Apple's resignation comes in the wake of comments last week from Chamber of Commerce president Thomas J. Donohue who said that his group supported federal legislation to reduce carbon emissions but criticised a bill passed by the House of Representatives this summer "because it is neither comprehensive nor international, and it falls short on moving renewable and alternative technologies into the marketplace and enabling our transition to a lower carbon future."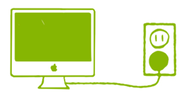 That was apparently the final straw for Apple, which has made a strong push to reduce the environmental impact of its products in recent years. In a letter to Donohue, Catherine A. Novelli, the company's vice president of worldwide government affairs wrote:
As a company we are working hard to reduce our own greenhouse gas emissions by relying on renewable energy at our facilities and designing more energy-efficient products for our customers. … For those companies who cannot or will not do the same, Apple supports regulating greenhouse gas emissions, and it is frustrating to find the Chamber at odds with us in this effort.
Apple's not the only company to part ways with the U.S. Chamber of Commerce over this issue. The Washington Post reports that three other companies have pulled out of the group because of its climate policy—Pacific Gas and Electric, PNM Resources, and Exelon. A fourth company, Nike, resigned from the Chamber of Commerce board, but remains a member.
[Hat Tip: SFGate.com's Bottom Line blog]