News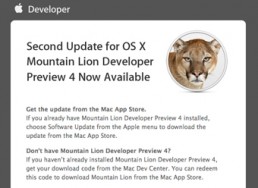 Apple has released a second update for OS X Mountain Lion Developer Preview 4, available to download for members of the Mac Dev Center.
The update includes a new security system, allowing Macs to automatically search and install Apple security updates for up-to-date protection against malware threats.
The Mountain Lion update includes a new build number, 12A256, bringing it closer to a public release.
The new security focus, with the inclusion of Gatekeeper, is in response to the Flashback Trojan attack earlier this year. Which lead Apple to change the label on its OS X website from "It doesn't get PC viruses" to "It's built to be safe".
Current reports indicate that Mountain Lion will launch in the Mac App Store on July 19 this year.