News
Noting that it has passed its 2008 target of 10m iPhones sold with two months left in the year, Apple on Tuesday reported a $US1.14 billion profit for its fiscal fourth quarter. Strong shipments of Macs, iPods and iPhones led the company to $US7.9 billion in revenue for the quarter. In the year-ago quarter Apple reported revenue of $US6.22 billion and a profit of $US904 million.
Quarterly iPhone sales were 6.8 million units. Apple CFO Peter Oppenheimer said that the total number of iPhone sales in the quarter exceeded the 6.1 million total sales of original iPhone. Oppenheimer also said the company had met its goal of selling more than 10 million iPhones during calendar year 2008. (By the end of September, Apple had sold 9.3 million iPhones. Presumably Oppenheimer was suggesting that in the intervening 21 days Apple has sold more than 700,000 additional iPhones, putting the company over the top.)
In another sign of strong iPhone sales, Apple said that it sold more phones in the quarter than Blackberry-maker Research In Motion (RIM).
"Apple beat RIM!" said Apple CEO Steve Jobs during a phone call with analysts and reporters. "In our most recent quarter, RIM sold 6.1 million Blackberry devices, compared to our 6.9 million iPhones," Jobs said. "Apple outsold RIM last quarter, and this is a milestone for us. RIM is a good company that makes good products, and so it is surprising that we could outsell them in any quarter after only 15 months in the market."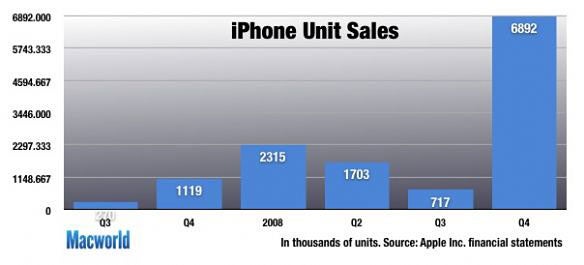 Jobs said that when measured by revenues, at $US4.6 billion in phone revenue Apple "has become the world's third-largest mobile phone supplier," after Nokia ($US12.7 billion) and Samsung ($US5.9 billion), and ahead of Sony Ericsson ($US4.2 billion), LG ($US3.4 billion), Motorola ($US3.2 billion), and RIM ($US2.1 billion).
"Pretty amazing," Jobs said. "Not bad for being in the market only 15 months."
Apple shipped 2.6 million Macs for the quarter, a 21 percent unit growth and 17 percent revenue growth over the year-ago quarter, and a five percent growth in units over the previous consecutive quarter. The company sold over 11 million iPods, which is an eight percent unit growth and three percent revenue growth over the year-ago quarter, but essentially the same sales as the company made in the previous consecutive quarter.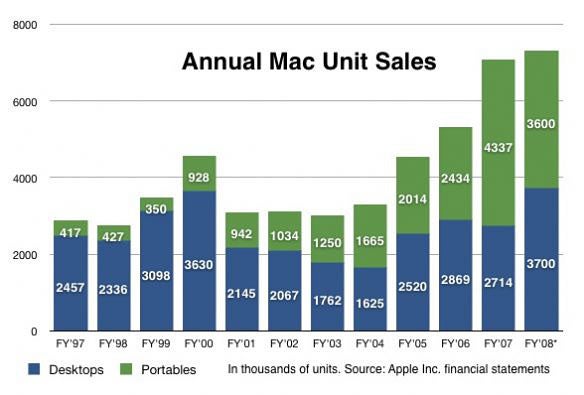 International sales accounted for 41 percent of the quarter's revenue, according to Apple.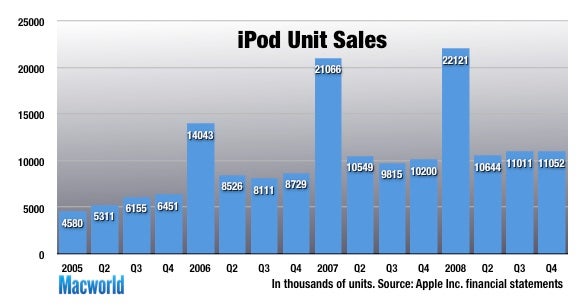 Oppenheimer said looking ahead to forecast upcoming quarters is "challenging." He said Apple is targeting revenue of $US9.0 to $US10.0 billion and earnings per diluted share between $US1.06 and $US1.35.
"We don't yet know how this economic downturn will affect Apple," said Jobs. "But we're armed with the strongest product line in our history, the most talented employees and the best customers in our industry. And $US25 billion of cash safely in the bank with zero debt."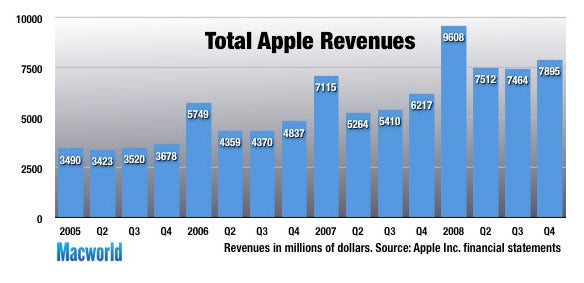 Apple stock closed down $US6.95 or 7.06 percent at $US91.49. However, the stock has rebounded in after hours trading to $US93.32, up $US1.83 or 2 percent.