News
Apple, HP and Samsung have been attacked the most by so-called 'patent trolls' within the last five years, a Silicon Valley lawyer said on Tuesday. But recent legislative activity may be weakening their power.
Patents represented five percent of all US exports in 2009, or US$89.8 billion, Michael Brody, the vice chair of intellectual property at Winston and Strawn, said during a presentation at the Hot Chips Conference at Stanford University on Tuesday. That's big business, and represents a jump in patent filings not seen since the Industrial Revolution.
Perhaps not surprisingly, the number of patents filed by semiconductor and software firms have led that charge. Chip patents, as measured by Winston and Strawn, have grown from 15,000 annually to more than 65,000 since 1990, more than 25 percent of all filed. About 125,000 software patents are filed annually.
And that kind of meat has attracted sharks.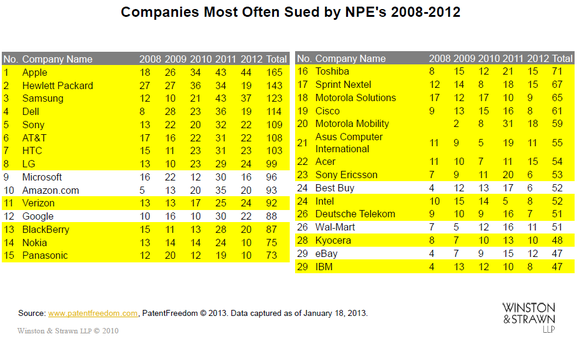 What is a patent troll?
'Patent trolls', also known as 'non-practising entities' or NPEs, don't actually manufacture products based on their technology. Instead, they develop technology themselves, patent it, or buy or license the patents from others. The key, however, is that NPEs amass a patent pool, then try to extract licence fees from target companies through lawsuits. And that sort of business has arguably stifled the growth of new businesses in Silicon Valley, some have claimed.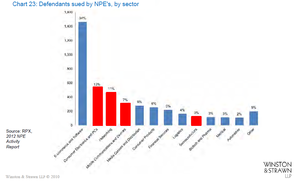 "Ultimately, a patent is nothing more or less than a licence to sue someone," Brody said. "As a result, the generator of all the economic value that we're looking at is simply that right – that right to create those lawsuits, and the value generated by those lawsuits."
It stands to reason, then, that the largest tech titans have become the most frequent targets. Apple and HP, followed by Samsung. have become the most frequent targets of patent trolls throughout the last five years, Brody said. In 2012, more than 4200 separate companies or individuals were sued by NPEs, he said.
Not surprisingly, the largest firms are the frequent target of suits; however, by the number of suits filed, the vast majority, or 63 percent, of those targeted have less than US$100 million in revenue. Those smaller companies often pulled in just one or two suits, however, while the largest companies with over US$50 billion revenue attracted an average of 7.3 suits in 2012 alone, Brody said.
(Most suits take 30 months to resolve, so that many are settled out of court; the average licensing cost for a case that goes to trial is US$7.5 million; the average licensing cost for an out-of-court settlement is US$29.75 million.)
Suits filed against larger companies also tend to demand higher amounts of damages; the mean resolution cost, including damages and the cost of the settlement, totalled US$7.5 million for companies with over a billion US dollars in revenue, and US$7.8 billion for those over US$10 billion in revenue.
That assumes the cost to defend each suit ranges from US$800,000 per suit for startups to an average cost of US$7.9 million for those firms with over US$50 billlion of annual revenue. (The median cost of those suits was much lower – US$540,000 – for the largest companies, indicating that the cost of just a few suits was over US$10 million.)
What's the harm?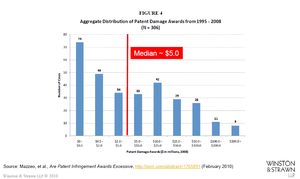 That can hurt smaller companies and larger companies alike, Brody noted. While the costs of suits to those with under US$100 million in revenue were on the order of US$200,000, those startups had far less revenue to work with.
In total, the annual cost or 'troll tax' for defending NPE suits costs US$1.04 million annually for those firms with annual revenue under US$1 billion, to up to US$57.67 million for those with revenues over US$50 billion, Brody said.
That's had a significant impact on smaller companies, with consequences that include product delays or revisions to the product itself, he said. Using a database compiled by RPX and analysed by Brody, 13 percent of those companies polled either 'pivoted' to another business model or closed up shop after an NPE suit.
So why would patent NPEs do what they do? Because it's profitable. All told, an NPE has a 24.1 percent chance of 'winning', either by negotiating a settlement, winning at court, or at appeal. Even assuming the NPE has its own costs, Winston and Strawn estimated that the 'net discounted value' of an NPE suit was US$800,000 – meaning that it was likely that the suit would itself would net at least that much just by being filed.
"That's a good business to be in, and that's why a lot of people are in it," Brody said.
That doesn't mean that NPEs are a long-term trend, Brody said. The costs to defend patents have gone down, and litigation has been introduced in Congress to minimise the impact of NPE abuses. Patent aggregators and covenants not to sue have also emerged.
Perhaps the biggest sticks, however, have simply been the fact that injunctions barring the sale of products have been rarely obtained, as have orders barring the sale and import of products by the International Trade Commission.
The NPE phenomenon may in fact be a bubble, Brody suggested. But it's a bubble with a bite. For Brody, patent litigation of all stripes means a large pay cheque. But until NPEs are reined in – or the patent system is changed – they'll remain a potential threat.
by Mark Hachman, TechHive