News
'Sarcasm is the lowest form of wit' they tell us, often neglecting to add the second clause of the sentence (attributed to Oscar Wilde, but no one seems really sure): 'but the highest form of intelligence'.
Commentators on Apple-related forums would probably be among those claiming that second part of phrase to be undoubtedly true. Because sarcasm so frequently seems to be the modus operandi of such omniscient posters, especially when they get a gift like the one they were presented with this weekend.
In case you missed it (but really how could you have?#), Apple slipped up over the weekend by forgetting to renew an SSL (security) certificate for a server that it uses for people performing software updates.
The server in question was swscan.apple.com and when hapless users attempted to enable software updates from the Mac App Store using it, they received the message, "An Error has occurred. The certificate for this server is invalid. You might be connecting to a server that is pretending to be 'swscan.apple.com which could put your confidential information at risk."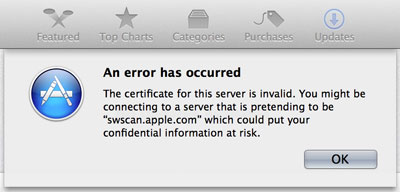 It was soon discovered that the security certificate for this server covered the period 22 May 2012 to 24 May 2014 (though why any certificate or warranty would cover the weird time-frame of two years and two days isn't explained). So the certificate had expired.
This was possibly also the problem with NSURLErrorDomain error -1012, which appeared at the same time. But no biggie, surely? By this morning, Apple had addressed the issue and fixed the certificate. So for a little while, there was a bit of an issue. It was an oversight. Could happen to anyone, right?
But when you or I are a couple of days late returning our library books, do we have to face a public forum (in this instance at MacRumors) filled with either incredulous fury or pithy one-liners such as, "Steve would have never let the Mac App Store become Snappier without the Heartbleed update render leaking, Tim" (spyguy10709) or "Apple needs to design an app where people can jot down a list of things they need to remember, with an option to add alerts when they become due. Could call it Reminders or something similar" (testcard), "Apple, it just works!" (mistasopz) or, possibly our favourite, "Rumour has it that fixing this will be Dr Dre's first assignment" (Robert.Walter).
Thank heaven for the clear calm head of one Iconoclysm, who seems to have a sense of perspective. Responding to the chap who screeched, "FORGETS!?!?!? You pay up to 3000$ for their products and they FORGET to maintain there fu*ing CERTIFICATES?!? Seriously, WTF is happening with that company??!" (all grammar, emphasis and excessive use of punctuation remain the copyright of the original poster##), Iconoclysm, reasoned, "For what, 12 hours? You act as if this went on for year."
Exactly.
#Sarcasm, naturally…
##And some more…