News
Apple is on track to break yet another record in iPhone sales. Data from Morgan analyst Katy Huberty, it appears that the Cupertino, California company is likely to ship 42 million iPhones during the January to March quarter of 2014. This would beat last year's quarter record by over four and a half million phones (the March quarter 2013 sales were 37.4 million).
For a company continually facing accusations of being doomed and selling phones that are duds (as multiple commentators have labelled the iPhone 5c), these are fairly impressive results.
Huberty's information comes from the AlphaWise smartphone tracker that follows data from Google Trends to make its sales predictions. MacRumors notes the company claims it "has been more accurate than analyst consensus in recent quarters. Analyst consensus and Morgan Stanley's own supply chain estimates have been pegging Apple's iPhone shipments for the quarter at 38 million units, but demand numbers appear likely to push that number up".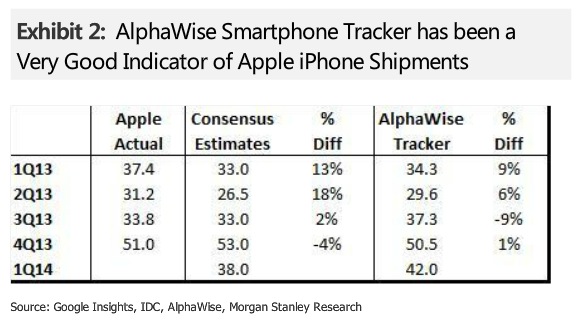 Sales of the iPhone are healthy across the globe, with the notable exception of China, where the iPhone 5c appears to be selling more modestly than may have been expected. Cnet reports that while the 5s is proving popular in the world's most populous country (China currently boasts 19.1 percent of the world's population, with India in second place on 17.4 percent and the US bringing up the bronze medal position with just 4.44 percent), it's more colourful sibling isn't getting quite the same traction.
Cnet references the China-based analytics firm Umeng for its numbers.
"The iPhone 5 is actually the most popular Apple smartphone in China at the moment, accounting for about 15 percent of Umeng's network. The iPhone 5s comes in at 12 percent, while the iPhone 5c can only muster two percent," reports the site.
The country as a whole is experiencing weaker momentum across the board, but MacRumors suggests that this may have something to do with the launch date of the iPhone 5s and 5c. Traditionally, China has seen launches some time later than everywhere else, but "Apple made strong efforts to ensure that China was included in that first wave for the latest iPhones", writes MacRumors.
The site also notes that Apple's much publicised deal with China Mobile in January has seen some positive movement in the country and has offset the constrained March quarter momentum somewhat, but not enough to turn the negative trend into a positive.