News
Things are not looking so good for Samsung in the smartphone market, especially as it faces its Apple nemesis.
Long the world's largest smartphone maker, Samsung is likely to see Apple iPhones rise to the top spot in 2015, pushing Samsung and its Galaxy and other smartphone models into second place.
What's more, Apple is releasing its first Apple Watch in April, which could knock the wind out of smartwatch competitors including Samsung, which already has several models on the market.
"No question, 2015 is going to be a challenging year for Samsung," said IDC analyst Ryan Reith.
There are many reasons for Samsung's decline and not all of them have to do with Apple's product superiority. What Samsung must do to reverse its declining share in smartphones and remain a competitor against Apple in smartwatches may sound like a complex marketing dilemma, but a lot comes down to Samsung's basic need to build a better overall brand reputation.
"Building brand loyalty and customer lock-in to a Samsung ecosystem is the major challenge Samsung faces in battling Apple, " said Jack Gold, an analyst at J. Gold Associates.
Samsung's smartphone decline
Fourth-quarter smartphone shipments show Samsung's embarrassing decline. Apple and Samsung virtually tied in global shipments, each reaching about a 20 percent share of the total market, according to research firms Strategy Analytics and IDC.
A year earlier, in the fourth quarter of 2013, Samsung had about a 30 percent smartphone market share, compared to Apple's 17 percent.
IDC said that the smartphone gap between Samsung and Apple had narrowed to 600,000 units at the end of 2014 with Samsung still in the lead. But IDC warned: "Continued success from Apple, coupled with ongoing challenges facing Samsung, could enable Apple to overtake Samsung during the 2015 calendar year."
In the fourth quarter, Samsung shipped 75.1 million smartphones, while Apple shipped 74.5 million, IDC said, well ahead of the others in the top five: Lenovo (24.7 million), Huawei (23.5 million) and Xiaomi (16.6 million).
Even in South Korea, home of Samsung, Apple surged ahead in smartphones in the fourth quarter, grabbing 20 percent of that market, up from 11 percent a year earlier, Strategy Analytics said. For November, Samsung's domestic share fell to 46 percent, down from 61 percent in September (before the new iPhones had taken their toll), according to Counterpoint Research.
Clearly, Apple did well with its new iPhone 6 and iPhone 6 Plus in the fourth quarter, but Samsung also crashed, comparatively, with its Galaxy S5, introduced earlier in the year.
"The Galaxy S5 sold horribly and had a significant impact on Samsung's profitability last year," said Kevin Burden, an analyst at 451 Research.
Patrick Moorhead, an analyst at Moor Insights & Strategy, said US buyers perceived the Galaxy S5′s plastic case as 'cheap'. Plus, the phone had new technologies that consumers didn't find valuable, such as a heart rate monitor. "Samsung has to do a better job aligning their technological capabilities with what consumers are asking for and new innovations that they can create," he said.
"Samsung's biggest issue is that they failed in 2014 to innovate and build upon the success they were having over the past five years," added IDC's Reith. "They have very much stayed stagnant, in terms of brand image, device lineup and marketing. The Galaxy S line should have been a three-year, three-device strategy, with another completely different sub-brand to follow-on. Instead, it is almost six years now and becoming stale."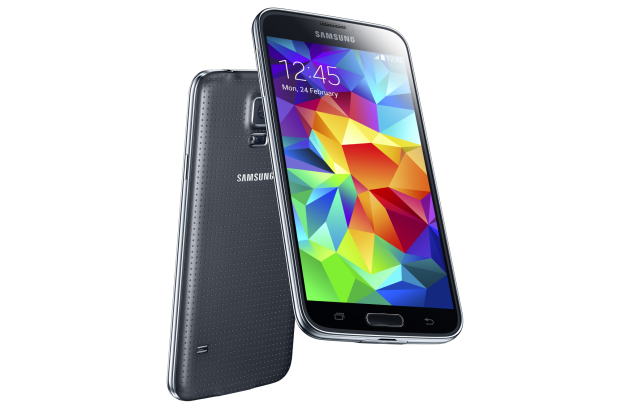 The China effect
While Samsung may need to overhaul its smartphones, there's little question it is being hurt by a range of cheaper smartphones, mainly from at least 10 Chinese manufacturers.
IDC put Lenovo, Huawei and Xiaomi – all based in China – in third, fourth and fifth place in total shipments in the fourth quarter behind Samsung and Apple.
Apple has always been seen as a premium brand and hasn't competed in the low-cost smartphone segment. Even so, Apple walloped the smartphone market in China in the fourth quarter of 2014, doubling its sales over the prior year, and accounting for 22 percent of Apple's overall sales for the quarter. Apple managed to attract customers to its high-end iPhones in China, a feat that's been out of reach for Samsung.
"The case in China is less that Samsung is getting pushed around by Apple as they are feeling the pressure from Chinese vendors that are hungry and satisfied with low-digit profit margins," Reith said. "At the same time that Apple is clearly not letting up, Lenovo, Huawei and Xiaomi are all gunning for the top."
While Samsung gets drubbed for not being more innovative in smartphones, it is simply harder to be innovative with lower-priced smartphones that cut out expensive features, Gold noted. At the low end, "you have newcomers with new models like those from Xiaomi that have stolen a lot of Samsung's thunder," he said.
Smartwatches and the Apple Watch
As if Samsung didn't have enough on its plate in competing with the iPhone, Apple is expected to launch its Apple Watch in April.
Samsung ought to be prepared for competition from the Apple Watch, having introduced six smartwatch models and smart fitness bands in just over a year. The latest smartwatch, introduced last August, was the Gear S, which is powered by the Tizen operating system, not the Android Wear OS that powered Samsung's previous Galaxy Gear S smartwatch.
The newer Gear S (right) has a 2in, curved Super AMOLED display with 360 x 480 resolution, but no camera as in earlier models. However, it is Samsung's first smartwatch with 3G cellular connectivity, allowing calls directly from the timepiece.
One big difference between the Gear S and the Apple Watch is that Apple will incorporate NFC (near-field communications) in its timepiece, which allows quick payments with Apple Pay. Kevin Harwood, a consultant for Mutual Mobile, which designs mobile products, said recently he expects the NFC in the Apple Watch to be a major selling point, and that Samsung might try to duplicate it.
The Tizen difference
With Tizen in its Gear S, Samsung is showing that it wants to find alternatives to Android. Samsung also has said it will use Tizen in its future smart TVs and recently launched the Samsung Z1 smartphone on Tizen in India.
Gold said Tizen, a lightweight operating system, makes sense from an embedded technology standpoint in TVs and smartwatches, but less sense for higher-end devices like smartphones. In the smaller devices, Tizen is more adaptable than Android and can run more efficiently with devices that have fewer or less sophisticated hardware components, he said.
Samsung has a deep knowledge of the Tizen OS and may be able to improve the user experience and performance while also using fewer hardware resources or even a smaller processor, Gold said.
But the biggest commercial benefit of the Tizen is that it gives Samsung an alternative to Android, and makes Samsung less dependent on Google. "Tizen gives Samsung differentiation, while Google will enforce much more uniformity across various manufacturers that want to use Android Wear for watches," Gold said.
Whether the Tizen difference resonates with smartwatch buyers is unclear. If Samsung can produce a smartwatch with superior battery life and at low cost with Tizen, it could be important. So far, battery life in smartwatches is limited, sometimes requiring daily recharging, depending on the model. As for cost, early-adopter smartwatch buyers have paid $300 or more, atop of the cost of a smartphone that gets paired via Bluetooth with the smartwatch.
Apple Watch legitimises Samsung's smartwatches
The overall market for smartwatches is expected to be a small fraction of the smartphone market, but that doesn't mean it won't be an enormously important market to both Samsung and Apple.
Both companies are expected to put major marketing dollars behind their smartwatches because of the devices' connections to a wide variety of fitness and other applications, as well as to more expensive smartphones. They will be seen as the must-have fashion and gadget item for many tech-savvy buyers, and will offer either company a chance to create a greater brand connection.
On that score, Apple would seem to be the clear winner because an Apple Watch could delight its loyal Apple base eager for new technology. Some analysts have predicted as many as 30 million Apple Watches will be sold in the first year, about 75 percent of all smartwatch sales for the same period. About 10 million smartwatches sold in 2014, Gartner said, with Samsung taking the largest share.
Apple's big splash with its Apple Watch will undoubtedly legitimise the entire smartwatch category. Apple has said it will have 34 different models, starting at US$349, which matches the initial price of the Gear S.
While Samsung might be envious of the enthusiasm for the Apple Watch, Apple's entry may help Samsung – for a time.
"Samsung's smartwatches are going to benefit from the Apple marketing machine," Burden said. "Apple has a way of legitimising markets in the eyes of consumers, and Apple will push a rising tide that lifts all ships."
Samsung might see Apple as its biggest smartwatch competitor, but the Apple Watch marketing storm will probably push traditional watch makers, such as Tag Heuer and Swatch, to enter the market. "They'll see that the smartwatch market is not likely to go away and these vendors will want to have a stake," Burden said.
"The competition Samsung faces will only become more fierce, but Samsung should benefit from Apple's Watch launch in the short run," Burden added.
That could be small comfort, given all the disappointing news Samsung has faced on the smartphone front in recent months.