News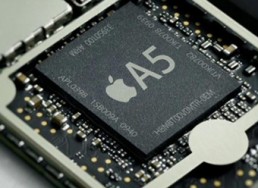 Apple is expected to spend US$27 billion on semiconductors in 2012, maintaining its position as the world's largest chip buyer, buying around 50 per cent more than Samsung, the nearest rival.
IHS iSuppli's head of electronics and consumer research, Dale Ford, that he predicts Apple will remain significantly ahead of Samsung through 2013, reports CNET.
Speaking at the iSuppli Technology, Media and Telecommunications Summit, Ford said that Apple spent about US$9 billion on semiconductors in 2009, which was less than HP and Samsung. But since 2010, Apple has been top of the pack and iSuppli predicts that Apple will spend US$27 billion in 2012 and US$29 billion in 2013.
Samsung's chip spending is predicted to reach about US$18 billion in 2013, said Ford.
"Pretty much everybody has to take pretty conscious account of where Apple and where Samsung will be," said Ford when discussing the situation in which companies are trying to purchase the same chips.
Intel is the top semiconductor supplier, with a 15 per cent share in of the market in the fourth quarter of 2011. Samsung is runner up, accounting for approximately 9 per cent share of the semiconductor market.