News
UPDATED: New images of the Moscone West Centre have been added to the end of this article.
The Moscone West Center in San Francisco is being covered in colourful WWDC banners in the lead-up to Apple's developers' conference next Tuesday, which the company will be streaming live on its website.
The banners reflect the same design as the promotional material released by Apple a few weeks ago, with a pixelated, kaleidoscopic background surrounding a snippet of Apple's logo. The slogan for this year's event – "Write the code. Change the world." – also adorns the banner.
Last week Apple updated the WWDC app for iOS devices with a map of the conference and a partially-filled schedule.
It is expected that iOS 8 and OS X 10.10 will be revealed, but the latest rumours suggest Apple may show off a home automation system. The system could enable iOs users to control the lights, heating and other household items from their smart devices.
iOS 8 is rumoured to include a new fitness and health application, HeathBook.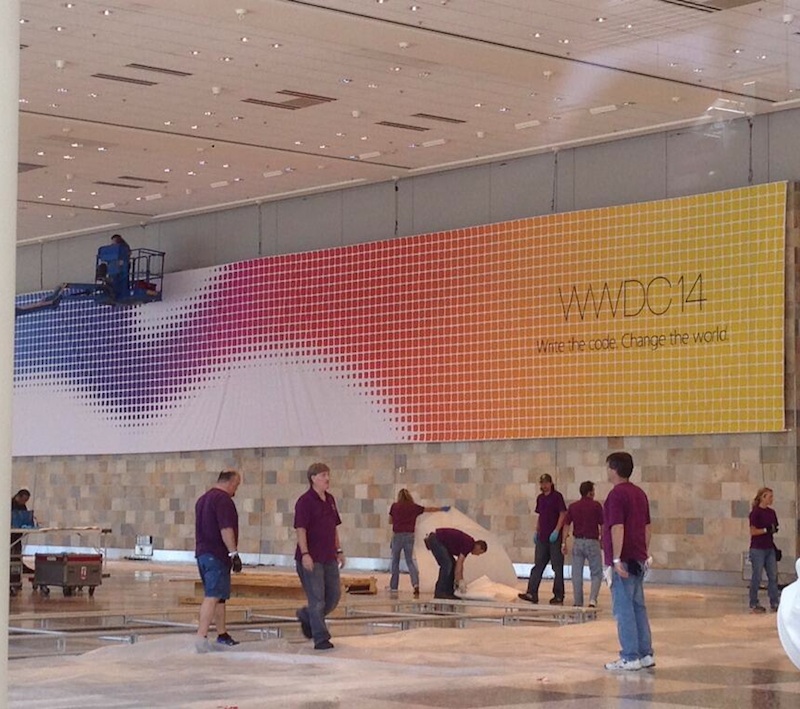 Source: MacRumors. 
Apple has also announced it will live stream the event from its website for those who cannot make it to San Francisco or were unable to purchase tickets in the ballot.
The live stream will begin at 3am AEST on Tuesday and is available for Safari users, Windows machines running Quicktime 7, Apple TV owners and iOS devices.
Macworld Australia will also be running a live blog from the event, so tune in next week. We will also bring you a full breakdown of proceedings, and detailed analysis on everything Apple will unveil.
Images of the Moscone West Center have been published by MacStories editor Federico Viticci, examine them below.