News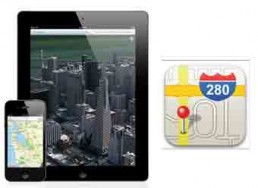 Apple is on a recruitment drive to develop its native Maps app for iOS 6, reportedly 'luring away' Google Maps employees to help refine their mobile strategy.
According to a report by TechCrunch, Apple wants to improve its Maps application drastically, using new concepts and enabling advanced capabilities, following criticism of its performance with the launch of iOS 6 on September 19.
The report also quotes a contractor who worked on Google Maps, confirming allegations that Apple is pursuing contract employees who helped develop Google Maps:
"Many of my co-workers at Google Maps eventually left when their contracts ended or on their own accord. One guy looked around for other GIS work and ended up at Apple when a recruiter contacted him," the unnamed source reveals.
"He had heard rumors for a while that Apple was going to develop its own in-house mapping platform, and given his experience at Google, he was an easy hire. Apple went out of their way to bring him down to Cupertino and he's now paid handsomely."
The source told TechCrunch similar instances like this were happening regularly, but that Apple had a long way to go before it could compete with Google Maps, by offering an equal or better nativr version on iOS 6.
MacRumors points out that the success of Apple's own Maps application was short-lived, with "significant criticism of the quality of the data in many parts of the world."
Apple has responded to user complaints about its Maps application, speaking with tech website AllThingsD:
"Customers around the world are upgrading to iOS 6 with over 200 new features including Apple Maps, our first map service" Apple spokeswoman Trudy Muller said in the statement.
"We are excited to offer this service with innovative new features like Flyover, turn by turn navigation, and Siri integration. We launched this new map service knowing it is a major initiative and that we are just getting started with it. Maps is a cloud-based solution and the more people use it, the better it will get. We appreciate all of the customer feedback and are working hard to make the customer experience even better."
If Apple's strategy is to poach its rivals' workers, it has a large pool of talent to choose from. Google's Map subsidiary currently employees a fleet of 7000 staff, with 1,100 full time workers and 6000 contractors. according to Business Insider.