News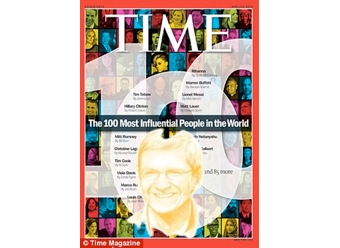 Apple CEO Tim Cook has been recognised by Time Magazine as one of the 100 Most Influential People in the World for 2012 – following on from previous years in which Steve Jobs featured on the annual list. Author Walter Isaacson also made the cut due to the incredible success of his official Steve Jobs biography, released late last year.
Each entry on Time's Most Influential List  appears next to a description penned by somebody close the individual. Cook's feature was introduced by former US Vice President and Apple board member Al Gore, who praised the CEO's  humble nature and determination to take on the role of leadership at Apple undaunted by the mammoth legacy left by Jobs.
See Al Gore's full dedication below:
"It is difficult to imagine a harder challenge than following the legendary Steve Jobs as CEO of Apple. Yet Tim Cook, a soft-spoken, genuinely humble and quietly intense son of an Alabama shipyard worker and a homemaker, hasn't missed a single beat.
Fiercely protective of Jobs' legacy and deeply immersed in Apple's culture, Cook, 51, has already led the world's most valuable and innovative company to new heights while implementing major policy changes smoothly and brilliantly. He has indelibly imprinted his leadership on all areas of Apple — from managing its complex inner workings to identifying and shepherding new "insanely great" technology and design breakthroughs into the product pipeline.
Cook's personal discipline, physical regimen and work hours reflect a philosophy summarized in his 2010 Auburn University commencement speech, in which he quoted President Lincoln: "I will prepare, and someday my chance will come." Highly ethical and always thoughtful, he projects calmness but can be tough as nails when necessary. Like the great conductor George Szell, Cook knows that his commitment to excellence is inseparable from the incredible ensemble he leads at Apple. Szell was noted for saying, "We begin where others leave off."
Cook's chance has come. What a beginning!"
Tom Cook and Walter Isaacson appeared alongside other influential figures, such as Hilary Clinton, Harvey Weinstein and Adele.