Help
Simone Nixon writes with a very common question about Photos for iOS (which applies to OS X, too):
I just edited my albums on my Mac. The photos are in a specific order in certain albums, but this hasn't synced to the iPhone or iPad. The photos are still in random order on those two devices
I haven't been able to replicate this: all photos in my albums (tested under iOS 9.3 and OS X 10.11 El Capitan) retain their order synced using iCloud Photo Library. It's possible there's corrupt data. You can rebuild the library by quitting Photos, then holding down the Option key while launching Photos. You'll be prompted to rebuild. This can take a while for libraries with thousands of images.
Because you intentionally reordered images you shouldn't be affected by a sorting option you can enable, because manual changes override the option. With an album selected, you can select View > Sort and choose one of the 'keep' items that locks image sorting by a particular criterion. That can be by oldest first, newest first or the photo's title.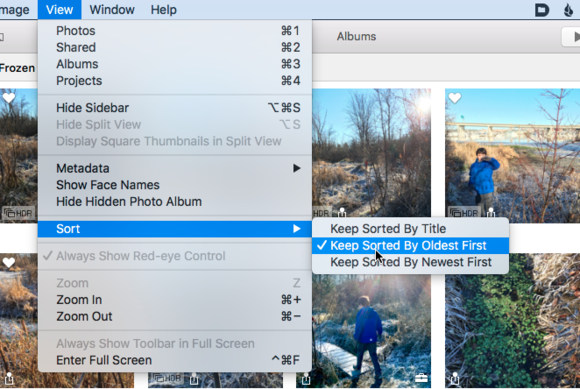 Some people also see a related issue: the order into which they sort their albums in Photos on one device doesn't sync and isn't retained to others. I tested this in my setup and found that all albums remained in the same sort order and that changing the order in one place was almost instantly propagated to another device. If this stops working, however, I haven't seen any solution to set it right.