Help
If your favourite website uses Flash, we may have the answer with iSwifter for your iPad.
Step 1: Play videos embedded in web pages
Many websites contain video which comes in different formats, but one common video format that the iPad notoriously can't play is Flash (Apple claims that it is buggy and runs down the battery). With the iSwifter app, you can play Flash-based video content within the web page.
Step 2: Flash-based websites
Enter the URL for a website (or use the Google search to locate the one you desire). The iSwifter app correctly displays the website, although it does take much longer for the screen to appear than normal. Click on the play button in a video clip and the video should start playing.
Step 3: Multiple Flash components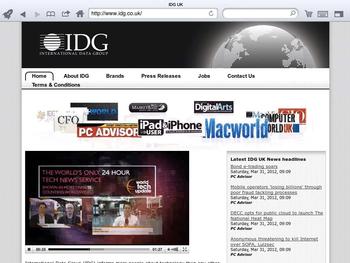 iSwifter displays Flash animations as well as video. You can interact with these animations (if they are designed to be interactive) by using two-fingers, which mimics a mouse click and drag over the animation.
Step 4: Playing Games
Games such as PopCap's Bejewelled are available as downloads from the App Store; but started as web-based games via their website (www.popcap.com). You can play these Flash-based web games on your iPad with help from iSwifter. The response is a little slow, but still very playable.
Step 5: Chat clients
Flash-based chat clients, such as Penguin Chat, appear to work: however you will need an external wireless keyboard because the on-screen keyboard doesn't recognise a text box when it's been implemented in Flash.
Step 6: Cautionary tale
Having Flash available on your iPad will not bring everything Flash-based to your iPad. Some of the games at www.arcadepanic.com, for example, rely on a mouse to be truly playable and don't adapt well to the touch screen.