Help
If you need to take notes while travelling or out of the office, the free Simplenote app is a helpful tool to connect with your work computer and other devices using cloud. Simplenote synchronises all devices, so you will never be without.
Step 1: Getting started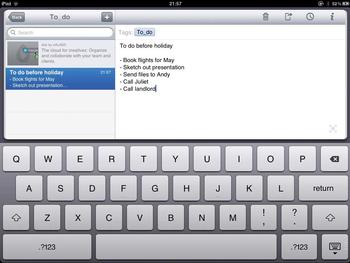 After downloading Simplenote, you'll need to set up an account before you start writing – your notes will then sync automatically to the cloud whenever your device is connected, so you can access it from any other device with the app on it. Tap the plus icon to create a new note and get writing.
Step 2: Top priority
Notes are arranged in your cascade with the most recently edited at the top. Keep important notes to hand by 'pinning' them at the top of your list: tap the 'I' icon in the top right-hand corner and flicking the 'Pin To Top' slider on. The 'I' icon is also the place to go to get a word count.
Step 3: Order order
Tags are a useful way of keeping your notes organised so you can sort through them at speed: enter a word or phrase (without spaces) in the top bar of a note to create it as a new tag. Tapping 'Back' in the corner of your notes cascade shows you all your tags. You can also choose to share all notes in a particular tag.
Step 4: Tuned for teamwork
Simplenote avoids the default social sharing options – Twitter, Facebook and so on – in favour of a more serious and predictably stripped-back, collaborative toolset. Share a particular note by entering an email address in the tag bar or email your completed version by tapping the arrow icon.
Step 5: Going live
To share your note in an uneditable format, select Publish web Page: this uploads your work to a dedicated page on Simplenote's website and gives you a link that you can copy and paste to share with others.
Step 6: Lock it up
Whether you're writing a journal, keeping a list of gift ideas or are simply really touchy about others seeing your work before it's ready, there are all sorts of reasons you might want to keep your notes to yourself.