Help
So, you like your friends, and you're happy to make movies for them in iMovie, but you could do without all the extra photos you have to import into iPhoto to make it all happen — and then track down and delete when you're done? Never fear: there is a better way. 
There's a common misconception that just because iMovie has a Photos browser that displays an iPhotos entry, adding your photos to iPhoto and then using this Photos browser is the only avenue for accessing your images. Not so.
If you don't want your iPhoto library to be cluttered with images you have no interest in keeping, don't import the photos into iPhoto in the first place. Rather, fling them into a folder somewhere and when you're ready to place the images in iMovie, drag them from the folder directly into the iMovie project.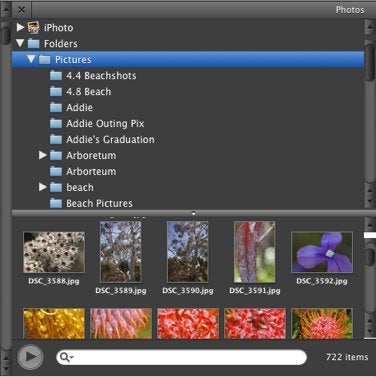 Make the Media browser more useful by dragging folders to it.
It's also worth noting that the various iLife and iWork applications' Media browser isn't sacred or exclusive. You can drag folders full of files into these browsers' panes. For example, we reuse canned bits of audio and still images for the Macworld Podcast. Rather than gunk up my iPhoto and iTunes libraries with this material, I've created a central Macworld Podcast Assets folder. Within that folder I've created separate folders for the audio and video files. I've dragged those folders into GarageBand's Media browser making those assets available to me without the muss or fuss of digging through my iPhoto or iTunes libraries. Same idea with iMovie—drag folders full of the material you need into the browser and you're done.
And when you've finished with that material it's easily removed. Just select it and Right (Control) click on it and choose the Remove command.