Help
Apple's minimalist approach has kept the number of different models relatively low, but it's still important to know which MacBook you have when trying to figure out things like how much RAM it can hold. Some web sites might claim the limit is 2GB, others 4GB, depending on your specific model; here's how to know for sure.
The reason for the discrepancies, of course, is that Apple issued several 2.0GHz MacBooks with Intel Core 2 Duo processors. Some support just 2GB of RAM and others, 4GB.
An easy solution is to download a copy of Ian Page's free Mactracker to help you identify which MacBook you have. It couldn't be much easier to use.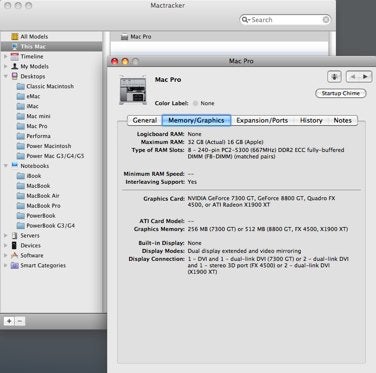 Mactracker
Just launch it on your MacBook, select the This Mac entry in the list of Mac models, and double-click on the name of your MacBook on the right side of the window. Click the Memory/Graphics tab in the window that appears and look at the Maximum RAM entry. Here you'll learn how much RAM your MacBook can handle.