Help
Email brings us instant communication with the world at large. You can send an email to pretty much anybody these days; and get a reply within hours rather than days. It's always pleasing to hear the chime of new mail, though not so pleasing if all you've received is junk mail.
In this masterclass, we'll take you through a number of practical tips and tricks that will help you bring order to your email. We're working primarily with Outlook 2010 (a component of Microsoft Office: Mac 2010), but a number of our techniques are applicable to Mail within Mac OS X Lion.
Much of what's explained here applies equally to Entourage and the earlier Snow Leopard version of Mail too.
1. Searching for email
If you're looking for email related to a particular subject, Outlook's search function lets you customise the inbox view so you see only relevant emails. Here, typing 'Macworld' in the search box (top right of the window) makes it quicker to navigate to the specific message we require.
2. Categorise your mail
To make mail easier to find apply word and colour categories, then filter the inbox to show messages from that particular category. Click Categorize, then Add New and name the new category. Click Filters, Category, then the category name and the inbox displays only messages from that category.
3. Block email addresses
If you receive large amounts of mail that you'd rather not, you can block the sender. Select the email from the sender you wish to block, click Junk, then Block Sender. You can check that the address has been added to the Blocked Senders list, choose Tools > Junk E-mail Protection, then select Blocked Senders.
4. Levels of protection
Outlook offers four levels of protection against junk mail: None, which disables the function; Low, which catches the most obvious junk; High, which catches most junk mail but also some valid messages; and Exclusive, which ensures you receive only messages from those in the address book/Safe Domains list.
5. Safe Domains
If you add a domain to the Safe Domains list, it will never be marked as junk. To view the Safe Domains list choose Tools > Junk E-mail Protection, then select Safe Domains. Enter the domains you wish to mark as safe, separated by a comma, then click OK. This confirms that the details on the list are correct.
6. The Rules Manager
The Rules Manager lets you set Outlook to perform a particular series of operations based upon the sender's email address or email content. Go to Tools > Rules. Next select the type of account you have – either Exchange (if it's a business account), IMAP (such as Gmail) or POP (essentially everything).
7. Kill file
A kill file will automatically delete incoming messages from a particular user. To create one, click the add icon next to your email account type. Give the rule a name – eg, Kill File. Under 'If' select From, then Contains, then enter the email address to automatically delete mail from. Under 'Then' select Delete message.
8. Send mail to a folder
You can move email from a particular sender to a folder. To create a folder, Control-click within the list of folders on the left, select New Folder, then name it. Create a rule. Under 'If' select From, Contains and enter the email address. Under 'Then' select Move Message, then select the folder to move to.
9. Mark as junk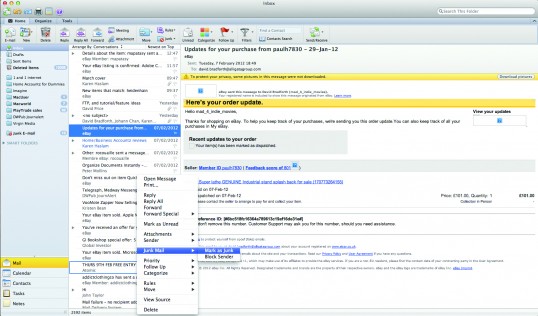 If spam manages to get through the junk settings, you can tell Outlook to move it to the junk folder. Control-click on the message to be marked as junk, select Junk Mail, then Mark as Junk. This will ensure that the next time you receive an email from that sender it's also moved to the junk folder.
10. Out of office
Unless you have an account on a Microsoft Exchange server, you can't directly use Outlook's built-in Out of Office Assistant. You can, however, fake it: create a new rule, ignore the 'If' section and within 'Then' select Reply, then Reply Text and enter the text to reply with.
11. IMAP or POP
IMAP accounts let you leave messages on the server until you choose to delete them; POP accounts tend to download the mail from the server before you work with it. If you have an iPhone, IMAP is best for Outlook as your shared account will be kept up to date on both phone and Mac.
12. Smart Folders
A Smart Folder changes the view to list only messages that meets the criteria for that folder. By default, Outlook has three: Flagged Mail (mail flagged for follow up), High Priority Mail (mail marked as high priority) and Overdue Mail (messages that you've not carried out an action on).
13. Organise by conversation
You can view messages in two ways: As a conversation, where all related messages are presented in one window that you can quickly scroll through, or as individual messages. To change the view, click Organize, then select Conversations to show that view or deselect it to see each email.
14. Arrange your email
With Outlook you can arrange mail in several ways. If you wish to arrange email by Date Received, click Date Received; you can also arrange the view by Account, Attachments, Categories, Status and others. Click Organize then Arrange By and you can browse through the list of options.
15. To preview or not to preview
In Outlook you can either read mail as it comes in or just read each mail as you open it. Click Organize then Reading Pane and select either Right or Below to have the pane visible, or Hidden if you'd rather keep it hidden. If the pane is hidden, you'll need to open emails to be able to view them.