Features
In the wake of the SuperBowl yesterday in New Orleans, discussion about Super Bowl commercials is always a hot topic and often this leads to Apple—specifically, Apple's minute-long 1984 ad.
Apple has a long history of commercials. Below are my 24 favourite Apple ads. Click on the Watch this ad link to open a separate web page with video.
Under the covers
As a father of two, I find great joy in showing my sons what technology can do. The excited little boy on a FaceTime call with Santa reminds me of the times I've shown my sons how to do stuff on the computer, and how empowered my sons feel. My current all-time favourite Apple ad.
WWDC 2009
Lose yourself
1984
Lemmings
Security (Japanese)
Siri and John Malkovich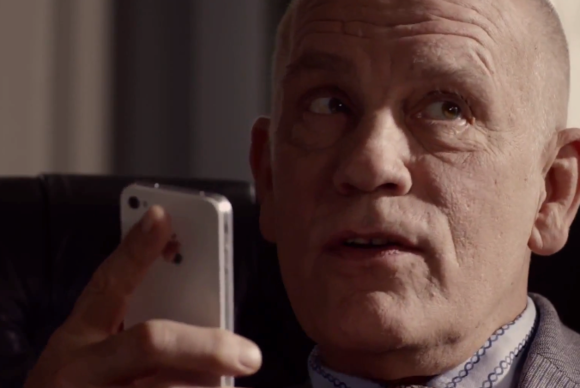 Who is Newton?
Sad song (long version)
The long version of this ad, featuring a country song sung by PC (John Hodgman), was on Apple's Website. The reaction of Mac (Justin Long) is the exact same reaction I have when I hear songs about the greatness of the Mac or the horrors of Windows—get me outta there. But John Hodgman cannot be denied.
George Clinton
One constant in Apple's ads: the "cool" factor. Is there anyone on this Earth cooler than George Clinton? When George is making his P-Funk, he's making it on a Mac. Sweet.
Cheese
This iPhone 5 ad highlights the camera's Panorama feature. It's a cute commercial, but anyone who's worked with elementary school kids knows that you can never gets a groups of kids this large to stand still long enough to say, "cheeeeeeeeee—huff—eeeeese!"
Toasted bunny
Intel fab technicians called the outfits they had to wear "bunny" suits. In 1997, Intel started to use BunnyPeople in its ads. This is one of those ads that I didn't really care for when it first aired, but looking back it has new meaning. Especially when you see the ad that's next on my list.Watch this ad (YouTube)
Intel transition
Watch the skies
It's baffling to think that Apple thought a wireless router deserved a commercial. Instead of demonstrating what it does, the ad focuses on the AirPort Base Station's UFO-like shape. I do applaud the effort, however, and the result was a quirky little commercial.
DJ Qbert
I don't find the Switch commercials interesting, but of all the Switch commercials, I like this one featuring DJ Qbert, because he's a San Francisco native (I'm a SF resident). I'm partial to seeing the local boys do well. The Tony Hawk ad is a bit more entertaining, thanks to some skateboarding footage. (Obligatory Ellen Feiss mention.)
Labor day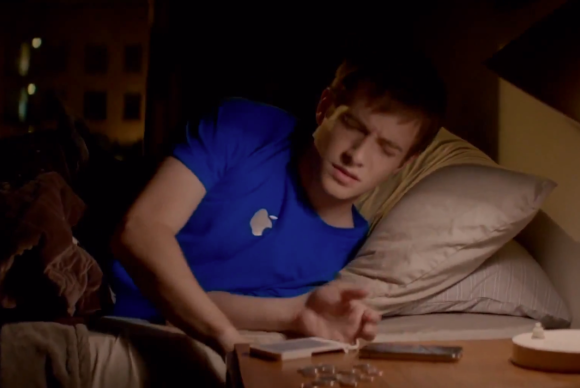 During the 2012 Summer Olympics, Apple introduced a series of Genius ads that were immediately panned by critics and Apple fans. The ads were cheesy, uninspired, and very similar to lots of PC ads.I find the Labor Day ad amusing. The commercial confirms what I always suspected—like professional athletes, Apple Geniuses wear their uniforms at all times, even when asleep.Watch this ad (YouTube)
Homemaker
It's easy to make fun of old ads, because they often showcase outdated social norms. Here, we have Dick Cavett talking to a woman about how the computer is great for those "pesky household chores." But the woman is more interested in gold futures and her "small steel mill," which Cavett finds surprising. And how about that red apple on the desk?
Hal
This commercial starring the computer from 2001: A Space Odyssey aired during the 1999 Super Bowl. At the time, the media started to latch on to the Y2K bug story and the impending doom it would cause. Apple said that the Y2K bug didn't affect Macs—and as it turns out, it didn't really affect PCs, either.Coincidentally, 2001: A Space Odyssey comes to mind in the next Apple ad in this slideshow…Watch this ad (YouTube)
Waltz
Set to "On the Beautiful Blue Danube," (which is prominently used in 2001: A Space Odyssey) Apple's latest iPhone ad promotes the availability of the iPhone on two carriers. The commercial features actions choreographed to the music on a pair of iPhones. The ad is not as mesmerising as the outer space scenes in 2001, but the music still makes the commercial fun to watch.Watch this ad (YouTube)
Alan Greenspan
Two years before he became chairman of the Federal Reserve, Alan Greenspan made this Apple commercial. I wonder if he was still using an Apple IIc during Black Monday in 1987, or during the 1997 Asian financial crisis. Maybe he was still using his IIc during the dot-com boom and bust in the late 1990s and early 2000s.
Better results
There were many entertaining Get a Mac ads, but this one cracks me up. It goes for the easy punch line, sure. Nothing wrong with that. The Get a Mac ad series ended in 2010 after a four-year run.
1234
I like this iPod nano ad, but when it was first released, it drove me crazy. It seemed like it was on TV all the time, and the song "1234" is so catchy it sticks in your brain and it never goes away until the next iPod-ad-with-catchy-tune appears. And the complete music video of Feist's "1234" is quite entertaining.
Crazy ones
The Think Different campaign began during a down period in Apple's history. The Crazy Ones commercial cast Apple in a new light.During the finale of Seinfeld, Apple aired a 30-second version of this ad that ended with a shot of Jerry Seinfeld. Nothing against Seinfeld, but I prefer the original, 60-second version that ends with the girl who opens her eyes.Watch this ad (YouTube)