Features
Apple's iOS 6 update for iPad, iPhone, and iPod touch is set to launch in the coming months. It promises over 200 new features, many of which have been highly publicised and dissected across the internet.
But here are nine features you probably haven't heard of.
Wi-Fi plus Cellular
Up until now apps have been able to use Wi-Fi or Cellular data, but not both at the same time. So if you started downloading a web page on a Wi-Fi connection and moved to a 3G connection, Safari would lose the page (same goes for downloading music). A new Wi-Fi plus Cellular changes all that so the whole experience is much more seamless.
Maps zoom goes all the way out to space
The new Maps app can zoom all the way out to show a picture of the earth (at least when it's in Satellite mode).
It takes privacy very seriously
There's a wealth of new privacy options. You can limit Location Services per app, and switch off services like Cell Network Search and Location Based iAds independently. It also lists all the apps that have requested info from Contacts, Calendars, Reminders, and so on, and you can limit access to each app.
Downloading apps doesn't close the App Store
It's a little thing, but when you download an app it no longer bounces you out of the App Store and to the Home Screen.
Revamped Sharing Menu
When you click Share you're now presented with an overlay (almost full screen on iPhone) that displays options like Mail, Message, and Print as large App-sized icons that are much easier to select.
Safari for iPad has 20 tabs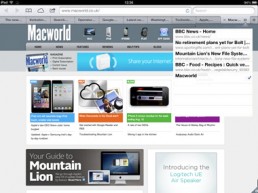 You can open way more tabs than nine tabs in the iPad version of Safari. Instead of cutting you off at nine tabs, the last tab on the right turns into a drop-down menu and it now supports up to 20 tabs.
You choose any song as an alarm
You can now choose any song you want from the Music app as the alarm to wake you up in the morning.
The Dictionary is stored in iCloud
The iOS dictionary is now stored in the cloud so when you type out words repeatedly they appear on all devices.
The Shutdown Spinner icon is now Retina display ready
When you shut down the device the Spinner (the shutdown spinning icon) is now retina display optimised. It's the small things that count.