Features
The great thing about software is that it makes your Mac your own. Everyone has their favourite applications – the ones that boost their personal productivity in a way that works perfectly for them. Whether you're a plumber, accountant, consultant or student, putting the right software on your Mac will convert it from office furniture to a powerful tool.
Apple has always understood that great hardware is only half the equation. That's why it focuses on software development as well.
Trying to complete a full round-up of a market with thousands of options is impossible. So we've concentrated on a few key areas. We figure that these are application categories that most people will dabble in as Mac users. Although some of the programs are quite pricey, we've tried to find good, free alternatives wherever possible.
UTILITIES
We've all got a Swiss Army Knife of little apps that we use regularly. For us, they are essential tools while others wonder what all the fuss is about. Here are a few that we like for their simplicity and usefulness.
Onyx
FREE
Onyx can delve into a bunch of those complex system settings that are usually reserved for people with a Black Belt in Terminal.
Onyx can verify the Startup Disk and the structure of its system files to run system maintenance tasks, and configure some hidden parameters of the Finder, Dock, QuickTime, Safari, Mail, iTunes, Login window and Spotlight. It can reclaim disk space by clearing caches and removing unneeded files and folders.
Even though Onyx can change all sorts of things that are ordinarily hard to do – like changing the style and alignment of the Dock or hiding the Spotlight icon – every action it takes is logged so you can retrace your steps easily if you've changed something by accident.
Producteev
FREE
There are literally hundreds of to-do list applications out there. We like Producteev because it's multi-platform so we can manage our tasks from anywhere at any time. Producteev has an iPhone/iPod touch app and an OS X app. We have it installed on a MacBook Air, iPhone and iMac so that we can access our tasks from anywhere. For the iPad and non-Mac systems, there's a fully-featured web app that delivers all of Producteev's functionality – handy if you're working at a client site.
The application allows you to create tasks easily. If you include a day or date in the task title, Producteev automatically schedules the task. For example, 'Call Dave on Wednesday' puts an item into our list titled 'Call Dave' and sets the due date as Wednesday.
As the Producteev log-in is an email address, email sent from your address to task@producteev. com is automatically shunted into your task list so you can simply forward email to the task list regardless of what email system you use.
WriteRoom
$10.49
If you spend a lot of time typing and want a distraction-free writing tool then WriteRoom is perfect. Although it supports a range of formatting and text manipulation options, WriteRoom does it with a clutter-free interface.
The writing screen can be configured to suit your needs. We like green text on a black background – we grew up in the days of mainframes and terminals – but you can alter the colours and typefaces to suit your preferences. There's also a print layout mode so you can see what your document will look like when you hit the Print command.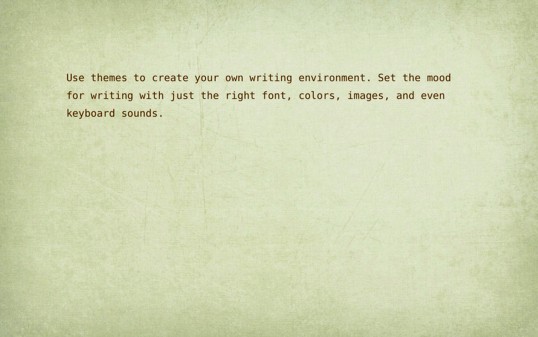 WriteRoom supports plain and rich text so you can use it to create formatted documents. However, it's not a design or layout tool. If you need something that lets you play with graphics and other complex elements then look elsewhere.
CuteFTP Mac 3 Pro
US$39.99
FTP is pretty boring but it's still an important tool for sending and receiving files over the Internet. CuteFTP has been around for many years and is a great tool for accessing FTP servers.
Once installed, CuteFTP allows you to create an address book of FTP sites you can connect to. The only trick we found was to ensure that you had everything right and omitted the "ftp://" that usually prefixes FTP addresses. It supports both anonymous and authenticated connections with SFTP servers as well as WedDAV services – handy if you want to connect with cloud-based file storage systems.
The user interface is easy to navigate. It provides two panes of information; one for local files and another for the remote server. However, we could drag and drop files to and from any Finder window from CuteFTP.
SECURITY
We've heard it all before: Macs are safer than PCs. They don't get viruses. Because there aren't that many Mac users, they're not a target. We've heard every reason under the sun as to why Macs don't need security software.
But two things happened this year that should change your mind; DNSChanger and Flashback.
These two bits of malware were equal opportunity about what platforms they infected. In the case of Flashback, it impacted Macs specifically as the Java vulnerability it exploited was patched for Windows users whereas Mac users were wide open – unless they ran security software.
iAntiVirus by Norton
FREE
Norton has been producing security software for a couple of decades. After years of well-deserved criticism for creating security software that could slow most Macs to a crawl, it completely rebuilt its software so that it's barely noticeable when running and protecting your system.
iAntiVirus installs easily and is barely noticeable. It doesn't run in memory and constantly scan everything but it does let you manually run scans of specific folders and your Facebook wall – just in case you've accidentally shared a link to a dodgy site.
Unlike most security products, iAntiVirus doesn't automatically update with new malware signatures. This is because, according to a representative from Symantec, Apple doesn't allow 'side downloads' for apps distributed through the App Store. However, when a new version is available the App Store icon should let you know.
Kaspersky Anti-Virus 2011 for Mac
$39.95
www.kasperskyanz.com.au
Kaspersky has a solid reputation in the Windows world for delivering excellent malware detection and protection. The Mac version lives up to that.
Installation was straightforward and the application ran quietly on our Mac. When an infected file is detected, it can be backed up before it's cleaned so that you retain a copy of the file in case the data is damaged during the clean-up process.
The software uses less than 1 percent of your CPU while running so you'll barely notice it. As well as monitoring what's happening on your Mac, Kaspersky checks websites you visit to ensure that they are who they say they are so that phishing attacks are minimised.
Sophos Anti-Virus for Mac Home Edition
FREE
www.sophos.com
Sophos is a very popular option for Mac users looking for a comprehensive security solution. It can detect and remove thousands of different types of malware and monitor your system for suspicious activity.
Once installed, Sophos is unobtrusive. There's an icon on the menu bar but otherwise you don't see it unless it finds something. The software uses almost no processor and very little memory when sitting in the background, so it doesn't weigh your system down.
Scanning speed is good and you can choose whether to scan your whole system or specific folders. If anything dicey is detected, it's quarantined and can only be accessed by an administrator of the Mac.
PRODUCTIVITY
We can't think of a Mac user who doesn't occasionally need to tap out a letter, edit a document or crunch some numbers. Some need to present to boards and others to their classmates. For those tasks, we need productivity software.
Microsoft Office for Mac 2011
FROM $189
www.microsoft.com/australia/mac
If you need to share work files with just about anyone else on the planet then the ability to work with Microsoft Office files is critical. Office 2011 has been around for a while now, and successive updates have made it into a reliable workhorse for the office.
Plenty of ink has already been split in reviews of Microsoft Office but it's worth pointing out that Office for Mac has the best compatibility with Office for Windows, although it's not 100 percent perfect. There may be times when some complex formatting goes awry when documents are shared across platforms.
iWork 09
$129 (BOX); $20.99 (INDIVIDUAL)
store.apple.com/au or Mac App Store (Pages; Keynote; Numbers)
Apple's productivity suite, iWork, is getting a little long in the tooth but still delivers most of what students and workers need. Pages, in particular, takes a very different approach to word processing and Keynote is the reason many people buy a Mac as it delivers stunning presentations without the complexity of PowerPoint.
The three applications that form iWork – Pages, Keynote and Numbers – are all visually attractive. They take advantage of OS X's media browser and other in-built capabilities giving you a very Mac-like experience.
The main hassle with iWork is that while it can open and export Microsoft's file formats – the lingua franca in business documents – it can't work with them natively. So, if you open a Word document and edit it you must save to the Pages format and then export to Word to share the document back.
On the upside, there's integration with iCloud so you can open and save documents to iCloud that can be opened and edited using the iOS versions of the iWork applications.
The suite can still be bought as a boxed set from the Apple Store, or Pages, Numbers and Keynote can be bought individually from the Mac App Store.
LibreOffice 3
FREE
There are several open-source productivity suites available based on OpenOffice. LibreOffice is just one but it's a complete suite that includes word processing, spreadsheeting, presentation, drawing, database and equation editing.
LibreOffice can work with all the main Microsoft Office file formats so you can share files with just about everyone else on the planet with a computer.
In addition to all the usual applications, LibreOffice can import PDF files and edit them – a great benefit that will save you plenty when you consider the cost of PDF editing software.
In addition, LibreOffice has a filter that allows files created in Microsoft's technical drawing application, Visio, to be opened. The filter is a new feature and not quite perfect but it's a start and the great thing about open source communities is that they will continue to develop the feature.
DATA MANAGEMENT
We are all inundated with more data than we can handle, and every day we accumulate more. Trying to make sense of it so that the data can be made into useful information that we can use to make decisions and learn from is not easy. That's why we need good data capture and analysis tools.
FileMaker Bento 4
$51.99
Bento is the easiest information management tool we've ever used. Creating a simple database for storing information is incredibly easy. For
example, we created a basic timesheet application in about 10 minutes. Similarly, we took the supplied Expenses template, made a few simple modifications and had what we needed in about the same time.
Bento is not a relational database. Rather, think of it as a tool that creates an attractive and easy to use form for saving data to a spreadsheet. Creating a Bento application from scratch is easy. It supports different field types so you can ensure that all the data is entered correctly. For example, you can create drop- down lists, checkboxes, numbers, dates and more.
Data can be synced between an iPhone and iPad, although those require separate applications that cost $5.49 (iPhone) and $10.49 (iPad) each.
FileMaker Pro 12
$379
When you talk about databases for the Mac, the conversation always turns to FileMaker Pro. With a pedigree going back to the early 1980s, it's a mature and robust product that makes it easy for you to create database applications for a variety of uses.
As well as allowing you to create your own databases, FileMaker Pro allows you connect to external data sources so that you can collect, manipulate and analyse data from an almost infinite number of sources. When you've done your work, you can publish the data to the web or share it to iOS devices that have FileMaker Go installed. You can download a free trial from www.filemaker.com.au.
Evernote
FREE
Evernote is probably the best tool for collecting random information. The application lets you capture notes, audio, documents, images, web sites – just about anything you see can go into it. The application stores content locally but if you sign up for a free account it also syncs to the cloud. That way, if you use Evernote on a mobile device like a notebook or iOS device you can create and view content from anywhere.
The web clipper tool is particularly useful when doing online research. If you see something you want, simply click the Save to Evernote weblink that you can add to your browser's bookmarks. You can choose to either save the URL or the entire page to your Evernote library.
MULTIMEDIA
Multimedia is a dated term but it still fits nicely. Apps that can deal with sound, images and moving pictures are part of the reason we love our Macs.
There are hundreds of applications in this category, starting with Apple's own iPhoto, iTunes and iMovie. We decided to look at a few of the alternatives to see what else is out there to either replace or complement Apple's tools.
Adobe Creative Cloud
$62.99/MONTH
Adobe's Creative Cloud is a new software subscription service that gives you access to all of Adobe's creativity applications without the big, up-front price tag.
One of the attractions of this approach is that version numbers are no longer a part of your life. When a new feature is available, Adobe promises to make it available immediately – no more waiting for the next version to come out.
For your money, you get access to the current versions of the entire Adobe suite of Creative Studio apps (CS6) as well the tablet friendly Touch apps. Each of the 25 applications currently on offer is recognised as being a premium tool with just about every design and creative activity covered.
Adobe Creative Cloud costs $62.99 per month, with education getting a hefty discount, as to $27.50 per month.
Pixelmator
$15.99
Pixelmator is a premium image editing and creation app that ticks the boxes for ease of use for novices and features for experts. It can read and edit Photoshop files as well as supporting automated actions using OS X's Automator.
Like most image editors, Pixelmator has a palette of tools that cover most of the things you'll need to do. It works in layers – a familiar construct for designers.
While most of the tools are similar to those in Photoshop they can work in different ways. For example, the Magic Wand for selecting areas of a similar colour works more like the Instant Alpha tool from iWork than the Photoshop tool.
Unlike Photoshop, Pixelmator is a very small application. At just 19MB you'd think it was a just a lite program but it's big on functionality.
ShedWorx Smart Converter
FREE/$10.49
Mac App Store
There are times when you receive a video or audio file that you need to convert for some other use. Smart Converter does that job easily. Many conversion tools require that you know about bitrates, resolutions and screen ratios. Smart Converter takes care of all of that with presets that deliver output for the device you plan to use for viewing or listening. The range of supported outputs is extensive, covering iOS devices, Android tablets and smartphones, media players and gaming consoles.
The application is simple to use. Just drag and drop the source file onto the program's window, choose the device it will be played on and press Convert.
There's a free, ad-supported version and a $10.49 Pro version which includes batch processing and a greater range of output targets.
Picasa
FREE
With MobileMe going the way of the dodo, part of the attraction of iPhoto – being able to easily publish photos to the web – has gone to other services like Picasa.
When it's first installed, Picasa interrogates your system, including your iPhoto library, for images. Once they're found, you can use Picasa to share them.
When we copied a new folder of images to our system, Picasa automatically found them and added them to its index. They were then automatically scanned and facial recognition was applied so we could easily find pictures of specific people. Once we tagged a few photos manually, it was accurate in finding more with the same face.
Unlike iPhoto which puts photos into a library, Picasa leaves photos in the folders it finds them in. Photo sharing is to Google+ with Facebook covered by a service that runs from Facebook rather than your Mac.
Although Picasa works well, it's not very pretty – it looks like a Linux application that's been ported to the Mac.
If you're looking for an alternative to iPhoto, Picasa is a worth a look.