Features
When the iPhone 4S launched last October, Apple watchers keen for model '5′ were temporarily silenced by a shiny, new iDevice to ogle. But, as we know, the (often fruitless) guessing game of what the company will release next is just as much fun as the reality itself.
At the top of the speculation list for quite some time is the much-anticipated iPhone 5. Not a week goes by without a new claim, supplier 'leak' or image reveal doing the rounds in cyberspace. Now, as Apple's Worldwide Developer Conference (WWDC) approaches, the next-gen iPhone rumour mill has reached fever pitch, with many reports now suggesting that the iPhone 5 will make an appearance at the event on June 11.
Who knows what to believe – at the end of the day Apple plays by its own rules and our job is to merely play catch up as best we can. What is guaranteed is the entertainment value in reading the industry's predictions – from near-credible to outright ridiculous, we've scoured the web to find the best (and 'best of the worst') rumours being thrown about. It's up to you which ones you take note of, and those you throw away.
The new iPhone will launch in September
This latest claim comes from DigiTimes, who have reported that Apple supplier Pegatron and Foxconn have received orders for the next-generation iPhone, set to launch this spring.
The rumour is well-backed, given that the 4S launched just seven months ago. With RIM and Samsung releasing new smartphone models, wouldn't it make more business sense for Apple to announce the next iPhone after the competitor rush and just before Christmas – retail's busiest time of the year? Also consider the host of other Apple product lines due  for a refresh.
Many analysts and bloggers believe that iOS 6, or a new 'hybrid' MacBook are likely to hit shelves before the iPhone 5. What do you think?
iPhone 5 will be 'longer' and 'thinner' with larger screen and new connector dock
Going against last year's reports of a tear-shaped design, websites such as iLounge are publishing information from 'well-placed' sources indicating that Apple has designed a longer, thinner model that will feature a bigger screen than the iPhone 4 and 4S:
"The change in height will include a lengthening of the prior 3.5" screen to roughly 4" on the diagonal," iLounge reports.
"As the new iPhone won't widen, this appears to confirm that Apple will change the new iPhone's aspect ratio for the first time since the original iPhone was introduced in 2007, adding additional pixels to the top and bottom of the screen".
The site even called in artists to create a mock up image of what the iPhone 5 will look like, based on the new measurements (see below).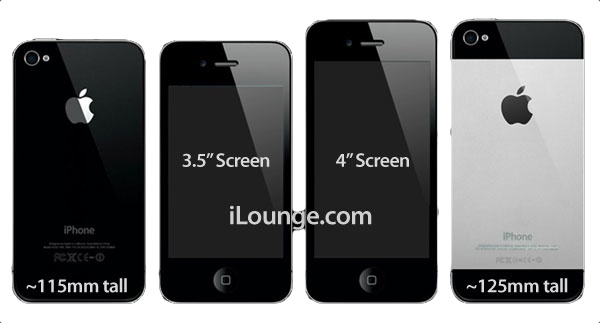 iLounge also claims that a new connector dock will be included in the  design, featuring "…fewer pins than the prior 30-pin Dock Connector, perhaps only 16″.
It's believed that the dock will  be pill-shaped, as opposed to the current rounded rectangle, and will feature in all future iDevices.
Metal or glass? Or both?
Adding weight to earlier stories we've published on the new iPhone being constructed, in part, using LiquidMetal, tech website Mashable claims only a square section on the back of the handset will contain the futuristic material. It's also widely believed that the back of the next-gen iPhone will  be flat, and curved, as was reported some months back.
"Another believable prediction confirming past reports is the new iPhone's alleged 'Gorilla Glass 2′ front, which will probably be stronger and thinner than today's iPhones", writes Mashable.
Claims of LiquidMetal and the new Gorilla Glass seem credible enough, with a number of sources and reputable publications backing the story. As for the shape and form of the new model, at this stage, it's anyone's guess.
iPhone 5 will have a redesigned Home Button
In a somewhat muddled post on website Mobile & Apps, it's been reported that the current iPhone's round Home button will be redesigned to be … round in the new model. Confused? So are we.
The article . written by Vamien McKalin, cites a posting on the website of a Chinese replacement parts supplier, Truesupplier, showing an image (see below) labelled "OEM Apple iPhone 5 Home Button Key."
Mobile & Apps points to the image as headline news, but then appears to do an about face, conceding  "..the changes are clearly seen, though not really a huge chance to warrant any form of excitement. Alright then.
iPhone 5 will be a dud
That's according to International Business Times who created a full-blown story based on the complaints of one disgruntled forum member on Mac Rumors unhappy with his iPhone 4S. Based on this post and one related comment, IBT posted a (rather misleading) article entitled "IPhone 5 Release Date 2012: Apple Fans Predicting A Dud."
According to IBT, Apple has a history of disappointing its fans, something that was clearly demonstrated in the recent launches of the iPhone 4S and new iPad:
"This trend of over-hyped yet disappointingly-bland products being released each year by Apple appears to have contributed to a level of discontent that is bubbling just under the surface in the minds of many Apple fans," the website notes.
"Though there are still hundreds of thousands of die-hard Apple-heads, a growing number of them are questioning the future of Apple, and just what the iPhone 5 release date will bring,"
An interesting statement from IBT when you consider that Apple's sales continue to smash records and analysts' predictions every quarter. In Q2 2012 alone, it was reported that on average 645,000 Apple devices were sold daily – with the iPhone 4S a front runner in the company's overall sales.
iPhone 5 hiding in WWDC logo
According to website iPhone5NewsBlog, the numeral '5′ has been hidden in the design of Apple's 2012 WWDC logo. Now, either the iPhone-obsessed have been staring at the image too closely, or there could be something in this. Take a look at the design below and see (literally) what all the fuss is about: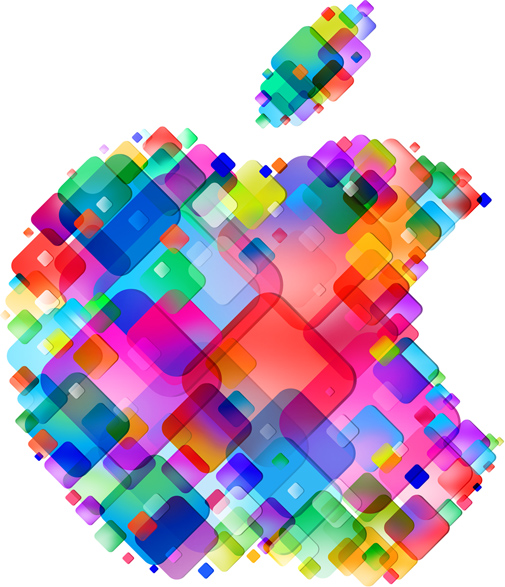 If you're straining to see anything significant, take a look at the outline of where the '5′ appears, posted by motoringcrunch:
We're not too sure about this 'clue'. Given that the third-generation iPad was branded as the 'new iPad', we think there's a chance Apple could follow suit with its new iPhone. Thoughts?
That's it for the week in iPhone 5 rumours, but rest assured there will be more to come. If you've heard of others that seem likely, or just plain crazy, share them with us in the comments section below!