Features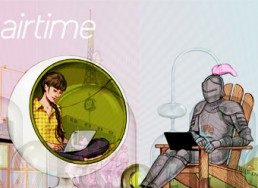 I just took Airtime, the new video chat service from start-up stars Shawn Fanning and Sean Parker, for a spin during the week. My first impressions: It works fine, though I'm not sure I'll get addicted to it.
The free browser-based Skype/Google+ hangout/Facebook chat alternative works pretty much as advertised and as promoted at its New York press conference Wednesday with Snoop Dog, Jimmy Fallon and other stars participating. The company is backed by at least US$25 million in funding, so has plenty of such splash cash. A premium version, ads and virtual goods will all be ways for Airtime to make money down the road.
I visited the site via Google Chrome and while my MacBook Pro's fans started whirring wildly, things eventually settled down and I got down to business on Airtime. First up, it forced me to surrender Facebook info I'd rather not give up in order to sign in (access to my friends, interests, etc., for the purpose of enabling Airtime to sync me up with my friends as well as people I don't know but who have similar interests). No downloads are necessary, though you do need a Facebook account and a webcam-equipped computer that meets the following tech requirements: 1.5Ghz processor, 512MB RAM, 1.5Mbps bandwidth.
My list of Facebook friends showed up on the right side of the screen and presumably would have indicated if any were also using Airtime. None were. I was able from within the Airtime site to message a couple of Facebook friends to see if they'd like to give the video chat service a try with me, but none happened to be watching their Facebook feed at the time. I couldn't figure out how to backtrack from there, so wound up closing out of the service and starting over.
This time I immediately turned to the big Talk To Someone button in the middle of the screen, which – like the notorious Chatroulette video service – is designed to hook you up with others anonymously. However, the spin here is that you can fill in interests (based on Facebook pages, as I wasn't able to just type in any old words) or check/uncheck buttons for friends of friends or people nearby and Airtime will then match you up with people who at least have similar interests.
I actually didn't fill in any interests on my maiden voyage, so was connected with people purely anonymously. The first guy (everyone I saw was a guy) just saw the Hulk Hogan glass on my desk and shouted out "Hulkamania!" and then he was off. But I did settle in with a friendly gent in NYC with a bunch of Dutch-related interests named Sander (Sanders? Zander?) with whom I had a nice chat about Airtime, Google+ (his preferred video chat method) and more. We took turns pressing various buttons to see what would happen. I got a little nervous when he suddenly left the room through a curtain, but it turns out he was working from home and just needed to sign for a package.
With Airtime, live camera feeds of each individual and their listed interests are shown in side by side boxes taking up most of the screen. There were also thumbnails of videos underneath, which appeared to be sponsored links or videos that the users had shared on Facebook recently. You can play a video and mute it while talking to your chat partner. There's also a mysterious starred button in the middle of the screen which supposedly lets you give your chat partner points or ratings (a little obligatory gamification).
My next chat (conducted after addding a few interests such as journalism and Boston Celtics) was with the VP of product from Wahooly, a company in Austin that works with startups and influencers. My chat partner and I were able to text chat in a side box on the bottom right, swapping website URLs and Twitter handles. I asked him a few questions regarding a story we're planning and he was helpful and even chatted about the town where I live and he went to college. A good random meeting.
"There's something exciting about bringing spontaneity to the internet," said Parker in the company's Wednesday press release. "All of your interactions online are constrained by the people you already know. That wasn't always the case. If it weren't for the internet, Fanning and I would have never become friends. As we move from a social graph to an interest graph, there are great possibilities for our world. That's what we're trying to tap into with Airtime."