Features
Wrap your slim-form iPad in these equally sleek and stylish cases from top design houses from around the world.
Michael Kors iPad Envelope
Michael Kors, top American designer and judge on the US version of Project Runway,has expanded his style-driven empire with accessories for iOS. This gorgeous iPad case could be mistaken for a fashionable clutch. Made from leather, the envelope is available in fuchsia pink and tangerine orange and features a flap-top with concealed press stud fastening, gold-tone designer plaque at the front and a gold-tone metallic lining.
$118.75 + shipping
Vivienne Westwood Mac Oxford Tartan iPad Cover
Dame Vivienne Westwood is at the top of the British design food chain and her recent venture into tech accessories is no exception. Introducing the preppy looking, tartan leather iPad case, with a two-way zip fastening around the top and signature Westwood squiggle print embossed on both front and back of the case.
$165 + shipping
Marc Jacobs Quilted Leather iPad Case
Fashion guru and Louis Vuitton creative director Marc Jacobs has branched out with his own signature line that includes tech accessories such as this double-stitched quilted taupe/grey case for iPad. The versatile design can be used at the office to keep your iPad tucked away, and then taken as a clutch to a lunch meeting or dinner date. The case comes with a leather-trimmed gold chain shoulder strap, designer plaque and numerous zippered compartments.
£308.33 + shipping
Smythson Turquoise Folding Croc Print iPad 2 Case
This high-gloss turquoise iPad case is colour-coordinated with a camel nubuck lining, press-stud tab closure and a cut-out at the back to accommodate the iPad camera lens. This case can also fold into a handy stand with a secure tuck- slide closure. Presented in a signature Smythson gift box with included blue cleaning cloth.
$394 + shipping
Coach Bleecker Painted Strip iPad Case
A statement piece and part of the Men's Fall 2012 Coach collection, this iPad sleeve is a rugged, relaxed design based on the label's Rich Glove (inspired by racing), the materials give the sleeve a timeless heritage look.
$295
Yves Saint Laurent Belle Du Jour Leather iPad Sleeve
Transport your technology in style with YSL's sleeve du jour. The case is fashioned from bold, red leather with a stitched motif featured front and centre of the design. Includes a pull tab for easy removal of your iPad.
Yves Saint Laurent
£245.83 + shipping
Stella McCartney Falabella Faux Leather iPad Sleeve
The latest style in Stella's coveted Falabella range screams style with its tangerine faux leather exterior. Lined with soft suede to protect your iPad, the sleeve showcases metal chain detailing and an exclusive Stella McCartney silver tag. An exquisite design signature to the label's lauded aesthetic.
£204.17 + shipping
Chanel Quilted iPad Case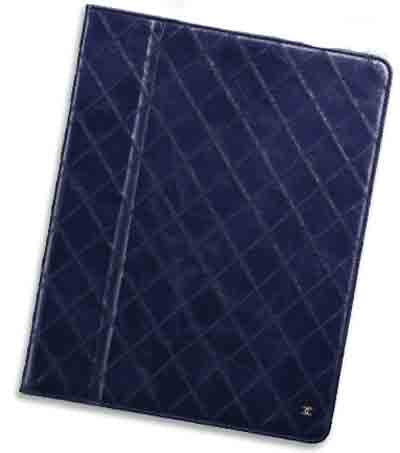 Chanel's calfskin iPad case, in signature quilted design, is the crème de la crème of iDevice accessories. The pictured model features the same quilted aesthetic seen on the label's classic handbag that Mademoiselle Chanel first created in 1955. The company's world-famous logo adorns the front of the case, with no mistaking who made it and the level of style and glamour it oozes.
$1995
Dolce & Gabbana Leopard Print iPad Sleeve
Match your outfit and shoes with this typically outrageous faux-textured leather leopard print iPad sleeve from D&G. The design showcases a cutout top to easily slide into position and remove your iPad. This is one sure-fire way to glamourise your iDevice in show-stopping style.
£233.33 + shipping
Hermès High-Tech iPad Case
Perfectly practical, this Epsom calfskin case breaks the barrier between high-tech and the classic aesthetic. With its innovative magnetic bar and numerous flat pockets, the zipped design holds both an iPad and a calendar refill or pad of paper.