Features
It takes a lot of power to light up an iPad's 9.7in screen – and even more to power the fourth-generation model's Retina display. That's why the device is packed full of battery capacity – an impressive 11,560 milliampere hours' worth for the latest model. But although our battery tests have shown that, under heavy use, the fourth-generation iPad can last for more than 9 hours on a single charge, sometimes you need even more juice.
Whether you're exploring the great outdoors or enduring a power outage, a portable charging device – that is, a big battery – can come in handy when electrical outlets are either unavailable or, as is often the case, not functioning. Portable batteries can also charge your smartphones, media players and other mobile gear that charge over USB.
We recently put five such devices through their paces and found that while all could help in a pinch, only one could provide a full recharge of a fourth-generation iPad.
What to look for
You should keep an eye out for several things when you're shopping for a portable charging device, including capacity, convenience and cost. If you're seeking a portable charger that offers the greatest amount of juice for your iPhone, iPad or other USB-charged device, look first at battery capacity, measured in milliampere-hours. The batteries we tested range from 6000 mAh to 15,600 mAh.
The downside is that higher-capacity batteries are generally larger and heavier than lower-capacity models. If you're packing light, adding a 500g charger to your bag may not be wise. Similarly, the higher capacity a portable battery has, the longer the battery itself takes to charge: Some need as long as 14 hours, requiring you to leave them plugged in all night.
Many portable batteries can charge over a Micro-USB cable, eliminating the need to pack another power supply. (They'll charge more quickly with your iPad's power adapter, or another dedicated USB charger, than with a computer's USB port, but either will work.) Some, however, require a particular AC adapter, which is less convenient. A few have AC plugs built in, so you need nothing but an electrical outlet to fill them up.
Just Mobile Gum Max Duo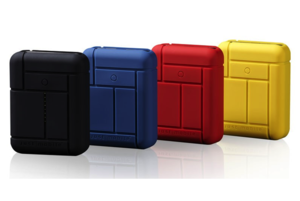 If you like your mobile chargers with a splash of colour, Just Mobile's US$129.95 Gum Max Duo offers optional rubber sleeves in red, blue and yellow to cover its aluminium and black surfaces. The Gum Max Duo, which charges via an included Micro-USB cable, offers 11,200 mAh of power, weighs 275g, and is 11 x 8.3 x 2.7cm in size.
The 'Duo' in the product's name refers to the battery's two USB-charging ports, one providing 2.4A (for iPads) and the other 1A (for phones, iPods and other lower-power devices). We were able to charge the Gum Max Duo, using Apple's iPad charger, in a leisurely 13 hours, 14 minutes. When fully charged, the battery charged our fourth-generation iPad to 75 percent of full capacity.
Mophie Juice Pack Powerstation Duo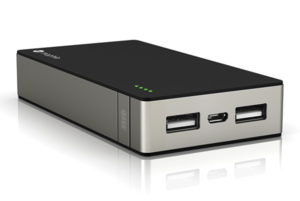 Like several other batteries here, Mophie's US$99.95 Juice Pack Powerstation Duo can charge two devices at once. About the length and width of an iPhone 4, but twice as thick, the Powerstation Duo is the smallest and lightest charger of the group, measuring just 10.9 x 5.8 x 2cm and weighing only 184g.
The reason for this svelte size is that the Powerstation Duo has a capacity of merely 6000 mAh, and unsurprisingly it gave us the weakest charging result in this roundup: It restored our fully drained fourth-generation iPad's battery to just 39 percent before running out of power itself. On the bright side, charging the Powerstation Duo didn't take terribly long, requiring just 6 hours, 10 minutes using Apple's iPad USB power adapter.
Mophie Juice Pack Powerstation Pro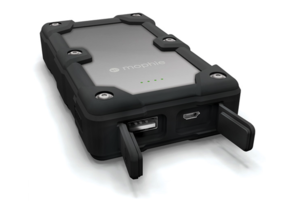 Mophie's US$99.95 Powerstation Pro is the Powerstation Duo's bigger, tougher sibling. (Technically, it's the ruggedised version of the US$79.95, non-Duo Powerstation.) The Pro comes clad in a shock-absorbing, thick-rubber bumper attached by six screws. Covering the sides, corners and bottom, the bumper protects the battery's USB ports from shock and water. The bare top face of the battery shows four status LEDs along with the Mophie logo.
The case adds a bit of bulk – the Pro is slightly larger than the Duo, at 11.4 x 6.7 x 2.5cm – but at just 200g, this model is the second-lightest device we looked at. It has the same battery capacity as the Duo, at 6000 mAh, but it can charge only a single device at a time. The Pro charged itself quickly, taking 5 hours, 45 minutes to reach its full charge, and it charged our drained fourth-generation iPad back to 42 percent of full before running out of power itself. Unlike many of the other portable battery chargers, the Powerstation Pro has built-in overcharge protection.
Sanho HyperJuice Plug 10,400mAh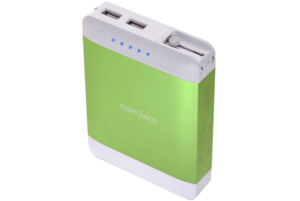 While some portable chargers use a Micro-USB cable to charge, and others rely on an inconvenient AC adapter, Sanho's US$129.95 HyperJuice Plug 10,400mAh eliminates the need for charging cables by having the plug built right in. Simply pop out the plug and stick it in a standard AC wall outlet, and you're filling up the HyperJuice Plug's 10,400 mAh battery. The Plug is a little bulkier than most of the chargers we evaluated, at 12.2 x 8.6 x 2cm, and it weighs a substantial 329g.
Many two-port chargers have one 2.1A USB port for iPads and one 1A port for smartphones and similar devices. The HyperJuice Plug is smart enough to recognise which port is drawing more power and to adjust accordingly: Plug an iPhone into either port, and the battery outputs 5W; plug an iPad in, and it gives that port 10W. You can even use the HyperJuice Plug with two iPads – it will automatically give each USB port 7.5W. Available in a wide variety of colours, the HyperJuice Plug 10,400 mAh took 7 hours, 51 minutes to charge up, but the battery loaded our drained iPad to 61 percent of capacity before calling it quits. The HyperJuice Plug also offers built in protection against overcharging and overheating.
Sanho HyperJuice Plug 15,600mAh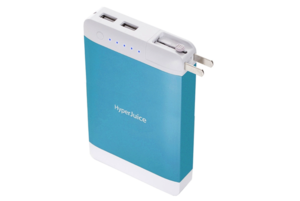 For US$30 more, the larger HyperJuice Plug 15,600mAh offers 50 percent more battery capacity than its similar-looking sibling. At a hefty 476g and just over 15.3cm in length (but otherwise the same dimensions as the 10,400-mAh version), the HyperJuice Plug 15,600 mAh had the longest product in the roundup. Like its sibling, the Plug 15,600 mAh has a built-in retractable plug, eliminating at least one cable or charger from your packing list. The battery charged up in 8 hours, 16 minutes, and it charged our drained iPad to 95 percent.
Bottom line
No single portable charging device will suit anyone. People who travel light and are looking to add the least amount of weight and bulk to their carry-on bag should consider Mophie's Juice Pack Powerstation Pro. It's small and light, but rugged; it charges quickly over Micro-USB; and it will deliver several additional hours of life to your iPad. If you value power over portability, the HyperJuice Plug 15,600mAh is one of the highest-capacity batteries here. It can handle two iPads at a time, and its convenient built-in plug means that you won't need additional cables or adapters to recharge the battery itself.
By James Galbraith. Macworld