Features
Apple's new operating system is due to arrive in September and will introduce a raft of new features for iPhone, iPad and iPod touch owners. Here are 30 that will interest you.
1 Apple-designed Maps
Apple has completely replaced Google Maps with its own app.
The cartography has been designed by Apple, so as you'd expect it looks pretty special; although it appears to offer less detail than Google's mapping service (this may be because Apple's cartographers are still adding detailed information).
2 Yelp reviews
One feature in Maps that's incredibly welcome provides reviews of businesses and other local information. Clicking the 'i' button next to a Pin opens up a window with an address and contact information, along with a nice rotating satellite graphic. Clicking on the Reviews tab enables you to see what other people think of the business. This is all provided by the Yelp service.
3 Flyover
The marquee feature in iOS 6 is the stunning Flyover view, which renders 3D models of cities in real time: enabling you to pan, rotate and zoom around an extremely photorealistic 3D view of a city. While Apple is typically coy about the technology used, it seems that the company has built 3D wireframes and flown aircraft over a city from numerous angles and then superimposed the images on to the 3D buildings. It looks amazing.
4 Turn-by-turn navigation
One area that Maps has taken a definite and undeniable turn for the better is with built-in turn-by-turn navigation (sat-nav) technology provided by TomTom. This enables you to get pedestrian and driving instructions that update as you move around. It also interacts with the new 3D mode in Maps. In turn-by-turn mode, the Maps app uses TomTom data to inform you of relevant traffic conditions.
5 Eyes Free
There's a new feature that works with Siri called Eyes Free, which will enable you to access Siri on your phone by pushing a button on your car steering wheel. The button will be implemented by major car manufacturers (such as BMW and Audi) in new vehicles, but some enterprising company may be able to install a supporting button in current ones.
6 Facebook
Facebook is a central part of iOS (you set up the account and password in Settings). Like Twitter, this also works alongside the regular app that you download from the App Store, but integrates features throughout iOS. A nice touch is that Siri can be used to create Facebook and Twitter posts; you can also share photos and web pages directly to Facebook and developers will be able to use the SDK to let you share from apps directly.
7 Facebook notification
Once Facebook is set up, you'll be able to read posts in the Notification Centre (accessed by dragging your finger down from the top of the screen) you can also post directly from here. This should make it easier to interact with Facebook on the iPhone.
8 Facebook contacts
Perhaps the most useful Facebook-related feature is direct integration with the Contacts app. This means that once you've connected iOS to Facebook your Contacts will sync with Facebook. So if a friend changes their email on Facebook, it'll also update on your iOS device (although this was included in the Facebook app, it now works more tightly with iOS).
9 Siri business
iOS 6 brings a number of improvements to Siri, but one of the most important for users is that there's now international support for Siri to locate business information in Maps. So you can now ask Siri for business information, such as "find me an Italian restaurant" and get search results in Maps.
10 Siri sports and films
Siri has also learnt about sport and will be able to provide detailed information about different players and statistics. Scott Forstall showed off baseball information and mentioned that it would include other sports as well.
11 Siri app launch
Another new Siri feature (one that's working in the beta) is the ability to launch apps just by saying their name to Siri. While this is a small feature, the packed nature of iOS Home screens makes it a welcome one.
12 Siri on iPad
Siri is now also available for the iPad: holding down the Home button brings up a Siri box that pops up next to the Home button. It works in largely the same manner as the iPhone 4S, but you may find it suits the sit-back nature of the iPad better than the iPhone. Only the second- and third-generation iPad models run Siri, so owners of the first-generation iPad are out of luck.
13 Phone app: Remind with message
If you can't take a phone call, you can choose from a set of three stock responses to send a message: "I'll call you later", "I'm on my way" and "What's up?" A fourth "Custom" option lets you type in your own text. You push up the Answer Call slider (in a similar manner to accessing the Camera from the Home Screen) to get to the responses.
14 Phone app: Remind me when I leave
A nice touch is the Remind Me When I Leave option, which uses location services to deliver the reminder when you move from that place.
15 Reminders app
The Reminders app will have location services built in, which will make it infinitely more practical. With iOS 6 you will be able to set locations, such as Home and Work and then receive Reminders when you arrive at that location (rather than just by specific times).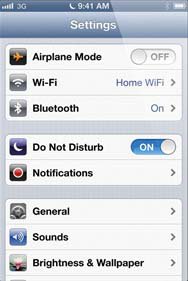 16 Do Not Disturb
Another neat new feature is Do Not Disturb, which enables you to silence incoming calls and messages. There's a switch in Settings to turn the function on or off and when Do Not Disturb is activated, a moon icon appears in the top bar. When this is activated you won't receive any phone calls or alerts (messages will still arrive, but no sound will be made).
17 Do Not Disturb schedule
You can also schedule Do Not Disturb. The settings are currently located in the Notifications. Here you can click Schedule on and use the From and To pickers to choose quiet hours. An Allow Calls From setting enables exceptions for people or groups of people (the default is Favourites).
18 VIP inbox
iOS 6 introduces a second Mail inbox called VIP that displays messages in your main inbox from selected people (or groups). These VIPs have a star next to them (you indicate who's a VIP using Mail messages or contacts).
19 Add images to email
There's a new way to insert photos or video in the Compose window. You can now tap the text to bring up the window, tap the right arrow twice (which moves to Quote Level, then Insert Photo or Video) and click this to make your choice from the Photos app. Once you've picked a photo or video clip, it'll be inserted into the email message.
20 Password Office docs
You can now open password-protected office docs, which will make life easier for those of us who have to view these (previously we could view them using an app like Docs2Go).
21 Apple Passbook
Passbook is another new app that will become a vital part of the iOS experience. Increasingly, when people purchase tickets for events or book into an airport (and get a boarding card) these are sent electronically. Passbook is an attempt to provide an integrated iOS solution that holds all of these in an Apple app. These can then be accessed from the Home screen or inside the app itself. So you can present a barcode from your Passbook App and scan in at airports and events.
22 Safari iCloud
Safari makes use of iCloud syncing to enable tabs open on one iOS device, to be quickly accessed on another. Clicking on the small iCloud icon in the menu bar enables you to view all open web pages on all your devices.
23 Offline Reading List
Reading List (a feature where you save interesting web pages to read later) has been available since iOS 5, but now it will cache the pages, so you can read them without having to reload the page.
24 Guided Access
This is an interesting new Accessibility feature, primarily aimed at children with autism. Once turned on (by triple-clicking the Home button) it locks the device to a single app, so clicking the Home button does not leave the app.
What's more, you can use Guided Access to draw circles around buttons inside apps you want to disable, limiting the amount of interaction with an app.
25 New-look Music app
The Music app now features a refreshed design with a lighter, greyish design with grey buttons at the bottom (more in keeping with iTunes on the Mac). The Play, Next and Previous track buttons have a dividing line between them and are more distinct and the Slider controls have a larger circular button.
26 New App Store
Both the App Store and Music Store also have a new look and some new features. You can now scroll left and right across categories. When installing apps, you can see the loading bar inside Store itself. This makes it easier to reinstall apps using the Purchased menu.
27 Apps and songs in Facebook
Another neat Facebook feature is that you can now like and share apps and songs from the iTunes and App Store apps to Facebook.
28 3G FaceTime
You'll now be able to use FaceTime video when connected via 3G, rather than just Wi-Fi. It's not a marquee feature, but will be incredibly useful to those who like to use FaceTime on a regular basis. This will work incredibly well for users (mostly in the US) with 4G LTE connections.
29 Shared Photo Stream
You can now share photos and albums from your Photo Stream with other iOS 6 users. Photo Stream works with iCloud, so pictures taken on an iPhone, say, will be displayed on another iOS device. You'll be able to select photos and share them with other iOS users and they'll appear inside their Photos app.
30 Photo comments and alerts
You can now add comments to your Photos: when they're shared with other friends they'll get alerts and notifications. While it's a small feature it makes the Photos app much more sociable.