cat-iPhone
iPhone users and app developers got a sneak preview at what the future holds for them overnight, when Apple showcased its upcoming iPhone 3.0 software. The next major version of the iPhone operating system, slated for a winter release, promises a number of changes aimed at end-users and software makers alike.
For iPhone users, that number is more than 100—the amount of new features Apple promises in iPhone 3.0. Topping the list is the ability for users to copy and paste information—including text, blocks of HTML, and photos—in the iPhone's built-in apps. Users will also be able to copy and paste between applications. Third-party developers will have the ability to add copy-and-paste functionality to their apps as well.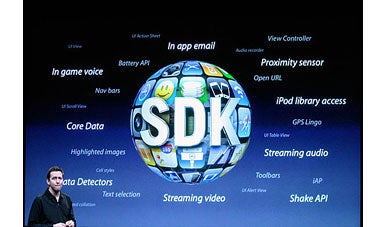 Scott Forstall, Apple's senior vice president of iPhone Software, outlines what to expect in iPhone 3.0.
iPhone 3.0 will also bring Multimedia Messaging Service (MMS) support for sending and receiving photos, contact information, audio files, and locations; a Voice Memos app to record, edit, and share audio files; Spotlight search capabilities; CalDAV and .ics calendar support; the ability to sync notes via iTunes; stereo A2DP Bluetooth support; auto-fill; anti-phishing technology; and extended parental controls.
Get more details on Apple's announced iPhone 3.0 improvements
While the full iPhone 3.0 release won't be available for a few months, developers can get their hands on a beta version now. With iPhone 3.0, developers will now be able to build push notification into their apps, to alert users of changes in closed apps—a new instant message, for example. Apple had first promised to come out with a push-notification service at its 2008 Worldwide Developers Conference but delayed the launch. At the demo overnight, Apple executives cited developers' overwhelming initial interest in the App Store as the reason for the delay.
In addition to offering push notifications, the iPhone 3.0 software also lets developers create apps that provide turn-by-turn GPS driving directions (as long as they provide their own maps); embed Google Maps in their apps; sell subscriptions as well as add-ons through their apps; and much more.
Get more details on iPhone 3.0 changes aimed at iPhone app developers
The iPhone has become a lucrative platform for Apple. Overnight, Apple vice president of iPod and iPhone product marketing Greg Joswiak told reporters that the company had sold 17 million iPhones since the June 2007 launch of the original iPhone. The phone is now available in 80 countries, with 77 of those countries also enjoying access to the App Store.

Find out how the iPhone 3.0 launch weighed up against Macworld editors' top 15 expected features