App Guide
Earlier this year, I began studying martial arts. I go to a mixed martial-arts school. It's good exercise. Very therapeutic.
Although I like karate, I love judo. Judo means "the gentle way." Its motto is "Maximum efficiency, minimum effort." Such ideas appeal to a paunchy writer in his late-30s. The style is steeped in tradition, which is one of the aspects I find so attractive. We'll be testing before the end of the year. I very much want a yellow belt.
Trouble is, the tradition also requires knowing a lot of Japanese vocabulary. And, yes, the vocabulary will be part of the test. This part I find much less attractive. One encounters terms such as Ushiro-kesa-gatame, which means "rear scarf hold," followed by Ura-kesa-gatame, which means "back scarf hold" and you wonder, "What's the difference again?" A moment later you stumble over Ushiro-geri, which means "back kick," and you think, "Wait, doesn't 'ushiro' mean 'rear'? What!?"
My sensei had a suggestion: "It's straight memorisation," he said. "You gotta make flashcards."
As it happens, there is no shortage of flashcard apps for the iPhone and iPod touch. I took three of them out for a test spin.
Cram ($12.99) and iFlipr Flashcards ($3.99) rely on Web portals to create and manage card decks, although both apps allow users to edit cards on the handheld device. The free gFlash+ uses Google spreadsheets to the same end.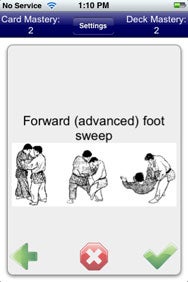 A Picture Worth a Thousand Words: iFlipr Flashcards stands out by letting you add images to your flashcards.
Just as creating flashcards takes time, setting up any flashcard program is also a time-consuming proposition. Although most flashcard apps offer a pool of common subjects you can download from the developer's Web site or from forums, judo is not one of them. iFlipr has a button that lets users browse featured decks and recent additions, as well as a search feature. With Cram, you need to add tests to your account on developer SimpleLeap's site and then import the tests to your device.
Both Cram and iFlipr give you the option to share your card decks with other users. My judo cards are now available to anyone on iFlipr or for Cram through SimpleLeap's Web site.
Cram lets you upload plain text files and import them into decks. iFlipr allows you to import text and tab delimited spreadsheet data. But be advised: iFlipr's developer cautions that quotation marks will blow up the application. I imported my data the old-fashioned way: by hand.
Getting the decks onto your device is a snap with each app. Once you've built and saved your deck online, launch the app. In Cram, you tap the "import test" and enter your name and password. From there, either tap the "get all tests" button or download individual decks. iFlipr is even easier: Your decks will download and update automatically every time you launch the app and tap the "downloads" button.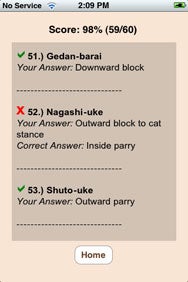 A, B, or C: Cram excels at multiple-choice tests.
Although every flashcard app allows for some degree of customisation, Cram is not nearly as customisable as iFlipr. You can add images to iFlipr cards. Not so in Cram. The more extensive customisation made the difference for me. Also, Cram's user interface isn't as easy to read as iFlipr, which allows multiple fonts and type sizes.
But for creating multiple-choice tests, Cram cannot be beat. iFlipr has a multiple choice option, but I could find no way to fine tune it or edit the answer choices. As a result, knowing what little Japanese I do — geri means kick, dachi means stance, for example — I could very easily answer questions in iFlipr's quiz mode by process of elimination. With Cram, I created a devilishly challenging judo vocabulary test that forced me to choose my answers within specific categories of technique.
Incidentally, iFlipr does offer a free "lite" version to give customers a taste of how the application works. But the free edition has a 10-card limit, which doesn't really give you much to work with.
As paid apps go, iFlipr is more appealing than Cram. But I wondered how iFlipr would compare to a free app. As a free option, gFlash+ isn't a bad choice. But the app is more limited than either Cram or iFlipr. gFlash offers a couple of different templates, one for traditional, two-sided style cards and another for multiple-choice answers.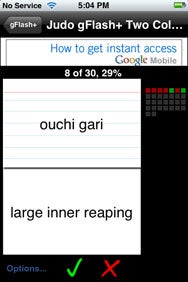 Survey Says: gFlash+, which uses Google spreadsheets to create and manage card decks, has one advantage over Cram and iFlipr—it's free.
Although Google Spreadsheets supports various file formats, I couldn't import the .csv file of my Judo cards I created in iFlipr. I suspect the images I had uploaded to iFlipr were the culprit. So I created a new file. Once I saved my spreadsheet, I launched gFlash+ and downloaded my data. The app isn't pretty, and the interface is cramped with ads. But gFlash+ does include helpful options such as a multiple-choice format, a quiz function, a one-card mode that lets you flip from question to answer and back again.
gFlash+ and iFlipr both rely on an "honour system" for studying. It's up to you to be honest whether you know or don't know an answer. gFlash+ will run through a full set of cards before returning to the answers you missed (and a few you may have gotten right). iFlipr uses a well-known algorithm conceived by German psychologist Sebastian Leitner that repeats certain cards at various intervals to help boost memory and retention. iFlipr wins points for sophistication.
gFlash+ will support images, but unlike iFlipr, you need a functioning data connection in order for the pictures to actually display. Advantage: iFlipr, again.
Ironically, while I used all three apps extensively, I internalised most of the terms I wanted to memorise by repeatedly typing them in. Sensei was right: memorisation works. As my studies progress, however, I'll be adding additional decks to iFlipr exclusively.
All three applications are compatible with any iPhone or iPod touch running the iPhone 2.x software update.
[Ben Boychuk is writer, columnist and white belt judo student in Rialto, Calif.]