cat-iPhone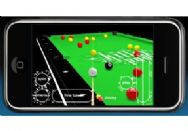 Billed as "the most realistic pool game on the iPhone," Killer Pool features 8 Ball, 9 Ball, UK Black Ball, Killer and OctoKiller. You use your finger to swipe to shoot, you can spin and swerve, and the game follows official APA 8 and 9 Ball rules. It costs $3.99.
Hero of Sparta
Gameloft's latest entry for the iPhone is Hero of Sparta. Players take the role of King Argos as you journey from the depths of the Underworld to the summit of Mount Olympus, battling monsters and other weird and magical things along the way. The game features eight 3D levels, bad guys like Cerebrus, the Cyclops and more, and weapons upgrades, such as sword, axe, bow or twin blades. It costs $12.99.
ScribBall 1.1
Howling Moon Software has updated their $1.19 arcade puzzle game ScribBall to 1.1. ScribBall males you tumble and roll balls from side to side using the iPhone's tilt feature. The new version can pause and resume when you get a call; new special effects have been added; and other changes have been made.
Slam It! Christmas Edition
TMMC has released Slam It! Christmas Edition, an update to their parlour game for the iPhone. It's free until Christmas Day, December 25th. In Slam It! you place your device on a table or desk, then select a playing field. Once every player has lifted his or finger, a spinner in the middle of the game board rotates and accelerates. Players slam on the desk, and the spinner decelerates, pointing out the winner.
Monopoly Here & Now: The World Edition
Electronic Arts (EA) has released an iPhone version of Monopoly Here & Now: The World Edition, a variation on the classic board game in which you try to control as much real estate as possible. Instead of focusing on Atlantic City, USA, this version of Monopoly takes you global. Ironically, as of press time, it was not available to Australian customers.
Rebound
Fiery Ferret has released Rebound. It costs $1.19. You choose from one of four different "toys"—a bouncy ball, balloon, spiky mace or annoyed cat—and then send the object ricocheting around a room.
1112 Episode 01
An "episodic adventure game" developed exclusively for the iPod touch and iPhone, 1112 Episode 01 takes you into the life of Louis Everett, trying to discover why he gets constant headaches and strange dreams. An unpredictable event occurs and turns everything upside down. It costs $9.99.
Choose Your Own Adventure
Remember Choose Your Own Adventure books? Now they're back, and they're on the iPhone. Journey Under the Sea and Return to Atlantis are now available for download from the App Store for $3.99. The adventure narratives even feature the covers of the old books. And if you shake the phone, it will randomly take you to another page in the book.
Alternative Endings
An "interactive murder-mystery-comedy" that features live action video, you choose how this story unfolds. You can replay Alternative Endings repeatedly to discover each ending. It costs $2.49.
Chicktionary
Blockdot has released Chicktionary for the iPhone and iPod touch. It's a word game in which you unscramble a roost full of letters to create as many words as possible. Each chicken bears a letter; tap the chickens to spell out a word. Chicktionary costs $2.49.