Blogs
It's Friday, it's Apple rumour round-up time. So who do we have to present it this week?
Well, there are only seven reviews on imdb.com so far and the movie doesn't release until next week, but at the moment X-Men: Days of Future Past is sitting on a gob-smacking 9.3 out of 10 in user ratings.
Even taking into account how skewed these things can be by mischievous malcontents and how that could change radically as soon as the film is actually released, this still means it's currently above The Godfather and tying with perennial fan favourite The Shawshank Redemption.
So, in honour of an impressive debut from Bryan Singer's latest foray into the Marvel universe, today's Rumour Mill is brought to you by Charles Xavier and his mutant mates.
Mutation: it is the key to our evolution.
First up, it was suggested this week that one of the most exciting developments expected in iOS 8 is a split screen for the iPad, enabling the tablet to run two apps at the same time, side by side. Other tablets have had this feature for a while and their makers have heartily enjoyed pointing out Apple's perceived shortfalls in their advertising. But it looks like a catch-up is in the wings.
While InvestorPlace's Christopher Freeburn doesn't think iOS 8 will necessarily make its debut at the Worldwide Developers' Conference on 2 June (he reckons that will be all about an updated OS X for Mac), he does expect it to launch later in the year and the split screen will be a big selling point.
"Not only will users be able to see and run two apps simultaneously in iOS 8," says Freeburn, "they will be able to drag and drop content from one app to another. That includes video, pictures and text."
Give me a chance. I might be able to help you find some answers.
The big talking point about the iPhone 6 this week seems to revolve around a higher resolution display, with speculation swirling that a larger screen would boast a 1704 x 960 resolution, up from the 1136 x 640 on the iPhone 5s. On the rumoured 4.7in version (which pundits seem to think will launch later this year, anytime between June and September, depending on which analyst you put your money on), this would mean a display with 416 ppi and the same ratio of all three iPhone 5s (16:9).
A 5.5in model, which at this stage is expected to be announced in 2014 but not released until early next year, would boast a density of 356 ppi.
Adding to its earlier post on the topic, MacRumors adds that one of its forum commenters has done some investigation into what a transition to a bigger screen would look like. The verdict is that the switch-over should actually be smoother than the one to retina screens. "As Pgiguere1 shows, while developers will undoubtedly want to optimise their apps with new 3x graphical assets, automatic scaling of current 2x assets will look considerably better on this new iPhone display than non-Retina assets did during the transition to 2x," reports MacRumors.
Need more detail?
Pgiguere1, help us out here, please. "Keep in mind however that unlike with the @1x -> @2x transition we had in 2010, this time we'd only have a 50 percent enlargement rather than 100 percent. The thing is, a 50 percent enlargement with interpolation doesn't look worse than a 100 percent enlargement with pixel-doubling, despite the loss of details due to the interpolation. [...] As you can see, older non-@3x-optimised apps would actually look better on an @3x iPhone than non-@2x-opitmised apps did on an @2x iPhone. Add to this the fact that the screen's pixel density would be higher this time around, and the perceived image quality difference would be even smaller…"
OK, OK, thanks very much. That's great, Pgiguere1. #lostmeattransition…
Mankind is not evil, just… uninformed.
Enough of the technical chat, what leaked photos, mock-ups and alleged photos of Apple's next iPhone have circulated the interwebs this week?
Technology Tell was among the sites guessing at the dimensions of the iPhone 6, purportedly revealed by what it described as a leaked case image, that it found courtesy of French blog NoWhereElse. "As per the new leaks, the purported 5.5in iPhone measures 157mm x 81mm and is just 7mm thick, while its smaller sibling measures 138mm by 67mm with the same thickness," says Technology Tell.
Earlier in the day, the same site reproduced an image of an actual phone – allegedly the 4.7in iPhone 6 – that appeared on a Taiwanese website called, Mos Coat.
The flagship Apple smartphone – which may launch as early as August – includes a slimmer and rounder form factor with TouchID even more pronounced than it is on the iPhone 5s. One of the photos reveals what the iPhone 6 is like when put up directly against the iPhone 5s and from what we can tell, the new phone is significantly thinner," wrote the website. You can see all of the photos at Mashable.
"The device also features rounder edges — not just on the phone's corners, but on the screen as well — giving it a slightly bulbous look. A Touch ID button is also present, more prominently accented with a gold border (currently only present on the gold version of the iPhone 5s)," explains Mashable.
MacRumors meanwhile was trotting down the 'let's compare a 5.5in iPhone 6 mock-up to a iPhone 5s' route. NoWhereElse again was the point of reference for a brace of posts on Rocket News 24, which shared photos of a physical mock-up of the larger sized iPhone 6 (the 5.5in version) with an iPhone 5s. As the site notes, "While there have been numerous renderings, cases and physical mock-ups of the rumoured 4.7in iPhone 6 in recent weeks, this is one of the first comparison shots of the 5.5in version."
And it's significant. Hope you all have big pockets…*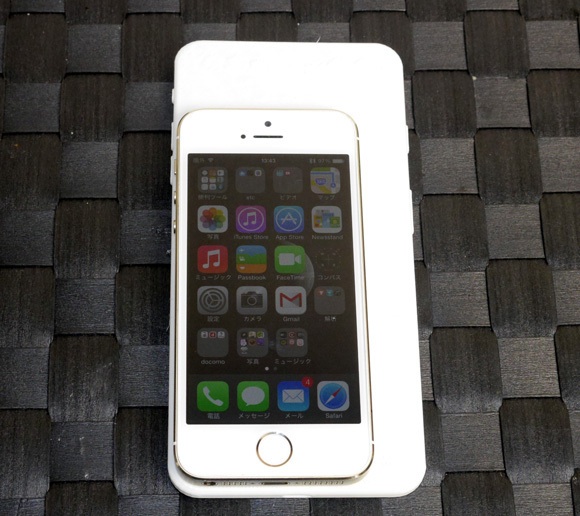 "The resin-based mock-up was printed on a MakerBot Replicator 2 3D Printer using design drawings published earlier this year by MacFan. The comparisons show just how much larger the 5.5in device is than the iPhone 5s, with the mockup measuring 157mm in length, 77mm in width and just 6.7 mm in thickness. It is longer and wider than the iPhone 5s (123.8 x 58.6 x 7.6 mm), but has a thinner profile that matches more closely to the iPod touch fifth generation (123.4 x 58.6 x 6.1 mm)," says the site.
Hmmmm, 77mm? MacRumors, we think you need to have a chat with Technology Tell about that little discrepancy with its conclusions about size. There are 3mm missing here. Quick everyone, look under your desks!
Ladies and gentlemen, we are now seeing the beginnings of another stage of human evolution
And before we go, we'd like to nip over to AppleInsider to meet some new folk, who may or may not become some of our new best friends in the not too distant future.
AppleInsider has gathered together the names of the all the 'fashion, fitness and medical experts' that have recently begun working for Apple and makes some informed guesses about what each of these people could be bringing to the table in the field of wearables and possible iWatches etc.
In the article you can read more about Jay Blahnik, who has consulted for Nike, Nautilus and Gatorade among others, Ben Shaffer, who ran Nike's R&D studio, Paul Deneve, the ex-CEO of Yves Saint Laurent, Angela Ahrendts, who as we all know left her high profile position at Burberry to join the Cupertino crew, Dr Roy Raymann, a senior scientist focusing on sleep research, Michael O'Reilly and Marcelo Malini Lamago, who both came from the pulse oximetry firm Masimo, Nancy Dougherty, a hardware engineer from sensor start-up Sano Intelligence, Todd Whitehurst, another hardware guru with an expertise in neurostimulation, and Ravi Narasimhan, who headed up R&D at biosensor company Vital Connect.
Wow, that's some roll call. If they are indeed all coming up with the goods over there in Apple HQ, maybe there are some really exciting surprises in the offing after all…
And that's the Rumour Mill for the week ending 16 May 2014. And for all of those getting really bored with waiting for something more tangible than ratty old rumours and specious scuttlebutt, "Let's just say God works too slow."**
* And we're not just talking about the rumoured 'more expensive than ever' price point.
** I didn't say that, by the way, it was Magneto.