Blogs
Sometimes you're just sitting quietly at your desk, conscientiously plying your wordsmithing trade and wondering things like 'who or what might like to present Apple's rumours this week?' and at that very moment, the announcer on the radio station gently serenading you through your earbuds says something like, "And here's the theme tune to The Godfather" and you think, 'Of course… thank you universe.'
I will give you anything you ask!
Let's start today with a pretty picture to get us in the mood. This little doodle comes courtesy of Argentina's Tomas Moyano, and it's an eye-catching concept for the iWatch. Well, it certainly caught the eye of Technology Tell's Krisette Capati, who says, "While it would appear impossible (for now) to pack all the specs in this circular wearable gadget with a convergence of camera, syncing, HD recording, and a battery of biomedical sensors," she says, adding, "His is by far the best concept I've ever seen, including the features I would want in a smartwatch."
And looking at the shots, it's hard to disagree. At least this wouldn't be like wearing a clunky great EFTPOS machine on your wrist, like some concepts (sorry, Brett Jordan) or actual releases, like Samsung's ultra ugly old SPH-WP10 from 1998 (shivers…). No, this is elegant, slim and we already want one. Really, really want one.
Can you make that happen PTB? All I'm saying is, "I come from a personal friend of Mr Johnny Fontane. That friend promises his undying friendship if you would do him a small favour." Capiche?
I'm going to make him an offer he won't refuse…
Talking of favours, we'd also be very gratified if the following rumour could be made fact. It sounds crazy, but MacDailyNews is running with the suggestion that the iPhone 6 could be heading our way at a greatly reduced cost. As if. When do things every get cheaper? Well, good things, we mean?
Well, let's give MDN the benefit of the doubt. It is, after all, relying on the venerable Apple Insider for its source. "Shares of Apple rose Tuesday morning after Pacific Crest upgraded its rating on the stock to 'outperform,' citing high expectations for the company's next iPhone, which the firm expects to sport a 4.7in display and US$299 starting price tag," Neil Hughes reports for the site. $299?? Goodness gracious. We know that's US dollars and that Apple's products are always soooo much cheaper Stateside than in Australia. But even so, we say again, goodness!
"Analyst Andy Hargreaves issued a note to investors on Tuesday, setting a new price target of US$635, or about US$100 more than its current trading price. He sees a larger iPhone priced starting at US$299 increasing gross profit on replacement sales, and also attracting new customers that would otherwise have opted for an Android handset with a bigger display," continues Hughes in Apple Insider.
Hughes then goes on to speculate some more on that old standard, screen size. "Currently, Apple's iPhone 5s and iPhone 5c come with screen sizes of 4in… While some reports have claimed Apple has experimented with iPhone screen sizes approaching 6in diagonally, proven insider Ming-Chi Kuo of KGI Securities believes Apple won't exceed 5in on a larger iPhone display, citing the company's commitment to an 'unwavering principle of one hand use'. He expects the next iPhone to have a screen size larger than 4.5in, but smaller than 5."
Ming-Chi Kuo has a bit of form in the Apple rumour department, so we'd be more inclined to listen to his ideas about screen size than someone else's rather eyebrow-raising assertions about half (and then some) priced iPhones.
There are negotiations being made that are going to answer all of your questions and solve all of your problems.
A couple of reports this week may be of interest to users of Office in the Apple world – which is probably most of us at one time, isn't it?
First, comes this titbit from MacRumors claiming that an updated version of Office for Mac is on its way. The site quotes the Business Group Lead at Microsoft Germany, Thorsten Hübschen who told Computerwoche that more will be revealed in the second quarter of 2014. "At the Cebit trade fair in Hanover, Hübschen told Computerwoche that there are now development teams for each of the Office applications, which each produce versions of their product for different platforms. In addition to MacOS, other possible targets for the future may include tablets running iOS and Android."
And that's not all.
Just this morning Juan Carlos Perez reported for the IDG News Service that these developments may not just concern the Mac. According to him, Microsoft is also due to ship a long awaited edition of Office 365 for the iPad. "It'll cost US$69.99 per year and allow buyers to install the suite on two devices – either a MacOS or Windows computer and a tablet," writes Perez, adding, "Microsoft will ship a new edition of Office 365 in the spring called Personal, with the announcement phrased in a way that seems to tease the arrival of native editions of Word, Excel and PowerPoint for iPads and Android tablets."
But wait, there's more. "When it ships, the existing Office 365 Home Premium will be renamed Office 365 Home. That edition, aimed at households, costs US$99.99 and lets buyers install the suite applications on up to five different devices, including Windows PCs, MacOS computers and Windows tablets. It also comes with OneDrive storage and Skype voice minutes."
Some day, and that day may never come, I will call upon you to do a service for me.
One of our favourite wells when it comes to chucking in Apple rumour buckets is the USPTO (United States Patent and Trademark Office) – that rich fertile soil where patents go to thrive or fester. And this week MacRumors has lowered down its leaky pail and come up with a couple of doozies.
First there's the one that explores a bayonet lens attachment mechanism, which would fix a separate detachable lens to the iPhone.
Then there's this one about an iPod pedometer patent, giving rise to further speculation about Apple's expected and much rumoured iWatch.
And if there's one thing the Rumour Mill loves more than an AppleInsider or Patently Apple patent application report, it's the accompanying visuals, which always, always explain things in such gratifying detail. Exhibit A…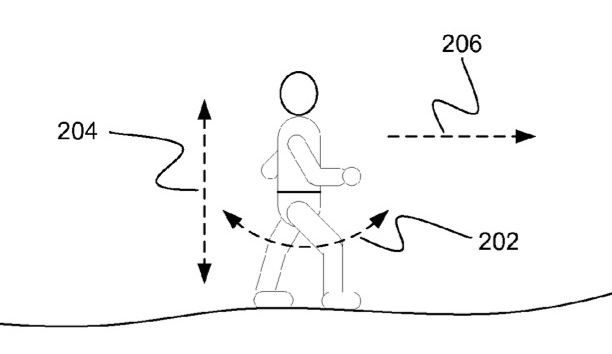 What, no wiser? We're stunned, no, really, stunned. OK, OK for those who need spoon feeding information, the USPTO is always happy to oblige… "In some implementations, optimisations for detecting steps when a pedometer is worn at a user's wrist are described. In some implementations, a threshold crossing step detection method can be enhanced for wrist locations by counting the number of positive peaks between comparison threshold crossings, adjusting a minimum peak-to-peak threshold for qualifying threshold crossings, and inferring a second step based on the amount of time between threshold crossings. In some implementations, the pedometer can automatically determine that the pedometer is being worn on a user's wrist."
Clear now? Good. Can we move on?
MacRumors has another couple of juicy rumours this week (which would pretty much be its modus operandi with that name, wouldn't it?) Add to the patent revelations, there's a screenshot of iOS 8 which shows icons for new Healthbook, Preview and TextEdit applications. The original source appears to be China's social media site, Weibo, but the shot was picked up by 9to5Mac, which has contacts who swear the image is legit. Right, then. That means we should definitely have a look. Here, what do you think?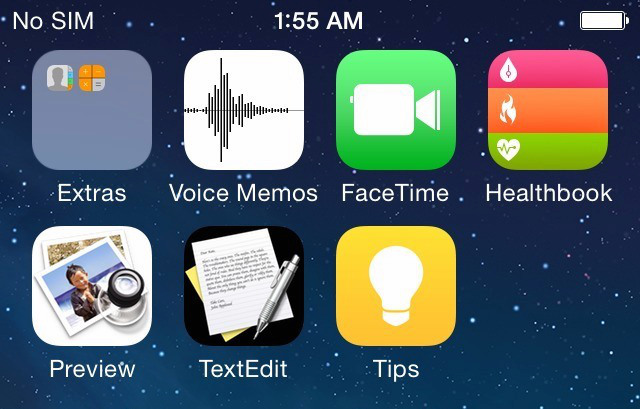 Pretty skeuomorphic icon for TextEdit, don't you think? Thought that had been all done and dusted with iOS 7. Whaat? Just sayin'.
And still on iOS 8, MacRumors is also running with the idea that Apple may be expanding iCloud in the next iDevice operating system "by releasing iOS versions of Preview and TextEdit that use iCloud for document retrieval and storage. It also is developing tools that will make it easier for developers to create iCloud-based applications. These improvements are expected to arrive later this year."
What is the interest for my family?
This question can apply to pretty much any Apple news/rumour really, but since time immemorial it has been the living room and the age-old battle for the remote that puts the fun into dysfunctional families across the globe. And some Apple job listings suggest things may be about to change in that department. "The Apple TV is one of the few products in Apple's line-up that doesn't include an integrated camera, but that may change with future versions of the hardware, according to new job listings from the company, potentially paving the way for gesture-based motion controls in the living room," says AppleInsider.
So let's see if we've got this right. Instead of parental units, minors, guinea pigs et all wrestling each other across couch, armchair and coffee table in order to grab the rectangular 'sceptre' that proclaims them instant king of the content, they'll each be leaping in the air, trying to get their gestures recognised by the blinking eye beneath the screen. And then running around in front of the other family member to overrule them. Rinse and repeat.
Actually we like this. Wii and Kinect promised so much in the area of getting ankle-biters off the couch and being physical in the living room, until the novelty waned and the Xbox reverted to home of mind (and bottom)-numbing Minecraft and little else. Perhaps this rumour is actually linked to the abovementioned Healthbook icon – fitness by stealth? Nice one, Apple, love your work.
And that's it for the Rumour Mill for the week ending 14 March 2014. When in doubt, always remember, "Leave the gun. Take the cannoli".