Blogs
Still rumouring
Are there any rumours worth noting in the days after a big Apple media event? When last Wednesday saw so many of our recent shared rumours either completely debunked or well and truly pudding-eaten proven? What should we do but lean back and say, 'See, told you so! There's the champagne iPhone 5s we told you about. There's the budget iPhone 5c… what? It's still horribly expensive? The rumour mill was off the mark? No, no, no my friends. You misunderstood. What we actually meant to imply was 'expect a champagne budget iPhone 5c… See? All clear now?
But actually, for all the revelations in Cupertino last week, it's the things that went unsaid that means there's still plenty of grist for the mill. So let's press on and see what scuttlebut has been flooding the internet regarding all things Apple…
Worst. Thing. In. The. Known. World.
Oh my giddy aunt. For the love of Ariel, no!
We are hoping… we are praying… we are imploring the universe and all that lives in or above it that the first rumour today is just that: a wild, off the planet, crazy old idea that someone who had been smoking way too much wacky baccy had one night.
Or even that it's just some very twisted and sadistic joke just because it's Friday the 13th today. We could live with that.
But we fear it could well be true. As in, a definite real thing. That is actually going to happen. We mean this looks like a real trailer, right…?
Our thanks (but then again not so much – it's a while since we've been quite so disturbed by an Apple-related story on the web) to tuaw.com for alerting us to this travesty and we really can't add much to all the reasons the website details why this is such a dreadful, seriously, bring-back-capital-punishment-for-its-creator idea, suffice to say, please, please, please don't let Second Screen Live ever head over here.
Ever.
Wasn't this like, so last week?
Following on from Mashable's hints in last week's Rumour Mill regarding the possible unveiling of an updated Apple TV box (something that didn't happen at the 10 September media event), TechCrunch is throwing a bit of fuel on that particular fire.
Its writer MG Siegler sent an 'excited' tweet regarding new forthcoming Apple TV hardware on Wednesday, which was promptly picked up and passed on by Macrumors.com. The website noted how long it's been since the TV box has had any sort of update, while adding that a software tweak will come into effect next week at the same time as iOS 7 is unleashed on the world.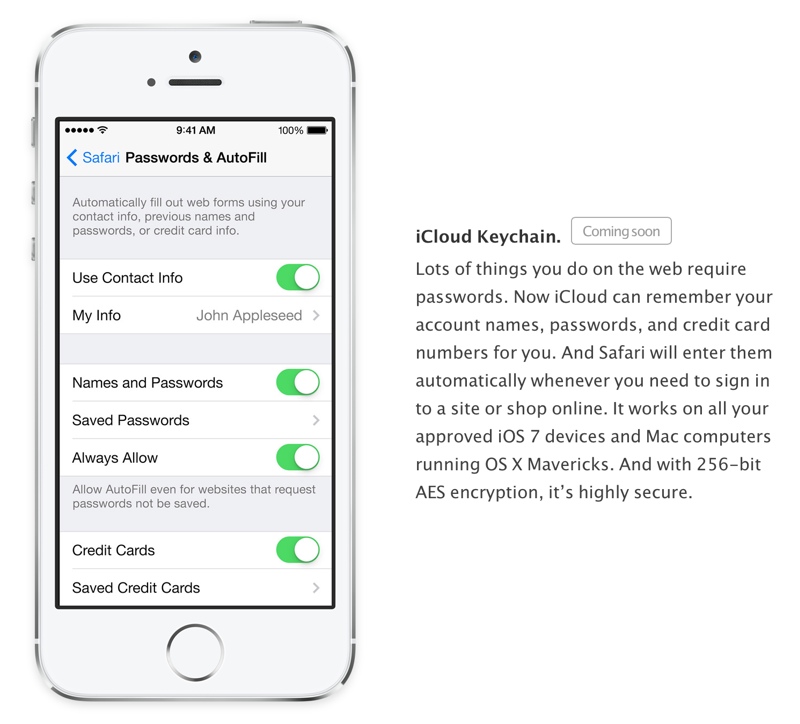 Just yanking your chain
We also have Macrumors.com to thank for noticing that iCloud Keychain support appears to have been pulled from the iOS 7 Golden Master (GM), which developers were allowed to access this week. The cross-device password manager is now being tagged as 'coming soon', leading to speculation that it won't be in the first iteration of iOS 7, but will perhaps make its debut alongside OS X Mavericks, later in the year.
Chop chop…
And the prize for the most predictable rumour of the week goes to The Independent's Katie Hodge. Of course, as soon as Wednesday's event was done and dusted, it was only a matter of time before the idea of another rumour-made-reality – the fingerprint scanner – led to a bout of scaremongering of the highest order.
"Thieves may mutilate owners in bid to gain access to fingerprint-reading handsets, expert warns" is the calm and measured headline of Hodge's piece, which goes on to quote dire predictions from one Marc Rogers – a researcher at a mobile security firm. "Thieves in some regions have worked out that you can force a victim to unlock a secured device, and in some extreme cases have also mutilated victims in order to steal their fingerprint," says Mr Rogers, cheerily.
Nice work, Ms Hodge. Please step right up and claim your prize. What is it? Why, it's a double-pass to the first ever Second Screen Live. (And yes, second prize, was 500 double passes). Enjoy.
What do want? Metal gloves. When do we want them? Now!