Blogs
The curmudgeonly woes that befell the Rumour Mill last week have thankfully dissipated and now we can only see good things… a brighter, saner world, with useful innovations and hope for the future. The kind of future hinted at in the closing scenes of Casablanca in fact. So… take it away Rick and Co. Today's Rumour Mill is in your oh-so capable hands.
A bottle of your best champagne and put it on my bill
Toil away on the threshing floor for any length of time and it soon becomes abundantly clear that you're not so much working in the rumour mill, but trapped on a treadmill. Or at least one of those little hamster wheel thingies that go round and round and bring you right back where you started. So, yes, every week there seem to be yet more variations on a theme. And the themes invariably revolve around iWatches, bigger iPads and Apple TVs. It can get a trifle, dare we say it, repetitive?
So imagine our unbounded joy this week when our net-trawling nets hauled in a rumour that was swimming around in a school of 'wearables', but then turned out to have nothing at all to do with smartwatches? Oh the bountiful bliss. A new rumour! Well, at least one we've not come across before. Thank you Macworld UK, thank you for alerting us to a report first published by Reuters.
The story, passed on by Ashleigh Allsopp, posits the idea that Apple is in cahoots with a Danish earpiece maker, with a view to producing 'made for iPhone' Bluetooth hearing aids.
"GN Store Nord… the world's fourth-largest maker has collaborated with Apple Inc to develop a device packed with Bluetooth-like technology that, installed in the ear, allows users to stream voice and music from their iPhones without the need for an intermediary device," says Reuters.
So it's not only something new, but something really rather intriguing, socially-minded and very possibly darn useful. We say again, thank you Reuters and Macworld UK, thank you.
You must remember this…
Well, after that flurry of excitement, it's back to normal with imaginations going into overdrive following the news this week that Apple has purchased the Tel-Aviv-based 3D sensing technology firm PrimeSense. What could the Cupertino California company have up its voluminous sleeves? MacRumors notes that PrimeSense is best known for developing the chip behind Microsoft's Kinect gaming system and suggests the acquisition could point to Apple's intention to "incorporate motion sensing technology into a potential upgraded set-top box or television set" adding "Apple could also incorporate the technology into Macs and mobile devices, 3D scanners, or interactive retail displays".
MacRumors is also game enough to try and explain the technology behind the 'Light Coding' PrimeSense uses in its 3D depth sensing. We're not going to attempt a translation – you can read it for yourselves here.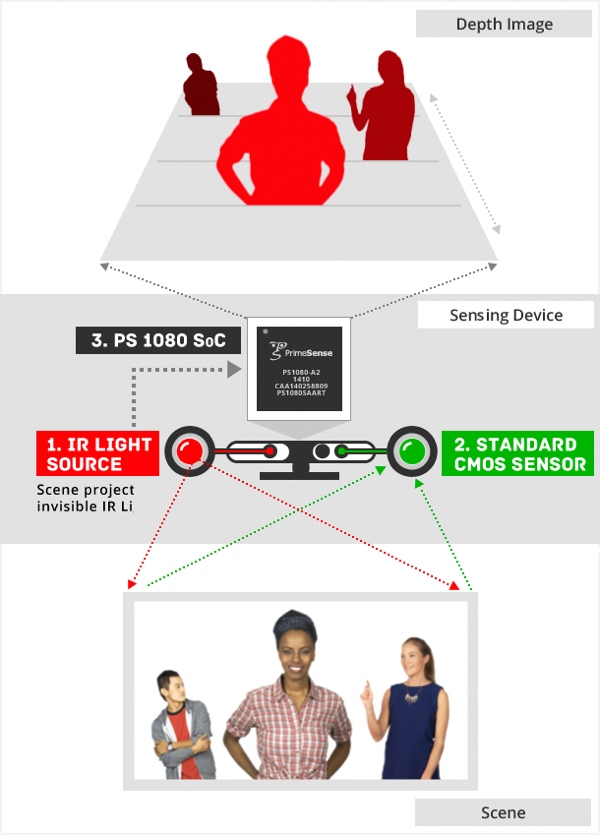 I never make plans that far ahead
MacRumors also had something to say about some recent patent applications recently filed by Apple. But it specifically highlighted a new 612-page patent application, as did AppleInsider. Both sites noted that the application had quietly materialised, but been overlooked by many because it was filed with the World Intellectual Property Organisation (woopee, WIPO…), and not with our old friend, the US Patent and Trademark Office's database.
This particular patent revolves around Touch ID and is considered to be somewhat revelatory regarding Apple's future plans for the technology – namely for its trackpad capabilities and display integration. "In one example, Apple shows how a user moving his or her finger right to left across the Touch ID home button could pan a map, with a subsequent upward movement across the home button triggering activation of a multitasking interface," says MacRumors, while AppleInsider muses, "Twisting a finger on the sensor or making a circle — which Apple calls a 'revolution' — around the sensor's edge could toggle iOS's orientation lock feature, for example, while keeping a finger in contact with the button for a specific period of time could change the button's behaviour when pressed."
I think this is the beginning of a beautiful friendship
If September was the month of the iPhones (5s and 5c) and October/November was all about the iPads (Air and Retina display mini), then perhaps December the granddaddy of them all will finally get a little love. The radically redesigned Mac Pro was first revealed at the Worldwide Developers Conference in June and further discussed in October, when those flashy tablets stole all the limelight, but with news this week that a one-off deep red version designed by Jony Ive and his posse for a charity auction went under the hammer for a mind-blowing US$977,00, it's perhaps not surprising that rumours are starting to hot up about the top end Mac's eventual release into the market.
One of the more diverting revolves around the visuals that will accompany the powerful hardware. AmongTech is among the tech sites (naturally) noting that display manufacturer AUO has started making 27in and 32in 4K displays that use DisplayPort, suggesting Apple is about to release a new Thunderbolt display.
"The panels have a 3840 × 2160 resolution, 16:9 aspect ratio and use eDP (Extended Display Port) signals. These are the first 4k panels manufactured using DisplayPort signalling. It is very likely that we see these displays being used in the upcoming Thunderbolt 2 display; however, these are still unconfirmed rumours," says AmongTech.
Somehow, just because you despise me, you are the only one I trust
In a more ephemeral, if not downright flighty, dissertation on future possibilities for the Big Fruit company, MacDailyNews kindly passes on some pearls from Fortune's Philip Elmer-DeWitt. Well, when we say pearls, we actually mean gold. And when we say gold, we mean golden eggs. Because apparently according to Fortune's Elmer DeWitt and "three of his favourite mobile industry analysts", Apple's valuation on Wall Street is shot all to pieces because the prevalent belief is that Steve Jobs was a goose (hey, that's a bit harsh) or something and, after laying so many whopping great eggs, and then shuffling off this mortal coil, he left Apple with nothing new to show/eggs to hatch/rabbits to pull out of the hat… oh look, it's all a bit convoluted. Why not just make up your own metaphors, everyone else seems to.
Round up the usual suspects
And just so that you don't feel you've landed in a completely alternative universe of brand new rumours and seriously sidestepping scuttlebutt, this week there was more grist added to the tales of a bigger iPad which have been circulating for quite some time. The latest kindling for the rumour fire comes courtesy of DigiTimes, which says, quite boldly we reckon, "Quanta Computer has reportedly landed orders for Apple's rumoured large-size iPad for mass production in the second half of 2014, while Inventec, Quanta and Foxconn Electronics (Hon Hai Precision Industry) are currently competing over Apple's iWatch orders, according to sources from the upstream supply chain." OK, there was one 'reportedly' and a 'rumoured' in there, but it still sounded pretty confident to us.
But wait, there's more. "Quanta is expected to encounter several challenges in terms of industrial design and assembly when making the large-size iPad. And since the size is not the mainstream specification, order volumes are expected to be limited, the sources said." Ohhhh, those sneaky sources…
Oh, if you run into those pesky 'members only' messages on DigiTimes site, MacRumors covers much the same material here.
And now that we're brought you back to familiar territory, we feel safe to leave you. That's the Rumour Mill for the week ending 29 November 2013.
Here's looking at you kid.