Blogs
Well, all putting your feet up and relaxing after Wednesday's excitement? It certainly seems that way in the Apple blogosphere. In fact, as far as we can see, the only downside of an event that covers so many topics – Mavericks, iPad Air, iPad mini with Retina, new MacBook Pros, the Mac Pro, updated iWork and iLife (surely at least one of those floated your boat?) – is that all the fuel that's being firing the rumour mill for the last little while has been well and truly answered.
Yes, the new iPad mini has Retina, and no, the fifth-generation iPad doesn't come in gold (yah, boo, hiss) or support Touch ID. So what the heck does everyone talk about now? The much fabled smartwatch? Which of course did not appear at the Apple event at the Yerba Buena Centre for the Arts this week. Well, no, not really. Looks like everyone has even got bored with that topic… for a moment. So I guess that leaves us with the other old standard…
I find television very educating…
(every time somebody turns on the set, I go into the other room and read a book)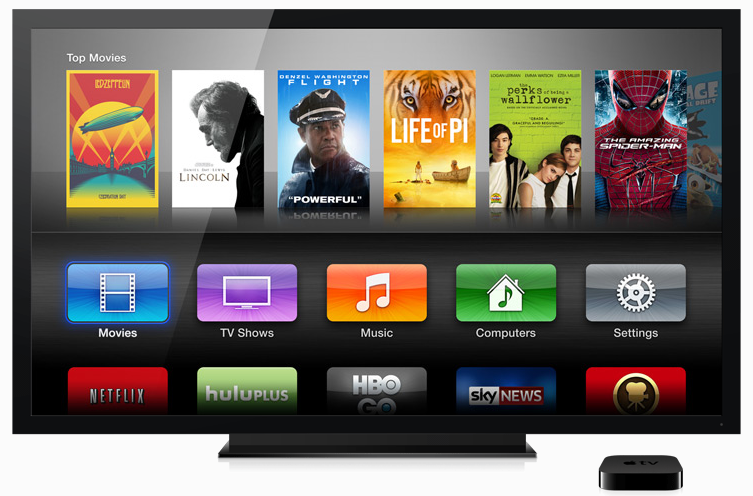 Yes, the Apple TV. Good old MacRumors – we knew you wouldn't let us down. And you haven't, with this report referencing analyst Masahiko Ishino at the Advanced Research Japan (absolutely no relation to the Ponds Institute, you doubting Thomases you…). Ishino has told the world this week that he fully expects to see 55in and 65in 4K televisions appearing some time late next year. MacRumors also had the grace to credit Bloomberg, which also reported on the, er, report. It's not the first time rumours of a television have arisen.
Taiwan's Economic Daily News indicated as much in August with a story about Apple being in cahoots with glassmaker Corning, Foxconn, display maker Innolux and G-Tech Optoelectronics, which MacRumors also picked up on. But the latest scuttlebut from Bloomberg is a little more specific, with talk of a frameless design and units priced between US$1500 and US$2500. And with Foxconn earmarked for final assembly before delivery kicks off in the fourth quarter of 2014. That's only a year to build this particular conveyor belt on the rumour mill, folks. Let's see how it goes.
I never forget a face…
(but in your case I'll be glad to make an exception)
So which other old reliables can we turn to for our next bag of grist for the rumour mill? Ah, of course, Carl Icahn. The inveterate buzzing bee and trigger happy tweeter likes to stir up a bit of debate all by himself. This week the investor and sometime hostile corporate raider, teased with a tweet about his latest epistle to his erstwhile dinner date Tim Cook, telling the world that they could read the full contents of his no doubt breathless prose on his website. And, yes, he's still banging on about the share buyback for Apple holders.
The full letter has now been uploaded to the aforementioned Square Table website (no danger of any whiff of Arthur-like democracy in the Icahmalot world, it seems…) but you'll have to register to get full access.
In the meantime, Barron's blog reports the findings of strategist Andrew Wilkinson from Miller Tabak and Co, who notes (somewhat gleefully, we reckon) that despite Icahn having such a huge financial stake in Apple, in real terms, he's only 23rd on the list of big investors and his stake actually amounts to just 0.5 percent. Such loud squeaks from such a little mouse…
Your Excellency
(You're not so bad yourself)
Wait a minute, what's this? Did we say all the iPad rumours of recent times have been well and truly answered? Not so, according to Mike Wehner of TUAW.com. Mind-reading Mikey reckons that the actual existence of the iPad Air alone adds fuel to his idea that a 13in iPad is on the horizon.
And to be fair, he's written a fairly lengthy and persuasive article to further his argument (much more comprehensive than any two-para snippet you'll find here), but our favourite bit is definitely his closing comments, when he admits, "In short, I have no idea, and neither does anyone else (save a few Apple folks, of course)." Can't fault the guy for candour.
If you've heard this story before
(don't stop me, because I'd like to hear it again)
And hold on, we're not quite done with the iPad rumours yet. And just for a change*, it's a question of supply.
It's the mini's turn next. AppleInsider's Neil Hughes reports that although Apple managed to get the Retina iPad mini ready for the recent event, it was a tight thing and the one shown on stage may be a rare breed.
Considering the article was published last Monday (before the real life next generation mini had actually been revealed), I suppose we can give Timothy Arcuri at least one tick for correctly predicting its existence. As to the rest of his premise, only time will tell, though adding a big bag of coal** to that particular fire, MacRumors published a piece only today, in which Eric Slivka throws his hat in the ring too.
You haven't stopped talking since I came here
(you must have been vaccinated with a gramophone needle***)
OK, that's your lot. We told you that after Apple's big reveal the grapevine groupies seem to have taken the rest of the week off. So we're giving you permission to do likewise. Have a cigar…
*really not.
**ask someone over 50.
***yes, you can ask them this as well.