Blogs
The last week has been a huge period for Apple and all those who pay close attention to what the Cupertino-based company does and says. While the WWDC 2014 keynote was a jam-packed two-hour monolith, featuring a number of exciting releases from OS X Yosemite to iOS 8, both due to arrive on the appropriate devices in spring, the event did not leave the rumour mills empty.
In fact, it has raised a few questions. Lucky for us we have pundits ready to offer up juicy titbits to mull over.
Split-screen multitasking in iOS 8
A video from developer Steven Troughton-Smith has been published to YouTube, showing an unfinished version of split-screen multitasking in an iOS 8 beta. The video is a little disjointed because it features an iOS simulator on a Mac, but the concept is there.
According to the video, using two-finger swiping, users will be able to split their iPad screen into three sizes: a third, a half or three-quarters and display a second app in the remaining screen.
The video doesn't quite show the function, however. Only one app appears in the video, but this is because the functionality is still being developed.
We may have to wait until spring to find out exactly how it will work. That won't stop commentators expressing their opinion and we wouldn't want it any other way.
Second glass gateway
According to the nice folks over at ifoAppleStore, the upcoming Chongqing Apple Store in China's south-west will feature the iconic cylindrical glass entryway from the store in the Pudong district of Shanghai.
ifoAppleStore has posted a number of renderings and photos of the upcoming store, which will feature two circular entrances and be positioned underneath a plaza. Have a look at the images below.
The store is expected to open in 2015.
Source: ifoAppleStore
iMacs due next week
A rumour doing the rounds this week from MacGeneration (Google Translate) says that Apple will launch new iMacs next week with faster processors and lower retail prices. The report cites the same sources who predicted the MacBook Air price drop in April, and concludes Apple may include Thunderbolt 2 ports.
A series of new processors may be included in the spec bump update, possibly increasing the processor speed by 100 MHz. While it is only a week since WWDC, where Apple has announced Macs in previous years, a small update of this nature would not have made sense.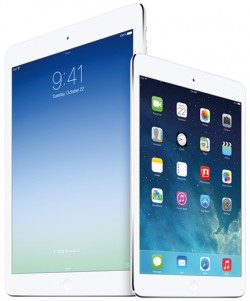 iPads to begin production
According to ETNews [Google Translation], the 9.7in display used in the iPad Air will begin production this month, with other parts of the device to also begin production. While it seems logical for all of the parts to be built at the same time, if correct, the report does indicate that new iPads will arrive in the second half of 2014, likely in spring along with iOS 8.
Many pundits are expecting Apple's second-generation iPad Air to keep the same design as the first, with a number of improvements. Rational? Probably. Among those improvements are the rear camera, which is rumoured to be upgraded to 8MP, Touch ID and a new A8 processor.
iPhone 6 stars
We cannot have a Rumour Mill without the addition of the iPhone 6. So, as much as we'd like to avoid showing you mockup after mockup, we'd also like to show you what's trending. So, this week we have the next-generation Apple smartphone in the hands of Taiwanese star and race car driver Jimmy Lin. Browse them as you please, just don't hold us accountable when Apple announces the iPhone 6 and it looks nothing like the photos below. Peace.