Blogs
Good day to you Rumour ravers. You may be aware that this week it was Apple's birthday – on 1 April it was 38 years since Jobs, Wozniak and Wayne signed those all-important bits of paper and Apple was officially established.
To mark that fact, this week the Rumour Mill has decided to step back in time and bring you this week's rumours about all things Apple courtesy of 1976, and the cultural happenings that defined the year. Let the trivia begin…
The late to the party – Malcolm Fraser was the Australian Prime Minister, after the dismissal in '75
Fittingly, our first rumour this week comes from Reuters, which says the next iPhone will come with 4.7in or 5.5in screens. Really, Reuters? That's your bit of news? The rest of the world has been running with that one for at least a week, as noted here and here. Come on, catch up Reuters! Arstechnica was kind enough to pass on the info without raising its eyebrows at Reuters, snorting derisively and otherwise ridiculing it for being so late to the party…
Reuters, like everyone else, credits its information to "supply chain sources", which, as Arstechnica helpfully points out "could mean anything from a Foxconn vice president down to a factory janitor".
"As usual, Apple declined to comment on the screen size rumours. The suppliers mentioned in the Reuters piece are also officially keeping mum – no doubt because if they are supplying new screens for Apple, they'd like to keep supplying new screens for Apple," concludes Arstechnica sensibly.
Basically the world and his wife is saying categorically that the next iPhone will come in two sizes – 4.7in and 5.5in. Won't the world (and his wife) feel awkward if they're wrong.
The world domination – Abba had five number one singles in Australia, including 'Fernando', which stayed there for 14 weeks
The Diplomat reckons that the next smartphone will not feature sapphire glass after all. This is "due to low yield issues, despite the fact that the Cupertino giant has had some iPhone test units boasting this type of screen. On the brighter side, the same sources suggest that Apple will use sapphire glass for its upcoming smartwatch," says the site.
The Diplomat also has a few ideas about design. "The documentation includes exact measurements too, and the 4.7in device is supposedly going to measure 137 x 66 x 7 mm. Interestingly enough, a 5.7in iPhone has also been spotted in the same documentation, boasting overall dimensions of 157 x 77 x 6.7 mm," it says, before spinning off in another direction and winding up with the interesting conclusion, "In other words, you should read these leaked schematics with a pinch of salt."
It then mentions those leaked images that did the rounds earlier in the week, of an iPhone 6 in a 'testing cage', which "reveal what seems to be some sort of sensor on the back panel (possibly for the rumoured Healthbook function), rounder corners and antenna 'lines' across the back cover".
And still taking over the planet – Rocky was number one at the box office, across the globe
But wait! We don't have consensus on this. International Business Times says 'nah nah na nah nah' to you, The Diplomat. "According to the latest patent sighting, a new iPhone unit will come with "Oleophobic Coating on Sapphire," declares the site. And it also believes you can never have enough cameras… "Apple will also be releasing a new camera module using two camera sensors and a thinner design. The patent goes by  'Electronic device with two image sensors', describing two sensors each handling the light and colour aspects of the amera. According to the patent filing: 'As a result, the signal-to-noise ratio may be improved. Advantageously, image quality may be enhanced'." 
The good news – Benedict Cumberbatch was born 
IBTimes also reckons the iPad mini with retina display will be refreshed (what? Is it tired already?) and an iPad Air 2 could be on the way "as it has been spotted in the iOS 7.1 code". Actually the site is quoting Ming-Ching Kuo who has a bit of solid form in the area of Apple rumours and has written in a research note, "We believe Apple plans to launch upgraded iPad Air early this year, and will accelerate development of 12.9in iPad."
So maybe the iPad pro is not so dead in the water, after all?
The revealing – No 96 and The Box were letting it all hang out on Australian TV
But we'll know the truth soon enough perhaps. Because this very morning Apple announced the dates of its next Worldwide Developers Conference. Put 2 to 6 June into your diaries now, Apple watchers and be ready for fabulous revelations, world and game changing new products and all kinds of wonders previously unguessed at. Or not. Perhaps it'll just be a 4.7in and 5.5in iPhone and that's it… no iWatch, no new Apple TV, no iPad pro… As noted elsewhere in Macworld Australia, Apple has yet to release any further details about the conference of the substance of the keynote, but it is thought that that will take place on the morning of 3 June.
Until then… let's keep those rumours flying.
The innovatory – the laser printer was introduced by IBM
The Rumour Mill doesn't feel right with itself unless it has at least one really good iPatent to discuss come Friday morning. So we're happy to report today's offering. And this is also courtesy of Arstechnica, which was clearly working overtime this week.
Andrew Cunningham at the site reports that Apple has received a patent for an interchangeable iPhone camera lens. There has been quite a bit about this on the forums and speculation sites this week, and it stems from a patent lodged with USPTO (the US Patent and Trademark Office). Originally lodged in September 2012, the patent seems to be addressing the problem that more serious photographers have taking good shots with their smartphones.  "You can fit a small, fixed focal length lens to the back of a phone, but doing anything more complicated would make the device considerably larger. One potential solution to this problem would be a system of detachable, interchangeable lenses like those used in DSLRs and other mid- to high-end cameras, but the attachment mechanism itself would normally take up quite a bit of space," writes Arstechnica.
But, here's the best bit…
"Apple's proposed fastening mechanism would use a series of small bayonet mounts located on both the phone and the lens."
Sooooo… we have iPhones that will also come in useful in the trenches, should we ever return to the dark and deadly days of World War I? Or perhaps this will just be a sneaky way of letting those people in front of you at concerts know that their continual filming of the entire event is actually impairing your enjoyment of said event.
What? It's not that sort of bayonet? Well, say what you mean then, Apple patent people.
… crickets.
OK, if not you, anyone else? How about you Slashdot? "A bayonet mount is a fastening mechanism which is typically seen on cameras, used to attach lenses to the camera body. Ah! Thank you. 
Slashdot delivered this explanation in a post from concertina226 that also discusses the possibility of interchangeable camera lenses. "At the moment, there is no adjustable camera lens system in existence for smartphones, although there are lots of third-party macro lens products that consumers can buy to clip onto their smartphone."
The historical footnotes – Gerald Ford was the President of the US
And to finish up today, keeping on that old theme of size really being everything, we'd just like to share this bit of fluff. No, it's not a rumour, just a parody, but not that much more ridiculous than some of the ideas that genuinely get discussed.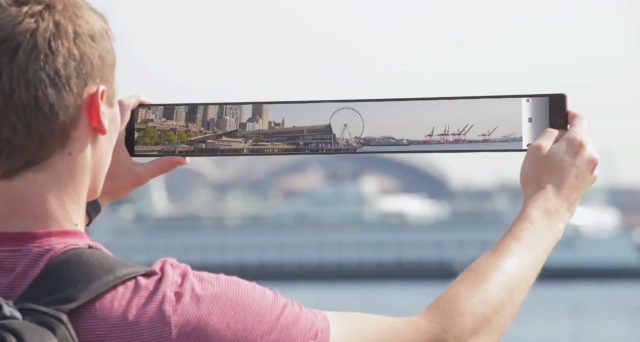 In fact, we really like the lightsaber app…. but you can keep BodyTime.
And that's the Rumour Mill for the week ending 4 April 2014. And here's one more little bit of trivia to go out on… when 'Fernando' went to number one in the Australian charts, it replaced Queen's 'Bohemian Rhapsody', before eventually being displaced itself by Sherbet's 'Howzat' in July (one of these things is not like the other ones…)