Blogs
Haven't we just been here?
So, there'll be two new/updated products, unveiled shortly at an event that has yet to be officially confirmed by Apple. Oh and it looks like there won't be enough stock of one of them to go around, if it's even ready at all… Stop me if you're getting déjà vu. Yes, this week's rumours are all about the forthcoming iPhones… iPADS, iPADS, sorry, they're all about the iPads.
Some say the date for the launch of the iPad 5 and iPad mini 2 will be as early as 15 October, while others, like IBTimes.com are being a little more generous with their time – plumping for a week later. Regardless, speculation about what the latest Apple tablets will look like is swirling thick and fast.
We've already heard that the iPad 5 could well come in the same colours as the iPhone 5s, namely, space gray, silver and gold. Now, there's speculation that it could have wireless charging and also perhaps Touch ID, after a video (embedded below) from Unbox Therapy seemed to show that the front panel of the forthcoming tablet doesn't fit the usual home button, but would fit the smaller Touch ID home button, also reported by IBTimes.com among others. Will it also have an eight-megapixel camera? Be thinner, lighter and have a tapered back?
And what about mini me?
So much for the iPad 5, what about its baby bro – the second generation of the iPad mini? Well, the first thing to note is that it may not even make it out of the gate this month at all. Australia's Financial Review as well as Reuters reckon that Apple is only just getting its act into gear organising a supply chain for the highly anticipated iPad mini with Retina display. Which would mean that "the gadgets could be available in only limited quantities this year, if at all, and the company may miss the chance to cash in on the year-end holiday shopping season".
How about if Apple holds off on the Retina feature, if it's causing so much angst? Noooooo, that's the worst idea of all apparently.
Hear that in the distance? It's the wailing of the disappointed, according to a Forrester analyst called Frank Gillett. "If they don't put in Retina… there will be howls," he told AFR.com.
But on the plus side, if and when we do get to see it, there is a definite chance that the iPad mini 2 will also upgrade from a five- to an eight-megapixel rear camera, says MacRumors.com – with the sensors provided by Sony, according to Appleinsider.com.
No chips with that?
Other stories gaining traction this week pertain to Apple's use of Samsung for the upcoming A8 chip. Currently, the chips used in Apple's iPhones are manufactured by the company's number one rival, Samsung Electronics. Now, reports are emerging that the Cupertino California tech company is planning to take the scissors to those apron strings and hand over the lion's share of that business to Taiwan Semiconductor Manufacturing Co (TSMC). Technologytell.com cites a report from Korea that implies Samsung will only be left with about 20 to 30 percent of the manufacture of the vital chips. The website also says it's taking the rumour with a grain of salt, so make of that what you will…
Spreading the seeds
MacRumors.com this week suggested that Apple may already be seeding iOS 7.0.3 internally. The website quoted BGR.com, which wrote, "Popular belief suggests that iOS 7.1 will debut with Apple's new iPads at the company's rumoured October event this month. According to our sources, Apple has seeded iOS 7.0.3 to employees and partners for final testing. We're not sure exactly when the new software will be released to the public, but we believe it will be sometime next week." Providing the update addresses the current most pressing complaint about Apple's latest mobile operating system, this should come as welcome news to all those disgruntled by an unwelcome side effect of iOS 7.0.2 – the widely reported glitches with iMessages.
And for dessert…
Earlier in the week, Macworld Australia reported that big investor and sometime corporate raider Carl Icahn and Apple CEO Tim Cook were due to have a New York dinner date. The initial post-dinner reports were all sweetness and light, with inveterate tweeter Icahn proclaiming flowers were exchanged, doors opened and romantic walks home through Central Park were the order of the day. OK, maybe he didn't go quite that far, but he did say that the atmosphere was friendly.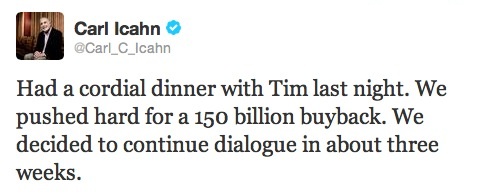 Now, it seems that perhaps the date wasn't quite so amicable as all that, with Icahn stating in an interview on CNBC that his conversation with Cook was "a little testy" at times. Considering his well-established reputation for clashing with the boards of companies in which he has invested, Icahn also dropped some ominous hints about the future of his relationship with the company.
Joined at the dinner by Apple chief financial officer Peter Oppenheimer, Icahn and Cook disputed the amount of say shareholders should have in how the company spends its not-so- negligible piles of cash. "The board is not God," Icahn said. "And the board, in this kind of a case, should be listening to what the shareholders want."
We were unable to confirm rumours of Cook and Oppenheimer both buying several cartons of of Quick-Eze after the dinner…
And that's the Rumour Mill for the week ending 4 October 2013…
by Macworld Australia staff