Blogs
On a gloriously sunny day in Christchurch, I picked up my partner on her lunch-break, and went to the Botanic Gardens. Finding a park bench, we sat down to eat lunch and chat, and I put my iPhone down next to me on the bench.
After lunch, we walked to my car and I dropped her back to work. She left her iPhone with me for the afternoon — it was going to be busy so she wouldn't have time to check it anyway.
I put my hand in my right pocket to check my own iPhone… then my left pocket… then my stomach dropped. Suddenly, It dawned on me that I'd left it back at the park.
My eyes took on a slightly manic gleam as I drove back to the gardens, with little concern for anything but the fastest route through traffic. This was my iPhone, that little block of shiny black apple goodness that's always by my side.
Apps to the Rescue!
As I approached the gardens, I remembered something: an app we had installed just a week prior called 'Find My Friends'. This app lets us see where each others iPhones are at any given time, via GPS.
Suddenly her decision to leave her phone with me was a godsend. I grabbed it, opened the App and behold: a shining beacon of hope, a small blinking dot representing the current location of my own iPhone.
The beacon appeared on a map and looked to be roughly where I'd left it. I leaped out of the car and made my way to the bench, keeping an eye on the little beacon. It was getting closer and closer but as I got to the bench I could see my iPhone was no longer there.
I quickly learned the beacon wasn't as accurate as hoped. There was also a delay, which would sometimes cause it to jump from one place to another suddenly.
Crazy Guy with Tracking Device
I approached 4 or 5 different people, all of whom gave me odd looks. It didn't help that that my partner's iPhone was covered in Swarovski diamantes with a pop-out tiger face.
After walking around the gardens holding what was now a bling-bling tracking device in my hand and approaching everyone in the vicinity, I saw the beacon suddenly move to a good 100m away. It was inching towards the public hospital. In the back of my mind, there had been a possibility of some good-natured person taking it to the nearby police station. But this wasn't the direction of the police station! The image I had of this stranger suddenly turned a darker shade.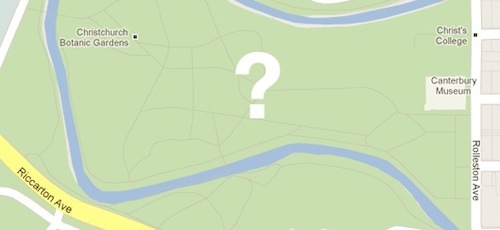 As I approached the hospital entrance, the beacon disappeared. I thought to myself: they have managed to turn it off. I stood there, alone, facing the loss of my iPhone. How would I tell my friends and my colleagues? The ducks standing by the river opposite appeared to be looking at me, mocking me for not putting a passcode on my phone.
I walked through the hospital, looking for anyone suspicious but there were so many halls, rooms and corridors. Then all of a sudden, the beacon reappeared several blocks away. I decided to go back to my car and drive there.
Just a Mirage
I approached the block where the beacon appeared but it once again led me astray, almost like a mirage disappearing, only to reappear somewhere else. It was around there somewhere though: I just needed to look around for suspects. I parked and watched the beacon a little while, waiting for a consistent location. It seemed to be in the car park.
The beacon suddenly jumped again. This time roughly 500m away, on Riccarton Road. My fears of the stranger having a car seemed to be confirmed.
In Hot Pursuit
I drove after them: what else could I do? I'd sent several text messages and tried calling the phone with no response. If I had installed another clever app 'Find My iPhone' I could have remotely locked or wiped my iPhone but I never set that up.
Riccarton Road was bumper to bumper. I could see them on the map, still a good distance ahead of me. The gap would sometimes lessen and then increase again.
We continued on this cat and mouse chase through Upper Riccarton and onto Yaldhurst Road, where the traffic lightened and I could finally gain on them. At times there were cars next to, or in front of me, that I swore must be them. Then the beacon would jump forward or backward, taunting me. I took detours down several sidestreets, only to find the beacon reappearing back on Yaldhurst Road.
I followed it still, wondering where this stranger lived. "Are they just taking me on a wild goose chase?", I thought. Why didn't they answer my messages? They could have disabled the tracking if they had looked hard enough.
In the end, I followed the beacon to the outer Christchurch suburb of Hei Hei, some 10 kms away from the Gardens. I stopped and watched the beacon go down a little side street where it appeared to be fixed in one spot. It was actually just moving very slowly. 
I headed to that side street, not liking the prospect of having to knock on someone's door. Suddenly the game had changed: I was on their turf now.
I caught sight of an elderly lady and young boy walking on the sidewalk. They were moving at the about the same speed and in the same location as the beacon. Could this be them? I tailed them for a while to make sure. After they turned a corner, I pulled up and approached them.
Found in Translation
They didn't appear to speak or understand English very well so I made gestures and pointed to my partner's phone. They looked slightly bewildered. I then pointed to the ground hinting at 'finding something'. The lady reached into the young boy's backpack, opened a plastic lunch bag and pulled my iPhone out from amidst food crumbs.
Needless to say, I think they were pretty surprised to see me and I was enveloped in a wave of relief, like no other.