Blogs
Lexmark's announcement earlier this week that it will stop making inkjet printers shocked me. I've been testing and reviewing printers for as long as Lexmark has been in the inkjet printer business—almost 20 years.
What does it mean for the inkjet market in general—and for your inkjet printer (if you own one)—that a sizable company like Lexmark is getting out of the business? Let's examine this decision.
Why Lexmark matters
A lot of people may not care whether Lexmark inkjets live or die. After all, for most of the years that Lexmark was making inkjets, its products were notoriously bad.
Lexmark inkjets were inexpensive, cheaply made, and subpar in performance, and the company was almost shameless about the high prices it charged for replacement inks. Even if you received the printer for free when you bought a new PC, as many users did, you regretted its shortcomings sooner rather than later.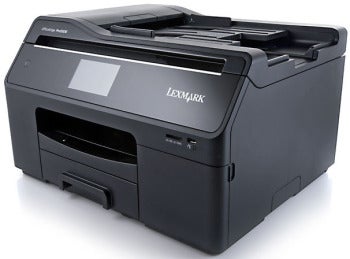 To Lexmark's credit, however, over the past several years, the company has made concerted efforts to improve its products. For instance, a line of small-office printers delivered good speed, solid features, and reliable print quality, along with cheaper inks and longer warranties than the competition did.
Just a few months ago, the company launched a corporate line of inkjets called OfficeEdge, and those models were as good as or better than any of its rivals' offerings.
Lexmark certainly faced an uphill battle to improve its image, given the many users who remembered the bad old days of Lexmark inkjets. But if the recent, much-improved products couldn't make a dent, that says as much about the state of the inkjet market as it does about Lexmark.
Consumers flee inkjet printers; will businesses fill the void?
Lexmark's decision to amputate an entire business unit suggests that its sales numbers were dramatically bad—bad enough to make a hard stop its only viable choice. After all, it costs money to design a printer, manufacture, and sell it.
The profit margins are in the ink, however, so my recent discovery that Lexmark had increased the prices of some of its inks by as much as 20 percent might have been a clue that the company wasn't doing well.
The money in printer sales seems to be moving away from consumers and toward business users. In the past three years, Epson and Lexmark have been turning away from consumer inkjet sales to focus more on workforce inkjet printers.
For instance, HP CEO Meg Whitman said on August 22—as part of the company's recent and dismal earnings announcement—that a steep decline in HP printer sales was due in part to a company decision to de-emphasise products for its lower-end customers.
HP may see a better future in its longstanding Officejet line of business inkjet printers. Similarly, Epson has made a big investment in its WorkForce high-end inkjets. Until this week, another competitor in this area was Lexmark's OfficeEdge line. Kodak, emerging out of Chapter 11 bankruptcy, is the outlier; and it's hardly a bellwether, having recently announced that it would be holding on to its consumer inkjet business.
User patterns are probably changing faster than the printer makers are. Businesses print less as more office tools move online.
Students, families, and small businesses live and work almost exclusively online now, using their smartphones and tablets. Every user who posts photos straight to Instagram or Facebook, or who prints them through a retail outlet or online service, deprives a printer maker of a profit-heavy ink sale.
Why then are inkjet multifunction printers still so popular? Perhaps because people need the scanner as much as or more than they need the printer these days.
Advice for Lexmark inkjet owners
Are people who bought Lexmark printers going to be abandoned—and if so, when? Lexmark says that it will honour existing warranties and continue to sell supplies, but the duration of that commitment is by no means certain.
I can see Lexmark continuing to sell ink through the end of its longest inkjet warranties, which would be three years from this week. After that, we might well see a rapid phase-out.
Lexmark's best inkjets right now are those aimed at small businesses, but few small businesses will want to stick with a product that could lose manufacturer support within a few years' time.
The other open question is this: What will happen to Lexmark's printer partnership with Dell?
Lexmark exited from the inkjet printer business in order to jettison a money-losing operation. From an industry standpoint, considering Lexmark's branding and quality challenges in the past, this development could be seen as a simple matter of thinning the weak and the sick from the herd.