Blogs
It's almost Thanksgiving, that US holiday where long-separated families reunite to stuff themselves silly on turkey, watch gridiron and catch up on a year's worth of pent-up arguments and bickering. In the spirit of the season, Apple and Greenpeace are going at it in style: hot on the heels of Apple's passive aggressive green MacBook ads, the environmental organisation has released the latest version of its Guide to Greener Electronics which—and come on, are you really surprised?—shows Apple falling in the ranks despite its recent improvements.
Greenpeace gives Apple a 4.3 rating, slightly up from their 4.1 back in June, but putting them in 14th place among the 18 major companies that Greenpeace surveys. Among Greenpeace's criticisms of Cupertino are that the company is vague on its e-waste policies (this despite the company's latest environmental update which said that they handily beat their estimate of how much they would recycle).
Greenpeace also complains that Apple makes no mention of the "precautionary principle," even though "its progress in eliminating hazardous substances seems to be guided by this principle of environmental policy." Hey, dinging them because they're not using your fancy words, guys? Come on.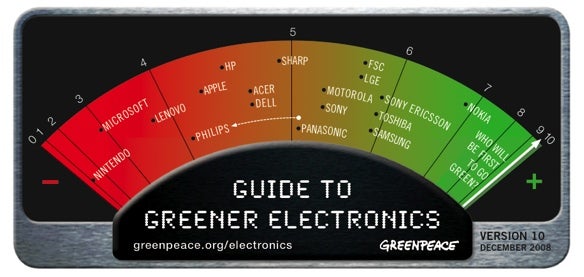 While Apple did get strong marks for phasing out PVC and BFR in its product lines as well as energy efficiency, those apparently weren't enough to offset their lack of progress in other areas. Look, clearly there're always more things a company could be doing, and as environemntally-friendly as companies might want to be, the process of manufacturing goods is always going to be a messy one at some level. Is continually sniping at them really going to make them work harder? I mean, just because they make a living writing things on the Internet doesn't mean they don't have a career, okay, mum?
Sorry. Just getting into the Thanksgiving spirit.