Blogs
Now that we've been living with iOS 7 for a while, we've had a chance to uncover some little things we might not have noticed at first. Some of those little things are good, others not so much. Here's our list. What about yours? Let us know in the comments below.
What we like
Wayfinding and levelling with Compass. In iOS 7, Compass received a thorough revamp, gaining a couple of cool new features. One my favourites: say you're trying to find your way in a specific direction. Just orient yourself in that direction, and then tap the compass. Now, when you start to stray from the direction you specified, a red bar on screen indicates just how far off course you are. My other favourite: if you swipe to the left on the compass, you bring up the new level, which works when you place the phone flat on a surface or set it on its side. – Dan Moren
Wish List in the iTunes Store. I've used the Wish List in iTunes on my Mac for years to keep track of music I want to buy someday. I was never able to access that list from my iPhone – until iOS 7 came along. Now, I can tap the list icon at the top right of the screen in the iTunes Store app to get access to my Wish List. (There's also a list of tracks I've previewed or played in iTunes Radio.) Coincidentally, my Wish List is also more accessible now on my Mac, too, thanks to iTunes 11.1. For example, when I like a track in iTunes Radio, I can add it to the list with one click on a contextual menu. – Dan Miller
Specifying short names in Mail, Messages. The new Short Name feature, which you can find by going to Settings > Mail, Contacts, Calendars > Contacts, lets you customise how contact names display in Mail and Messages, when real estate is at a premium. If you activate it, you can opt to show first name and last initial, first initial and last name, or first or last name only. Moreover, you can ask iOS to show nicknames to shorten things even more, so you see 'Dan' instead of 'Daniel', for instance. – Dan Moren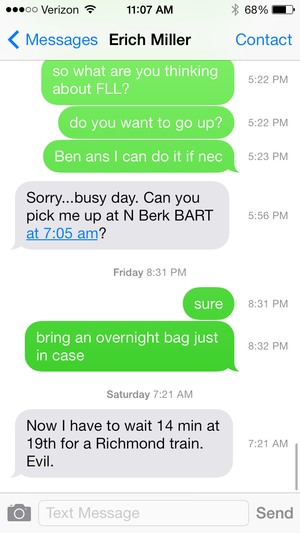 Viewing timestamps in Messages.
One thing that always bugged me about iOS was that I could never tell when someone had last texted me. My phone would tell me occasionally but not consistently, and I'd end up missing out on activities because I responded 10 minutes too late. Being able to swipe to the left while in a text message and seeing when it was sent is a godsend, and easily my favourite new feature. (Of course, maybe I should just check my phone more often.) – 
Armando Rodriguez
Reminders geofence perimeter. The geofencing capabilities of Reminders are handy when you need a location-based reminder. But if you've ever wished for more fine-grained control over when your phone believes you've arrived at your Home or Work location, iOS 7 can help. When you select a location, you'll now see a small map, with a blue circle around the location's address. By tapping and dragging on the black handle of that circle, you can expand or contract the area in which your reminder will fire. So if you want to remember to call someone when you're a couple of miles from home, Reminders is your new best friend. – Dan Moren
Shared links in Safari. Twitter is great, but it isn't always efficient. Of course, I like to know what the people I'm following are talking about. But sometimes I want to cut to the chase, to check out interesting things they've found online, without wading through whole conversations. That's why I really like the new Shared Links list in iOS 7's version of Safari. Tap the Bookmarks button at the bottom of the Safari screen, and then open the Shared Links tab (an @ sign), and – assuming you've given iOS 7 your Twitter and Facebook credentials – you'll get a a list of links that your friends have posted on those two social networks. – Dan Miller
Timer on the lock screen. You probably know that you can set a timer using Siri – it's even more efficient than using the timer shortcut in Control Center. But when you want to check on that timer, the easiest thing to do, by far, is simply to wake up your iPhone. You'll see the current timer, counting down, on the lock screen, right beneath the clock. Even better, when the timer is done, you can silence it from the lock screen, with just a tap. – Dan Moren
More info in Weather. The Weather app now includes sunset and sunrise times, as well as the basic high and low temps. Just side-scroll on the hourly forecast section, and it'll include the time the sun is coming up or going down – handy whether you're trying to plan a morning run or you're a vampire concerned about curfew. – Scholle Sawyer McFarland
Swipe right to go back. In most stock iOS apps, as well as many apps that have been updated to support iOS 7, the familiar Back arrow in the upper-left corner of the screen is gone. You now navigate to the previous view (whatever that was) by swiping to the right from the left edge of the screen. I initially disliked this approach, because it wasn't obvious and I didn't know exactly where that gesture would get me. (The arrow would always include the name of the previous screen or section.) But after using iOS 7 for a while, I have to say the swipe-back gesture has grown on me. In fact, I've become so used to it that when I encounter an app that hasn't been updated to use the gesture, I find my self swiping right, over and over again, wondering why nothing is happening. - Dan Frakes
What bugs us
Control Center's tricky target. Although I like the new Control Center, I wish it were easier to summon. Yes, it sounds simple: just swipe upward from the bottom of the screen. But in my experience, it takes a few swipes before Control Center actually appears. Perhaps I'll acquire the touch over time, but for now I find it really frustrating (especially, for some reason, on the iPad mini). – Christopher Breen
Wasted space in home-screen folders. In iOS 6, folders on the home screen could display up to 20 apps at a time on the iPad, and 16 at a time on the iPhone 5 and the most recent iPod touch. In iOS 7, you see only nine apps at a time. Granted, you can now put many more items in a folder and then swipe to navigate among multiple folder screens. But the nine-apps-at-a-time limit – which appears to have been implemented solely for aesthetic reasons, so folders can zoom out and in gracefully – feels like it's wasting a lot of useful space. Worse, it forces you to perform more taps and swipes to access a given app. – Dan Frakes, Armando Rodriguez
Email groups in Mail. While iOS Mail has improved steadily with each major update to iOS, it still doesn't support sending to email groups. And the iOS Contacts app still doesn't let you create such groups. You can, of course, create contact groups in OS X's Contacts app. But those groups don't function the same way in iOS as they do in OS X. I can't, for example, send an email to the 'Macworld Editors' group on my iPhone – the group doesn't even show up. And, while I'm at it: when filing email, Mail no longer remembers your last-used position in the mailbox list; you have to scroll from the top each time. And although it's great that you can now search all mailboxes from within Mail, iOS 7 has eliminated the option to search only, say, message subjects or senders. – Dan Frakes
Less accessible media controls. In iOS 6, you could always bring up the media-control buttons from the lock screen – even if you weren't currently playing media – by double-pressing the Home button. That made it easy to resume listening to your most recently listened-to track. In iOS 7, if you disable Control Center on the lock screen (which is better for security), you can't initiate media playback without unlocking your phone and opening whatever music-playing app you usually use; the media controls appear on the lock screen only if you're already listening to something. – Dan Frakes
That tiny blue new-app indicator. The little blue badge that iOS 7 puts next to new or newly updated apps is really hard to make out, especially if you're using a lighter-coloured background. It isn't as prominent as the old 'New' banner we had in iOS 6, so figuring out if you've used an app since you downloaded it is harder. – Armando Rodriguez
Folders versus bookmarks in Safari. In the past, telling the difference between folders and bookmarks in iOS Safari's bookmarks list was really easy. But now, owing to the 'simplification' of iOS 7's visual language, each of them has a similar blue outline; you have to squinch up your eyes to tell the difference. The problem is particularly annoying on an iPad mini. – Christopher Breen
A less powerful Spotlight. iOS 7 makes Spotlight easier to access, but it also makes the feature less useful. You can now search for files only locally, whereas before you could also use Spotlight to quickly search Google or Wikipedia. I can understand Apple's wanting us to rely on Siri for quick web searches, but the virtual assistant is less reliable, and sometimes I don't feel like dictating everything I'm searching for. –Armando Rodriguez