Blogs
UPDATED: In this article we are rounding-up all of the rumours, speculation and scuttlebutt around Apple's next-generation iPhone. It's expected to be updated at the end of this year, and we'll cover the latest rumours about the iPhone 6 release date as well as any rumoured features.
We'll update this story as more iPhone information becomes available, so be sure to check back from time to time.
When will it be released?
Apple has, in recent times, released its smartphone in September, but isn't against unveiling the iPhone at WWDC as it did with the first four generations of the iPhone. The Cupertino-based company has released a new phone every since the iPhone's debut in 2007, so it is almost a certainty a new iPhone will appear in 2014.
August?
August release? This is according to Taiwan's Economic Daily News (via Reuters) and would fall a month ahead of Apple's previous release schedule. But who are we to complain? Earlier the better.
Not sure?
In that familiar 'if we say it enough it becomes solid gold fact' way, the world seems to now be accepting that the next iPhone will come in two sizes – the 4.7in version and the 5.5in one. Now Taiwan's Industrial and Commercial Times [Google Translate, via G for Games] reports that the larger of the two phones will be delayed because of issues with finding a battery with enough power that will fit into the purported 2mm 'very thin' profile.
We won't see the 5.5in iPhone 6 until 2015, says the Times.
Ah, there's nothing we like more than hearing those stories that a product that hasn't even been announced yet, let alone given a launch date, has now been delayed. It's so many shades of 'really, we're just guessing here'.
Third quarter?
Will it arrive before the third quarter of 2014? Despite rumours of an early release, the current conclusion is a third quarter launch. Why? Well according to a rumour from International Business Times, which reports that the iPhone 6′s release date has reportedly been delayed, because production of the sapphire screen display won't start until the second half of the year.
Countering this theory are a few reports from analysts, such as Abhey Lamba from Mizuho Securities who believes a July launch is a possibility.
"The next generation phones could come out in July this year. The earlier launch will be helpful for Apple as it will ensure significant availability and distribution of the new device during the holiday season," he said.
While Apple hasn't traditionally released more than one phone per year, the unveiling of the cheaper iPhone 5c could be an indicator of a change in the company's business model. Could it change to two iPhone launches per year? Sony mobile chief and European president Pierre Perron believes this would be a good move.
Speaking with The Inquirer, Perron said Apple is "missing out" on potential sales by only refreshing the iPhone lineup yearly.
"There is a cycle in the chipset market which can give us the opportunity to launch a new product more often than once a year," Perron said.
KGI Research analyst Ming-Chi Kuo's timeline, released 10 April, indicates Apple will release a number of products in the second half of this year, with a new 4.7in iPhone to launch towards the end of the third quarter and a 5.5in iPhone launch in the further quarter.
Kuo's timeline:
What features will it include?
Foxconn iPhone 6 or Pegatron iPhone 6?
Apple supplier Pegatron has received word from Apple to produce 15 percent of the 4.7in iPhone 6 orders ahead of a September launch according to Taiwan's Industrial and Commercial Times.
The company produced a sizeable proportion of Apple's iPhone 5c last year and is expected to produce 50 million iPhones in 2014, including iPhone 6, iPhone 5c and iPhone 4s models.
Fellow Apple supplier Foxconn, which has a new plant in Kunshan, in eastern China, has produced the majority of iOS devices for Apple and will also produce Apple's next generation iPhone.
KGI Research analyst Ming-Chi Kuo's breakdown
Along with his timeline, KGI Research analyst Ming-Chi Kuo's report also shares a number of predictions about the upcoming iPhone. Kuo believes the power button may move from the top of the smartphone to the side of the 4.7in and 5.5in models, to better aid one-handed use.
Apple may also improve the display resolution of the new models to a 1334 x 750 Retina display at 326 pixels per inch on the 4.7in smartphone, and to 1920 x 1080 at 401 ppi on the 5.5in edition.
A new A8 processor and 10 to 20 percent reduction in the bezel may also feature.
Transparent text
A patent has revealed Apple plans to introduce transparent text messages with the iPhone 6 or a future update to iOS 7.
We all like using our smartphones while on the go, but that can introduce dangers such as walking into a lamp post just as we hit send on that text message. However, Apple is looking into transparent text messages to keep us safer while we type.
4.7in and 5.5in displays, 64-bit processor & TouchID
Apple is expected to launch the iPhone 6 in two new models, equipped with larger displays of 4.7in and 5.5in in September according to a report from Japanese newspaper Nikkei.
The report claims the two new iPhones will feature higher resolution displays than Apple's current Retina-equipped iPhone 5sand continue with the fingerprint technology, TouchID, that Apple unveiled last September.
"Manufacturers have apparently begun making such components as fingerprint sensors and chips for liquid-crystal drivers," Nikkei said.
Mass production of LCD panels will start as early as the April-June quarter at Sharp's Kameyama factory, Japan Display's Mobara plant, and at other facilities, according to sources. LG Electronics will supply panels as well. The new handset's display resolution is expected to be significantly higher than that of current models."
According to the IBTimes UK in December, Apple will continue the trend of altering the iPhone's appearance every second year, unveiling an "all-new iPhone in 2014″.
"Along with the larger screen – or possibly even a choice of screen sizes – expect to see iOS 7 become iOS 8, the phone's 64-bit processor to get even faster, and the introduction of more features for the iPhone 5s' TouchID fingerprint scanner."
Motoringcrunch, in January, had this to say:
"Rumours have been going around that the iPhone 6 may have a larger display, possibly around 4.8in to 6in. It could run on the 64-bit processor, have M7 graphics and of course the fingerprint scanner seen on the iPhone 5s. A patent from Apple also suggested that Apple could be looking into launching the iPhone 6 with a curved display." (Rumour Mill's italics…)
The Inquirer didn't have a great deal more to offer, although it does have a few more suggestions. "More recent rumours seem to have slapped down talk of a curved iPhone, and while talk of 4.7in and 5.5in screen sizes continues, it's unlikely that these displays will be bent. Saying that, there is talk that Apple will improve its Retina display screen resolution with the next-generation iPhone, outing the even higher-resolution Retina display+," says the site.
David Ludlow from expertreviews.co.uk has a few things to add. He's got some hefty stuff to say about screen size (thinks there will only be one, and it'll be bigger than the 5s), phone size (slimmer and, yes, called the iPhone Air), resolution (quadrupled to 2272 x 1280, but not full HD), release date (he's going with March to May), robustness (super-tough sapphire screen and a liquid metal case***), camera (upped pixel count to 12 or 13 megapixels, refocusable lightfield and optical image stabilisation), storage (sticking at 64GB and not doubling to 128GB, despite its use in the iPad 4) and price.
Neil Hughes, from MacDailyNews, believes the screen size will increase, but not by that much. "Currently, Apple's iPhone 5s and iPhone 5c come with screen sizes of 4in… While some reports have claimed Apple has experimented with iPhone screen sizes approaching 6in diagonally, proven insider Ming-Chi Kuo of KGI Securities believes Apple won't exceed 5in on a larger iPhone display, citing the company's commitment to an 'unwavering principle of one hand use'. He expects the next iPhone to have a screen size larger than 4.5in, but smaller than 5."
Reuters has also joined the party with a report that Apple will release an iPhone in 4.7in or 5.5in sizes.
Reuters, like everyone else, credits its information to "supply chain sources", which, as Arstechnica helpfully points out "could mean anything from a Foxconn vice president down to a factory janitor".
"As usual, Apple declined to comment on the screen size rumours. The suppliers mentioned in the Reuters piece are also officially keeping mum – no doubt because if they are supplying new screens for Apple, they'd like to keep supplying new screens for Apple," concludes Arstechnica sensibly.
Sapphire glass and quantum dots
Jon Cox over at Network World references to Forbes blogger Mark Rogowsky, someone he reckons, "took a partial understanding of what GT Advanced Technologies' CEO said in February, and jumped to not one, not two, but three optimistic conclusions". And those optimistic conclusions? "We can clearly understand (1) that [GT]'s definitely making sapphire crystal for the iPhone and (2) the iPhone won't be out till the second half of 2014, as is normal. This should bury the many rumours of the iPhone arriving in May," blogged Rogowsky.
GT [AT] is a manufacturer of furnaces that creates synthetic sapphire among other materials and announced its fourth quarterly results last week.
What else? The iPhone 6 will have an LCD display using quantum dots, apparently. This titbit comes to Cox via another Forbes blogger, this one by the name of Haydn Shaughnessy, who claims that bigger screens and sapphire glass are not the most exciting features of a possible next smartphone.
No sapphire glass
The Diplomat reckons that the next smartphone will not feature sapphire glass after all. This is "due to low yield issues, despite the fact that the Cupertino giant has had some iPhone test units boasting this type of screen. On the brighter side, the same sources suggest that Apple will use sapphire glass for its upcoming smartwatch," says the site.
The Diplomat also has a few ideas about design. "The documentation includes exact measurements too, and the 4.7in device is supposedly going to measure 137 x 66 x 7 mm. Interestingly enough, a 5.7in iPhone has also been spotted in the same documentation, boasting overall dimensions of 157 x 77 x 6.7 mm," it says, before spinning off in another direction and winding up with the interesting conclusion, "In other words, you should read these leaked schematics with a pinch of salt."
192-core mobile graphics processing unit
Cox has picked up a rumour from AppleInsider that suggests the next iPhone will have a 192-core mobile graphics processing unit. 192-core! Goodness, that seems like a whole lot of core for such a little device.
The rumour comes from an announcement at February's Mobile World Congress from Imagination Technologies (also not in the business of harvesting people, we trust), that a 192-core mobile GPU is "potentially bound for future Apple iPhones, iPads".
A8 chip
Turning to AppleInsider, we also turn for more about another chip – the A8. "While rumours of a partnership between Apple and Taiwan Semiconductor Manufacturing Company have lingered for years, yet another report on Wednesday claims once again that the Taiwanese chipmaker is now producing chips for the company — namely a next-generation 'A8′ processor for the 2014 iPhone," reports the site, sourcing its story from Taiwan's Commercial Times, via AFP.
Phablet
The mutterings about bigger screens are gathering to a deafening roar, with 3g.co.uk among the outlets predicting not one, but two new phones. These screens will come in two sizes: big and very big. The current iPhone 5s and 5c measure 4in diagonally – an increase of 0.5in on the iPhones released between 2007 and 2012.
Simon Thomas at 3g refers to an article in The Wall Street Journal (subscription only). "According to the publication, Apple will launch a larger 4.5in iPhone 6, alongside a phablet version with a display bigger than 5in. They also added that both will come with metal designs, although some caution should be excerpted (sic*) because they added that 'Apple's plans weren't final'."
In another piece, Thomas muses the name of the phablet iPhone 6.
"While, the larger 'phablet' version of the iPhone 6 could well be called the iPhone Pro when it lands later this year. That would sit alongside the new 12.2in iPad Pro which is due to be revealed later this year and will complete the iPad range (iPad Air, iPad mini and iPad Pro).
Improved camera
Technology Tell reckons it's the camera that's going to get a bit of loving in the next iPhone. Up to 10 megapixels no less.
Interchangeable lenses are also a possibility. Referring to Apple Insider's Mikey Campbell, Network World's John Cox says, "Campbell also posted on two other recently published Apple patents that show a way to snap on an array of advanced lenses and other components to the iPhone's existing optical system. This is somewhat analogous to using interchangeable lenses on a digital single-lens reflex camera."
Sony is getting involved, with reports that the Japanese tech giant is in talks with Apple about supplying front-facing FaceTime camera modules, as well as rear iSight camera components.
MacRumors is running with this one too. Referencing Japanese business site, Nikkei, MacRumors says, "Apple and Sony are in negotiations that would double Sony's shipments to the Cupertino company in 2015."
"The Japanese firm already supplies nearly all of the CMOS (complementary metal-oxide semiconductor) sensors for the current iPhone models' rear-mounted main cameras. Apple is likely looking to switch to Sony sensors for the secondary camera on the screen side, used for taking self-portraits," reports Nikkei.
"The American smartphone maker apparently uses parts from suppliers in the US and elsewhere for the front camera. With more customers expected to use smartphones for video calls, it sounded out Sony, which is known for its high-definition technology, about a larger sensor supply."
Interchangeable lens
Andrew Cunningham at the site reports that Apple has received a patent for an interchangeable iPhone camera lens. There has been quite a bit about this on the forums and speculation sites this week, and it stems from a patent lodged with USPTO (the US Patent and Trademark Office).
Originally lodged in September 2012, the patent seems to be addressing the problem that more serious photographers have taking good shots with their smartphones.  "You can fit a small, fixed focal length lens to the back of a phone, but doing anything more complicated would make the device considerably larger. One potential solution to this problem would be a system of detachable, interchangeable lenses like those used in DSLRs and other mid- to high-end cameras, but the attachment mechanism itself would normally take up quite a bit of space," writes Arstechnica.
But, here's the best bit…
"Apple's proposed fastening mechanism would use a series of small bayonet mounts located on both the phone and the lens."
More expensive
David Ludlow from expertreviews.co.uk is predicting a price increase for the rumoured, bigger-display equipped iPhone 6.
"If Apple does decide to make an iPhone with a larger screen, there's also a good chance prices will increase too. Susquehanna analyst Chris Caso, speaking to AllThingsD, predicted that there could be a US$50 to US$100 premium for a larger iPhone 6, compared to the 4in iPhone 5s. Although this goes against Apple's tradition of keeping prices the same across generations, it's not a rule the company is afraid to break every now and then. Last month's iPad mini with Retina display launch introduced a US$70 premium over the entry level model, so a price hike isn't out of the question.
Cheaper model 
Quoting Ed McKernan from Seeking Alpha, MacDailyNews reckons "a cheap iPhone now appears a certainty".
"Time is still on the company's side to adjust its business model; however, it seems obvious, given the worldwide commoditisation of smartphones, that Apple must make a significant adjustment on its business model by building only one high end model for the subsidised user and a much lower cost version for unsubsidised users. In other words, the iPhone 5c ended up being a tweener, not good enough to be a significant player in either universe."
MacDailyNews is also running with the suggestion that the iPhone 6 could be heading our way at a greatly reduced cost. It is relying on the venerable Apple Insider for its source.
"Shares of Apple rose [in March] after Pacific Crest upgraded its rating on the stock to 'outperform,' citing high expectations for the company's next iPhone, which the firm expects to sport a 4.7in display and US$299 starting price tag," Neil Hughes reports for the site. $299?? Goodness gracious. We know that's US dollars and that Apple's products are always soooo much cheaper Stateside than in Australia. But even so, we say again, goodness!
"Analyst Andy Hargreaves issued a note to investors in March, setting a new price target of US$635, or about US$100 more than its current trading price. He sees a larger iPhone priced starting at US$299 increasing gross profit on replacement sales, and also attracting new customers that would otherwise have opted for an Android handset with a bigger display," continues Hughes in Apple Insider.
Battery power
Power source is the topic of discussion from The New York Times in February. "The next breakthrough smartphone, or maybe the one after that, might not have a traditional battery as its sole source of power. Instead, it could pull energy from the air or power itself through television, cellular or Wi-Fi signals," says the Times, careful to slip one of our favourite safety words in there – 'could'.
Brian X Chen and Nick Bilton's article goes on to quote Tony Fadell (ex-Apple, founder of Nest, ex-Twitter chum of Phil Schiller), who talks about the race to improve batteries, or invent a whole different technology altogether. "Apple tried for many years to build a smarter battery by adding solar charging to iPhones and iPods. But the method never proved practical, [Fadell] said, because mobile devices often stay inside pockets when people are outdoors, and indoor artificial light generates only a tiny amount of energy."
Wi-Fi update
We're talking size and connectivity. AppleInsider is quoting a Wall Street analyst who, "claims that the company has already internally 'locked down' the design for its next flagship handset, sporting a 4.8in display and speedy 802.11ac Wi-Fi connectivity".
The announcement of a new Wi-Fi chip by Broadcom, has been transformed into next generation Wi-Fi for iPhone 6.
"Broadcom today announced a first of its kind 5G WiFi system-on-a-chip that will bring faster 802.11ac WiFi and improved performance to smartphones," writes 9to5Mac's optimistic Jordan Kahn. "Apple currently uses a Wi-Fi chip based on the Broadcom technology in the iPhone, iPad and Mac products making the new 5G chip a likely successor for next-generation iOS devices."
Bezel-free 
Bezel-free. That's what they reckon. Yep, frameless phones, which to be fair has been the look on many of the mock-ups seen so far. MacRumors refers to a report from The Korea Herald, which mainly discusses Samsung's next phone (expected to be dubbed the Galaxy S5), but did touch on Apple too, which it claimed was "working on a similar prototype with bezel-free display and fingerprint sensor".
Rumoured images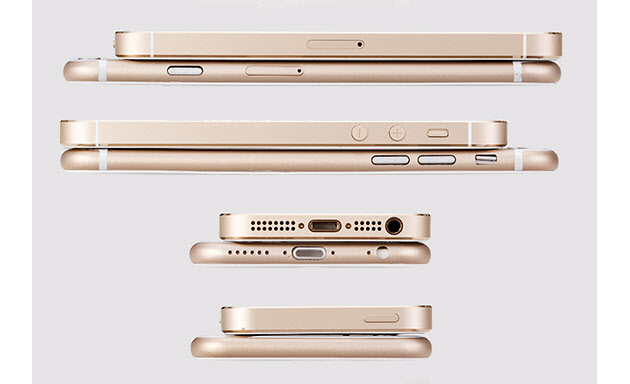 Front cover. From Sonny Dickson via 9to5Mac.
A little about the next iPhone comes AppleInsider, with what it describes as "highly suspect" photos of an iPhone 6 dummy. Highly suspect? Maybe, but AppleInsider is going to share them with us anyway. The source is the Chinese site, Feng.com. Tallying with Unbox Therapy's latest musings, the pictures show an ultra thin phone with rounded edges. AppleInsider labels the mock-up's veracity "highly questionable", but sums up by saying, "It does give a good idea as to what the iPhone 6 could look like if information from the rumour mill turns out to be true."
A series of blurred photos from Chinese site Weibo in April may show Apple's next-generation smartphone, presumed to be the iPhone 6, in development at Foxconn.
Posted via GforGames, the photos (click here for the full series) are allegedly from an insider at the manufacturing plant of a prototype iPhone 6 with, what looks like, a camera extending beyond the body of the phone.
According to the site, the captured sketches claim the smartphone may be 7mm thick, which, they claim, has created a dilemma for Apple. The slim body of iPhone could cause the camera to protrude out of the rear, as the images appear to show, which could be aesthetically unappealing. Apple may choose to increase the thickness of the device so the camera sits flush with the back, the site muses.
Schematics
Alleged iPhone 6 schematics leaked on 1 April by Japanese website MacFan (below), which show a 4.7in iPhone with a design similar to the current iPhone 5c.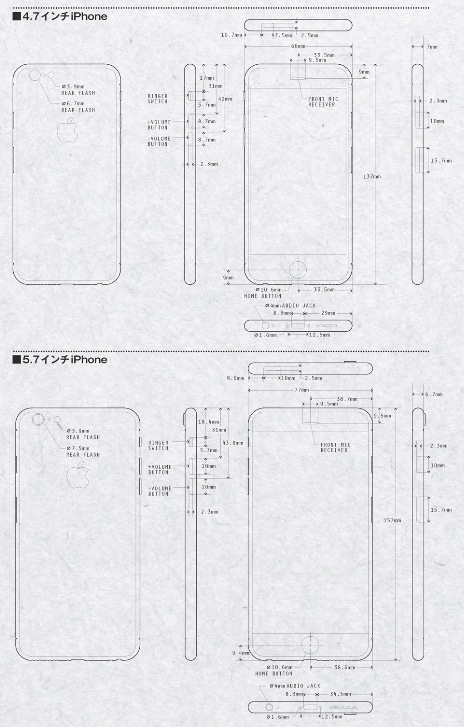 Concept images
There has been a number of iPhone 6 concept images hit the internet, some of them plausible and some of them may be a little to imaginative. Have a look at a few of the best below.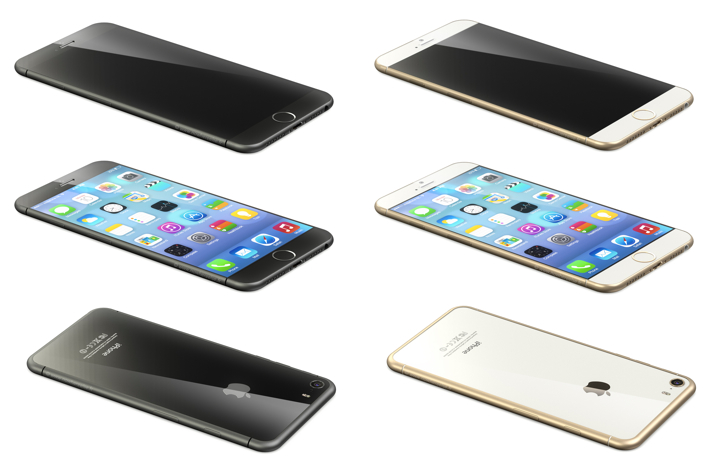 [Rendering by Martin Hajek and Nowhereelse.fr]
[Ferry Passchier for MacRumors]
"Passchier created renders for the 4.7in iPhone as well as the 5.7in version as shown above. There are a few notable differences, such as the power button on the left side of the device and a single tone flash unlike the one found inside the iPhone 5s. He also shows a protruding camera on the back," explains Technology Tell.
 [Martin Hajek for Dutch site iPhoneclub]
[Courtesy of Business Insider Australia]
[Courtesy of Expert Reviews]