Blogs
Whether you're an Android lover or a staunch iPhone devotee, it's hard to overlook the fact that iOS 8 has taken more than its share of inspiration from Apple's biggest competitor, from interactive notifications to third-party keyboard support. Heck, Google might as well hang a "Cupertino, start your photocopiers" sign at this year's I/O conference.
Not that we're complaining – while iOS 8's spring release is sure to set off another round of mudslinging and legal wrangling, iPhone users will reap the benefits of some pretty awesome features, some of which we'd all but given up on. But now that Apple has embraced its plundering side, we'd like it to go just a little further and nab a few more Android features we've had our eye on – and maybe even a few from (gasp!) Windows Phone.
Take your pick
Safari, Mail and Messages may have gotten a whole lot better in iOS 8, but we still kind of hate being all but forced to use them. Sure, you could install another browser, but when you click a link in an text message, it'll still open in Safari, every darn time. Android users can freely change the default apps that open when they click links or open attachments, and we'd love to be able to do the same on our iPhones.
Personal touch
We kind of swooned when Craig Federighi showed off the sexy new dark mode in OS X Yosemite, and quite frankly, we were a bit bummed when it didn't resurface during the iOS 8 portion of the keynote. Over on Android, users can download all sorts of mods, skins and launchers to change their home and lock screens to pretty much any design they desire; hell will probably have to freeze over before that happens, but we'd like some kind of happy medium on iOS.
Hide and seek
Ah, nice and uncluttered.
We understand that the home screen grid has become as recognisable as the iPhone and iPad themselves, but we think it might be time for a change. We've always liked how the app drawer on Android hides all of those games and utilities we don't need on a daily basis, and it would be just dandy if Apple offered something similar in iOS. After all, it sure would be nice to see our background pictures for once.
Unique screens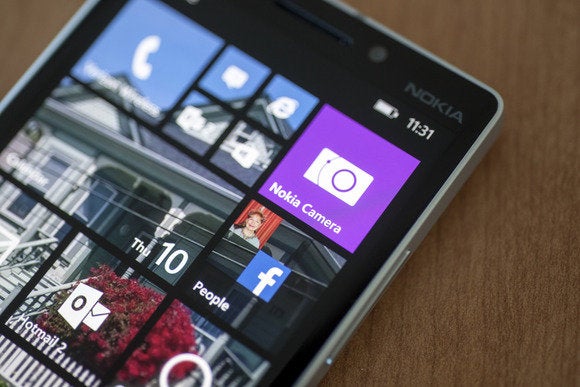 We admit it. Live Tiles are neat. Source: Michael Homnick.
Speaking of the home screen, there's an awful lot of untapped potential being left on the table by sticking to the app grid. Windows has live tiles, and Android has widgets, and we can't help but fantasise about some kind of Apple-esque combination of the two, not unlike Jay Machalani's awesome concept. With third-party widgets finally being allowed in the Notification Center, we're only a step away from a home screen that's more than just a bunch of unrelated icons.
More control

C'mon, who wouldn't want to tweak the heck out of Control Center?
Now that Apple has allowed third-party keyboard support and a Touch ID API, iOS is more open than it's ever been – but the Control Center remains limited to what Apple thinks we need. The Android solutions all over the Google Play store might not be quite as elegant as the translucent, slide-up utility panel in iOS, but they all have one main advantage: the ability to customise every single button. We're cool with Control Center's music controls, but we can't wait till Apple lets us swap out the rest of the shortcuts for ones more suited to our tastes.
Side view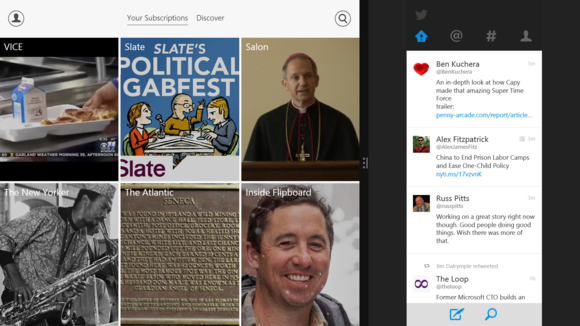 And who wouldn't want to read Flipboard and Twitter side-by-side, like you can with Windows 8?
Before WWDC, we got our hopes up reading rumours about split-screen multitasking, but it just wasn't in the cards. We haven't forgotten, though, and we're still holding out hope for it to emerge as a surprise feature during the iPad launch event typically held each October. We're not head over heels for the implementations we've tried on Windows 8 and Android, but we think Apple can come up with a killer solution that actually makes us twice as productive.
Let's hang
In KitKat, Google takes communication seriously. Hangouts merges all of our conversations into a seamless, continuous stream. The streamlined Phone app has improved search and caller ID for unknown businesses. And the smart contacts manager puts your favorite people front and center.
The shortcuts to our favourite contacts built into the iOS 8 multitasking screen is a start, but we would like Apple to think a little harder about the myriad ways we communicate on our phones. Steve Jobs once said that the iPhone's killer app is making calls, but these days, but it might take a little inspiration from Android to get there again.
Wi-Fi Sense
Windows Phone 8.1 has a lot of great features, but one that really caught our eye is Wi-Fi Sense. Actually, it kind of seems like an Apple feature already: an easy, intelligent and secure way to share your Wi-Fi and join hotspots without bring prompted or fiddling with passwords. Smart and seamless Wi-Fi switching would save precious megabytes on our data plans and we could stop having to hand out our passwords when friends and family visit. We can practically hear Federighi calling it fantastic.
By Michael Simon. TechHive.