Blogs
The new Mac Pro is in the house, and we've finally had a chance to get our hands and eyes on it. Here are some of our first impressions.
Boxed in
Inside the shipping container is a box containing the Mac Pro itself. The box itself is roughly 35cm tall, and 20cm wide – this clearly isn't the old Mac Pro.
Open
The Mac Pro doesn't ship with a keyboard or mouse – or, of course, any physical software media. Inside, you'll find only the computer, a power cable, and the usual paper copies of software licences and the like.
Unwrapping time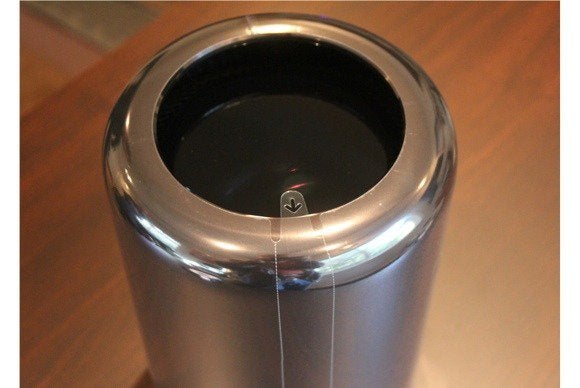 The Mac Pro comes wrapped in a clear-plastic covering. You wouldn't want to scratch the beautiful, extruded-aluminium enclosure before you even get a chance to boot up, right?
They call it Space Grey
The Mac Pro is closer in colour to the 'Space Grey' of the current iPad and iPhone models than to black. Though the grey finish looks even lighter with bright light reflecting off of it, as you can see here.
Shiny, shiny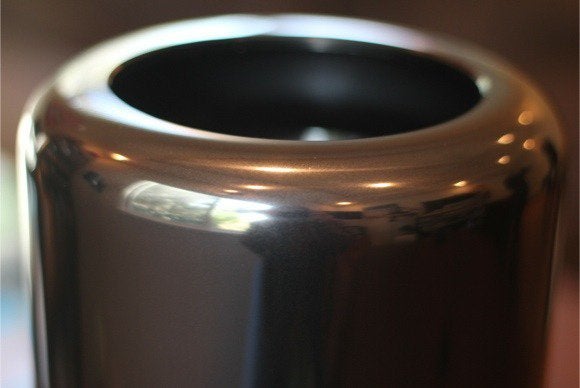 The exterior of the Mac Pro is made from a single piece of aluminium; the process is shown in Apple's video on the manufacturing process. It's shiny, attractive and a magnet for fingerprints. We suspect scratches will be easily noticeable, as well.
Lip service
The top of the Mac Pro serves double duty as a vent for the (surprisingly quiet) fan system and as a handle for carrying the computer. At just 5kg, it's easy to tote when needed.
Ports ahoy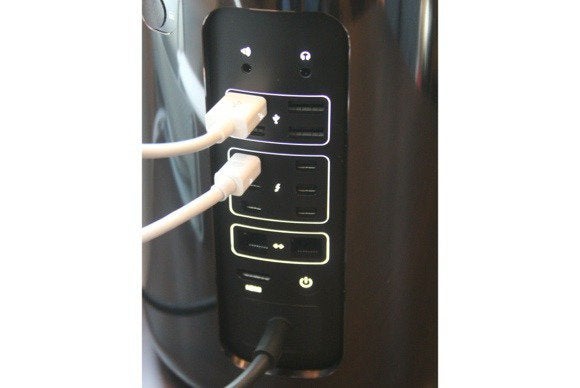 On the back of the Mac Pro are all of its many ports and connections, conveniently backlit whenever the computer senses motion nearby. You'll find six Thunderbolt 2 ports, four USB 3.0 ports, two independent Gigabit-Ethernet ports, an HDMI-video port and audio jacks.
Insides unveiled
Slide the case's lock tab, and the aluminium exterior slides off to reveal the components inside.
Press here to upgrade
The Mac Pro's memory (RAM) is easily upgraded; pressing this tab gives you access to the existing memory modules.
Bottom's up
In typical Apple style, even the bottom of the Mac Pro is attractive.