Blogs
After months of waiting, the iPad is finally here; Australians can finally enjoy the 'magic' that our US-based friends have been raving about.
There has been an abundance of opinion on the shiny Apple tablet since the initial announcement, and even more since its 'soft' launch in the US (that was just to test it before unleashing on the rest of the world, right?). Plenty of people loathe its lack of Flash, others simply can't imagine how it could be any better.
But if you've bought one, you don't care about all that stuff. It's all about the apps.
Over the past month, we've kept a close eye on the iPad-centric additions to the App Store — both iPhone apps updated specifically to add iPad features or standalone offerings designed solely for use on Apple's new device. We searched across a wide spectrum of categories, from apps that help you get things done to offerings that keep you entertained. We paid special attention to apps that took advantage of the iPad's unique features, most notably its expansive screen real estate.
The end result? A list of 20 apps that we think are essential additions to any iPad. And after you've had a chance to look through our list, we think you'll agree.
The paid options:
The Early Edition
Every time you open The Early Edition, it just makes sense: the app displays your RSS feeds of choice as an old-style newspaper. While the rest of the world is rattling on about how the iPad will save print media, it's great to see digital get print-ified. It's actually amazing no one had thought of this before for an RSS reader on a desktop. The Early Edition did have a few bugs at launch (as did most apps), but it has been swiftly updated by its developers Glasshouse Apps, with version 1.1 due soon. The biggest addition in the update is importing Google Reader RSS feeds, and I can tell you (having played with an advance copy) that it works flawlessly. The app updates the feeds when you open it, and you can grab new posts whenever you feel the need. Even better, you can go back in time and view content from a particular date, or display the last fetch, the current day, or the entire imported catalogue in one go. It's Apple's iPad of the week for launch, and costs $5.99. Oh, and it's beautifully designed too. (Xavier Verhoeven)
1Password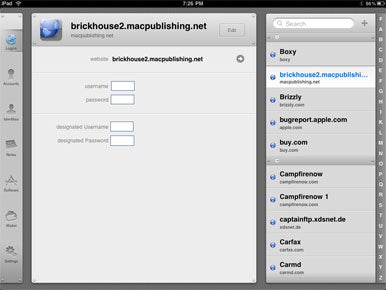 1Password, which stores online passwords and other sensitive info, is a great addition to any Mac. The $8.99 iPad version from Agile Web Solutions is a worthwhile extension, syncing with your computer to let you take all that data with you — securely. As with the iPhone version, you can use the iPad app's built-in browser to log in to secure websites, or you can opt for a handy Safari bookmark that automatically switches to 1Password, finds the matching login info, and lets you switch back to Safari with the necessary password ready for pasting. But while the iPhone's small screen makes browsing your confidential data less than ideal, the iPad version's native interface is stellar — perhaps better even than the version for Mac. (The $17.99 version — 1Password Pro — is a hybrid app that brings this functionality to all of Apple's mobile handhelds at once.) (Dan Frakes)
Air Video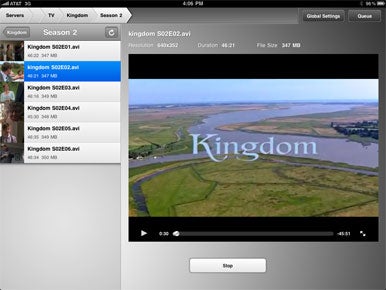 Even with the highest capacity iPad, chances are you can't load too much video into those 64GB of storage before you start running low on space. Wouldn't it be great if you could just stream all those video files from your home Mac's capacious hard drive? Air Video from InMethod lets you do exactly that. Install its server software on your Mac, enter the Server PIN in the $3.99 iPad app, and you're ready to rock. (The hybrid app also works with the iPhone and iPod touch.) It doesn't matter what format the original video is in: AirVideo can transcode it into an iPad-compatible file on the fly — or, if you prefer, you can queue a bunch of videos to be converted ahead of time. You can even choose which bitrates Air Video will use inside the application to optimise for slower connections, such as 3G. There's also a free version that works with a limited number of videos, so you can try before you buy. (Dan Moren)
GoodReader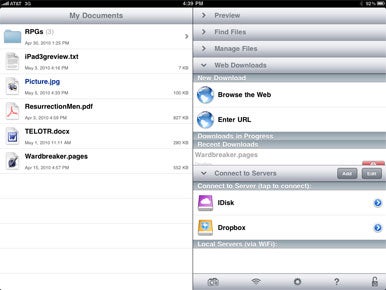 If you want to take your documents to go, the iPad provides a few different options: you can e-mail them to yourself, or upload them to a web server. But for going beyond what the built-in software allows, check out GoodReader. Good.iWare's $1.19 app boasts support for PDF, DOC, Pages, TXT, and a handful of other file formats. With the built-in server, you can easily drag and drop files right from the Finder on your Mac or you can download a specific URL, browse the web, or connect to services like iDisk or Dropbox to find the file you're looking for. In addition, GoodReader lets you import images from your iPad's photo library, supports playback of audio files, lets you password protect your files, and can even reflow PDFs into plain text. (Dan Moren)
Instapaper Pro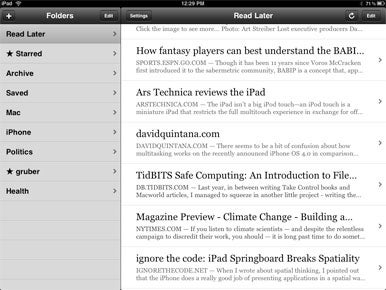 We're all big fans of Instapaper, the Web service from Marco Arment that lets you save online articles for later reading. But it's the $5.99 hybrid Instapaper Pro app, not Safari, that offers the best way to do that reading. The app lets you browse your saved articles, even when offline, using a Mail-like interface. When you choose an article to read, the article's text and layout are optimised for the iPad's screen. (The app also works on the iPhone and iPod touch.) You can further customise the font, font size, spacing, and margins that work best for you; there's even a grey-on-black night mode for easier reading in dim lighting. Instapaper Pro is one of the most-used apps on my iPad; download it, and it'll claim that same status on yours. (Dan Frakes)
Magic Piano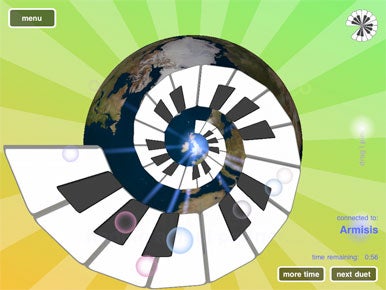 Smule's $1.19 Magic Piano allows you to tickle the virtual ivories in a solo setting as well as with others around the world, using a variety of traditional and non-traditional keyboards. Non-musicians will find Magic Piano a load of fun when they tap on the iPad's screen and hear something musical come out. Trained keyboard players will find both joy and frustration — joy at playing duets with another Internet-connected Magic Piano player and frustration that it's often difficult to hit the notes you're after and that so few of your virtual duet partners have any discernible talent. (Christopher Breen)
PCalc RPN Calculator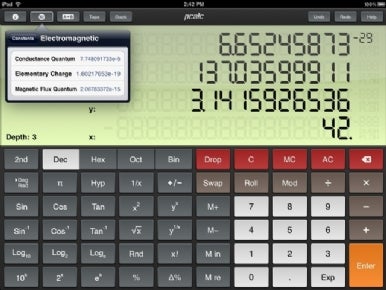 Apple didn't include a calculator app on the iPad, but that omission gives you even more reason to download PCalc. TLA Systems has updated the iPhone version of this stellar scientific calculator with iPad compatibility, and it's even better on the iPad thanks to the larger screen. Sure, the buttons are much larger, making the calculator easier to use, but you also get improved layouts; popovers for settings, conversions, constants, stacks, and the "tape" that let you access those features without leaving the main display; and useful touches such as dedicated Undo and Redo buttons. If you don't need all the bells and whistles of the $12.99 version, the free PCalc Lite offers the basics, as well as the capability to buy particular sets of features piecemeal. (Dan Frakes)
Things for iPad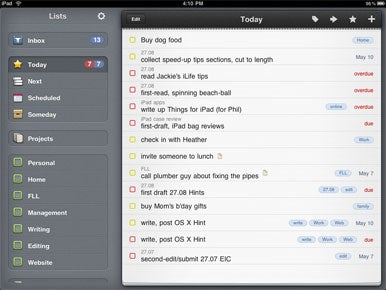 Like calendars and contact managers, iPad to-do apps don't exist in isolation: they have to keep track of your tasks no matter where you are or what device (iPad, iPhone, or Mac) you're using. So far, the $23.99 Things for iPad from Cultured Code is the best to-do app we've seen for the iPad, in large part because of how easily it works with the Mac and iPhone versions. On any one of those platforms, the program strikes a great balance: it's powerful and flexible enough to manage even the toughest workload, but it's not so complex that learning to use the program becomes a task in itself. And syncing your to-do lists from Mac to iPad and back couldn't be easier — you won't have to worry about buying the dog food twice. (Dan Miller)
Synotes Slate
Developed by Syncode, three schoolmates who make some pretty nifty apps, Synotes Slate is the iPad version of the iPhone app I reviewed a while back. The iPad version isn't quite as polished as its smaller-screen sibling, but is a strong contender for a replacement for Apple's own Notes app. It's worth its $2.49 price tag just to get rid of that horrible Marker Felt font and yellow background. Synotes has a few extra features too — it syncs to the cloud so your notes are always available on your iPhone and on the web. You can email your notes directly from the app, and go back to previous versions in case you decide against changes you've made. The app is so handy, I'd been using it as my only word processor until Pages popped up on the Australian store this week. (Xavier Verhoeven)
LogMeIn Ignition
With LogMeIn Ignition, you can use your iPad to access your computer from anywhere in the world. It works best over Wi-Fi, but will also work over 3G – just don't expect it to be lightning fast. Once you begin using the app, you'll think of a million different uses for it: from employing it as a big touchpad for your Mac to working on your computer from the other side of the world, to offering tech support for your family and friends. All you need to do is install the free Mac or PC LogMeIn software, set it up with a LogMeIn account, add your details to the app, and all your remote computers are a touch away. The app isn't cheap at $36.99, but if you're ever likely to need to access your home or work computer on the go, it could pay for itself pretty quickly. Who said the iPad couldn't do half the things a traditional computer can? (Xavier Verhoeven)
The freebies:
Epicurious Recipes & Shopping List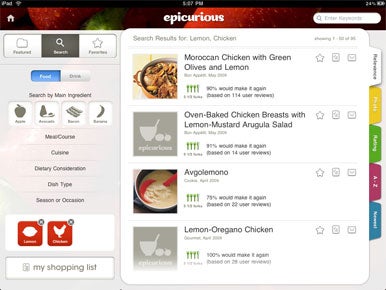 Someone needs to come out with a kitchen stand for the iPad — one that'll let you prop the tablet next to the stove yet protect it from greasy splatters. Because the iPad really could be the ideal kitchen computer — especially if it has the free Epicurious Recipes & Shopping List installed. Like its namesake website, Epicurious is an iPad- and iPhone-friendly compendium of recipes for food and drink from a variety of credible culinary sources (including Bon Appetit and Gourmet magazines). You can search by ingredient, cuisine, course, and more. When you've selected your dishes, the app will compile your shopping list. The recipe formatting could be better, and some of the app's interface elements are non-standard. But it's better than any cookbook at turning the motley collection of ingredients you have in your pantry into something you'd really like to eat. (Dan Miller)
IMDB Movies & TV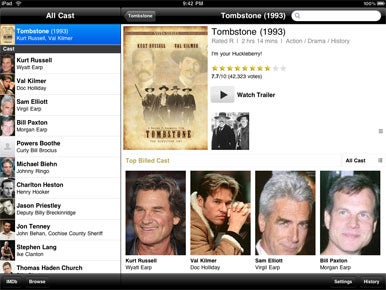 All you want to do is watch Tombstone, easily the western featuring the best assemblage of facial hair ever filmed. But your viewing companions won't stop nattering on about how they could swear they've seen the actor playing Ike Clanton in some other movie at some point in their lives. Which is when you whip out your iPad, fire up the free IMDB Movies & TV, and — with a few taps into this hybrid iPad-iPhone app, you can tell everyone that, yes, the guy playing Ike Clanton is also the guy from Avatar as well as the guy from the movie based on Red Dragon. (No, not the crummy version with Anthony Hopkins—the good version with Brian Cox.) IMDB's multiple pane interface lets you do many more things — look up TV schedules, watch trailers, and access movie reviews — but being able to summon up info about whatever movie you're watching from the comfort of your couch is worth the price of admission. (Philip Michaels)
Kindle
There's a battle brewing between e-book readers, as Apple's iBooks and Amazon's Kindle slug it out for the hearts and minds of iPad users. While iBooks has plenty to recommend it — it's visually appealing, provides an in-app dictionary, and supports ePub books in addition to books from the iBookStore — the vote here goes to Kindle. While the free Kindle handles only books you purchase from Amazon, it also lets you jot onscreen notes while reading and lets you choose between standard, sepia, and night time (grey text on black) page displays. And, of course, Amazon offers far more books than Apple's iBookStore, with the latter currently offering only free Project Gutenberg titles in Australia. First in, best dressed, right? (Dan Frakes)
Twitterrific for iPad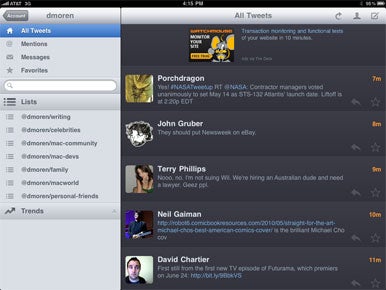 One of the premiere iPhone Twitter clients has made the leap to the iPad. The Iconfactory's Twitterrific for iPad is among the cream of the crop on Apple's latest device, thanks to a split-pane landscape view that makes it easy to browse mentions, direct messages, favourites, lists, trends, and more. Contextual pop-ups let you view a threaded conversation, embedded image, or user profile without losing your place in your timeline, and there's a built-in web browser for checking out those links your friends are always posting. Tweets are handily colour-coded to show you which are your own, which mention you, and which are direct messages. By default, the app is ad-supported, but you can upgrade to the premium version, which supports multiple accounts, via a $5.99 in-app purchase. (Dan Moren)
Zinio
While the ePub format is becoming a standard for e-books, there is no universal approach to magazines on the iPad. Many companies are coming up with their own apps and formats, however Zinio is more like Kindle or iBooks in that it incorporates a reader and marketplace for purchasing content. In the app you can subscribe to a multitude of magazines (and it even comes with a few freebies) including Australian Macworld. Flicking through pages is as simple as swiping, and pinching or double-tapping to zoom feel natural on the iPad. The app did have a couple of issues in its earlier stages, but is now fast and offers high resolution layouts of your favourite mags. (Xavier Verhoeven)
The Guardian EyeWitness
With EyeWitness, The Guardian took a radically different approach to a news app for the iPad. Instead of offering the news of the day, it features a broadly news-focused photo of the day. The app works because the iPad's screen is so suited to showing off photos. The vivid colours and fine details make it beautiful to flick through, even when the news might not be offering the most uplifting stories. Budding photographers will love the app for its 'pro tips', where the Guardian photography team explain how they achieved each shot. (Xavier Verhoeven)
The games:
Words with Friends HD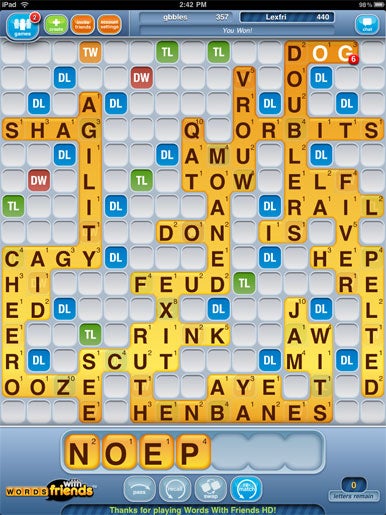 Words With Friends HD isn't Scrabble — at least as far as copyright lawyers are concerned. But it does feel awfully familiar to that addicting lexical word game, and Newtoy's $3.99 game makes a few key improvements over the real-world board game. More important, the iPad version of the game is an improvement upon the iPhone release, thanks to the iPad's much larger screen. Both you and your online opponent — whether she's in the next room or the next continent — get easy viewing angles for the entire board without having to worry about jostling tiles. Throw in the fact that you play at your leisure — you're no longer stuck staring at your friend's scrunched forehead as he struggles to find optimal Triple Word Score — along with push notifications and in-game chat, and you've got an excellent mobile word game. (Lex Friedman)
Flight Control HD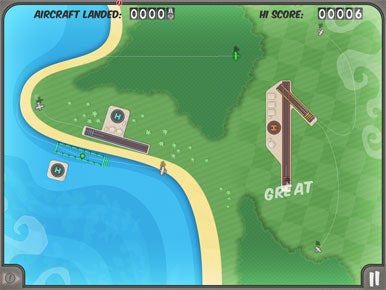 Flight Control for iPhone is one of the greatest App Store success stories, and Firemint could have easily phoned in the iPad version by just giving us the same game with higher resolution graphics. Fortunately for Flight Control fans everywhere, the developer didn't — the $5.99 Flight Control HD takes all the greatness from the original and adds loads more. Gameplay is still just as simple to learn and as addictive as ever — direct planes and helicopters safely to the ground by drawing their flight paths with your finger. With the extra screen real estate, this job is much easier on the eyes and ultimately a better experience. In addition to the four original iPhone airfields, you get four more with three of those in a higher-resolution format. With the bigger screen, there is now room to share control responsibilities with two-player co-op and versus modes. (James Savage)
Plants Vs. Zombies HD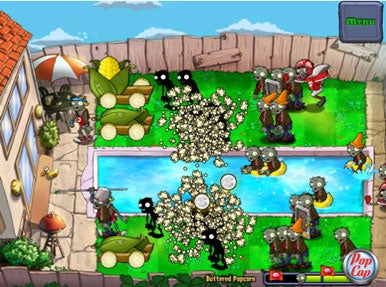 Combining my love of gardening and my need to slaughter the undead, Plants vs. Zombies HD is a unique $12.99 tower defense game from PopCap Games. First released on the Mac and PC in 2009, then on the iPhone, this cartoonish and addictive strategy game gets an iPad exclusive minigame and a bigger screen for you to plant all of your peapods and sunflowers. Plants Vs. Zombies HD also supports up to 11 simultaneous touch points, ensuring you're able to plant, collect sun, launch corncob rockets, or grab coins even faster than you're able to on an iPhone or console. Plants Vs. Zombies has never looked so good. (Chris Holt)
Real Racing HD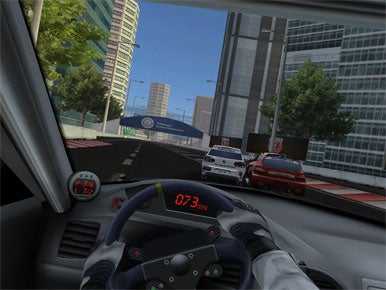 Maybe it was just good fortune that the iPad is about the size of a go-kart steering wheel. Whatever the reason, it's the perfect platform for a first-person racing game, and Real Racing HD — the $12.99 offering from Firemint — is as perfect a launch title as you'll find. With three game modes, three levels of difficulty, five control schemes, and 48 unlockable cars to drive in 76 unlockable events, you've got enough options to create an experience "geared" to your exact specifications. Throw it all together with flawless, high definition graphics, and you've got one of the best racing games in a crowded field of worthy contenders. (Meghann Myers)