App Guide
We covered many of these great experiences over the course of last year, while others we enjoyed on our own time. Finally, we have a great opportunity to sing all their praises together at once.
Whatever the case, these are the top games that demand your time, money and attention from last year, so as 2015 arrives with its weekly slew of fresh, exciting games to download, join us for a look back. And consider clearing a little space on your device before scrolling below.
Threes!
Threes ($3.79) took Apple's vote for the best iPhone game of the year, and it's our pick for one of the most addictive and amazing games we've ever played on an iOS device. This addition-centric puzzler (thanks, math!) sees you combining like numbers in the hopes of creating larger and larger tiles and boosting your ultimate score.
Only it's never as simple as it looks. Swiping to move a tile actually shifts everything on the board that has a place to end up, while also adding a new tile to the board, so each action must be strongly considered if you want to avoid running out of space. Threes is brilliantly conceived, designed and executed, and just… brilliant, really.
80 Days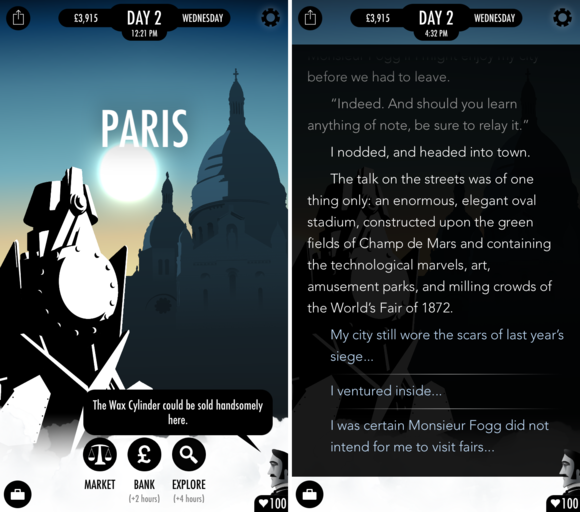 Interactive fiction might not sound like the best use of a vibrant touch screen, but 80 Days ($6.49) proves that notion rather false. Inspired by Jules Verne's classic novel Around the World in 80 Days, it sends you off on a voyage that spans boats, blimps and other contraptions, with more than 150 real-world destinations along the way.
Finding your way back to London within 80 short days is the goal, but the real meat of the game is savoring the adventure as it happens. The dialogue is rich and engaging, but you're not just reading – you're determining both the past and future of the characters between picking routes and managing your limited resources. It's truly engrossing.
Monument Valley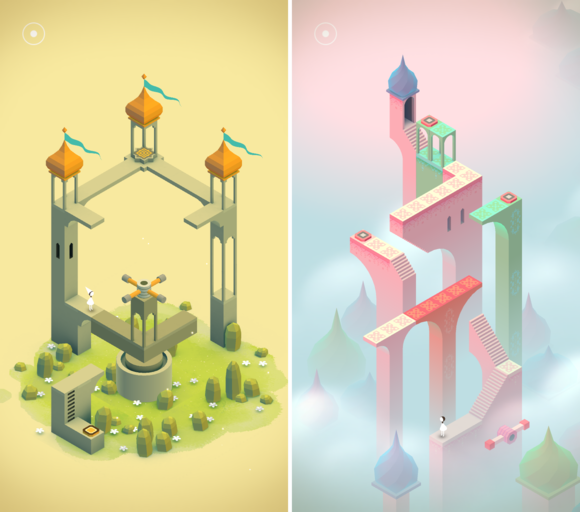 Surely the most dazzling iOS game of the year, Monument Valley ($4.99) delivers a compact but powerful experience that rightfully earned Apple's pick for the top iPad game of 2014. It finds your little heroine wandering through gorgeous environments, as you toy with knobs and dials to open up new paths and guide her to the exit.
Doing so is rarely a fully logical experience, however. Monument Valley plays with perception and physics in its fantastical world, letting you walk on walls and move between paths that appear to be near each other, but really aren't. The visual design is spectacular and surprising, and the quiet narrative moments are unexpectedly touching. Wonderful stuff.
Thomas Was Alone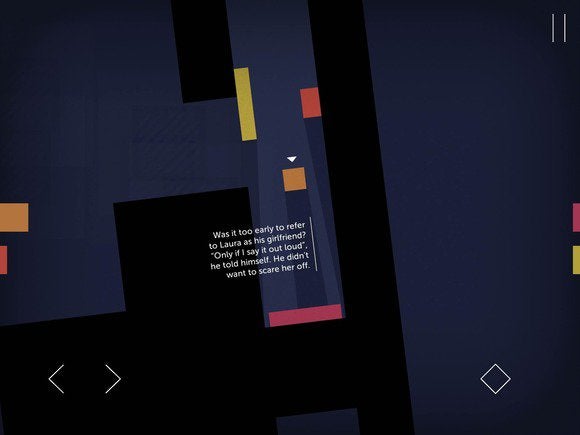 Thomas Was Alone ($7.49) is an odd name for a side-scrolling platform-hopping game, but then again, it's very much an odd game. Sure, there's a bit of puzzle-tinged action as you find your way to each stage's exit, but this graphics-light affair is most memorable for developing warm characters out of blank geometric shapes.
Indeed, there's a story – you control artificial intelligences in a computer come to life. More importantly, each is a separate being prone to emotional responses, and the events play out with dialogue presented by British comedian Danny Wallace. It's a fun game, sure, but it's an excellent overall experience thanks to the warm-hearted humour and charming delivery.
Helix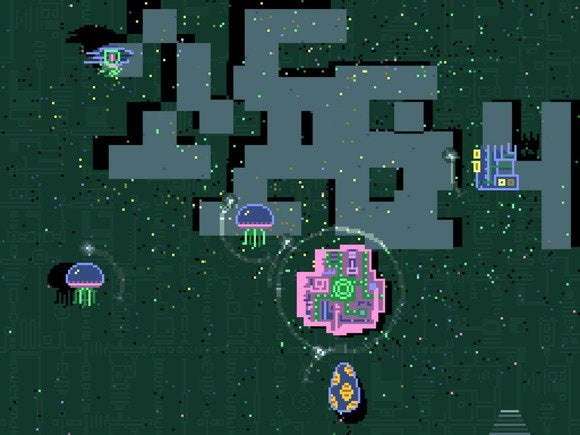 It looks a bit like an arcade-style shooter, but you'll never fire a weapon in Helix ($3.79), nor will you smash into enemies or lead them into explosives. No, you'll simply encircle them by looping around the screen in a mad rush. It's an interesting tweak on the endless action genre, and it made Helix one of our favourite high-score chases this year.
Expectedly, Helix gets difficult very quickly, as numerous enemies flood the screen and some must be encircled twice, while others can only be cleared away when enveloped from a certain direction. Add in some odd surprises along the way – which pair well with the rugged retro look – and it stays plenty compelling.
Vainglory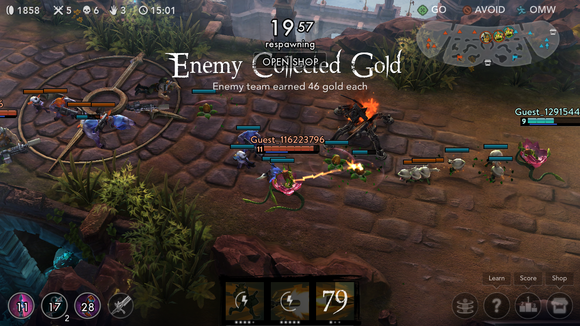 Vainglory (free; with separate downloads for iPhone and iPad) is great. This free-to-play mobile take on the booming multiplayer online battle arena (MOBA) genre translates the strategic team-based action to touch with impeccable skill.
Essentially, you'll team up with two online allies to take the fight to the opposing team's base, bashing turrets and minions along the way as you improve your abilities. Crushing the enemy crystal is your goal, but it'll take teamwork, persistence and a fair bit of time (usually 20-plus minutes) to secure. It looks amazing, too, and the freemium model doesn't hurt the fun.
FTL: Faster Than Light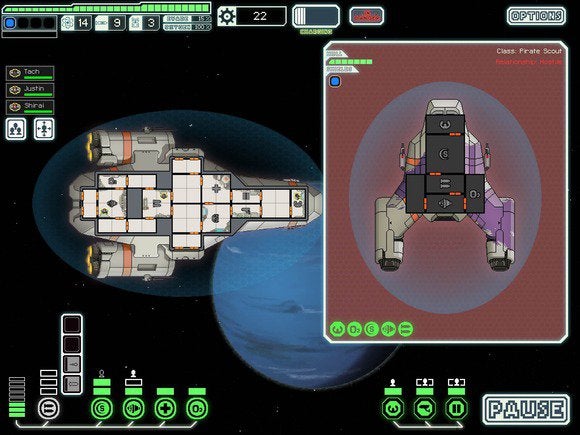 Gluttons for punishment: this is the iPad game for you. FTL: Faster Than Light ($12.99) puts you in command of your very own space vessel, which sounds powerful and cool. But really, it ends up being a constantly tense and brutal battle for survival, with each tiny movement potentially pitting you against an unseen force that will wipe your entire crew from the galaxy.
So what's the hook? It's those encounters: the stakes are high, so every interaction feels meaningful and every scratched-out victory is well worth celebrating. FTL may be relentless in its approach, but if you can stomach the challenge, the payoff is well worth the failures that inevitably came before.
Kingdom Rush Origins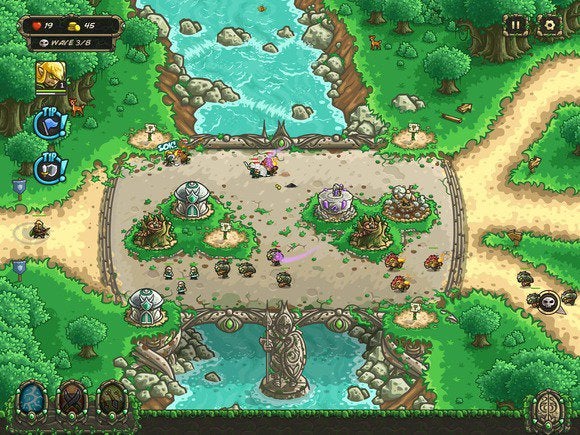 Kingdom Rush is the supreme ruler of the robust tower defence genre in the App Store, and while third entry Origins ($1; $3 for HD) doesn't exactly break the mold, it's one of the most engrossing experiences of the year – and a pretty good place to start for newcomers, being a prequel to the previous games.
Origins delivers 15 new stages, each with a base to protect and a heap of cartoonish monsters aiming to smash it to bits. To prevent that grim fate, you'll need to place (and then smartly upgrade) a series of offensive turrets along the paths using very limited resources. It's challenging, but that's the hook – and you'll be playing well into next year if you want to master it.
Leo's Fortune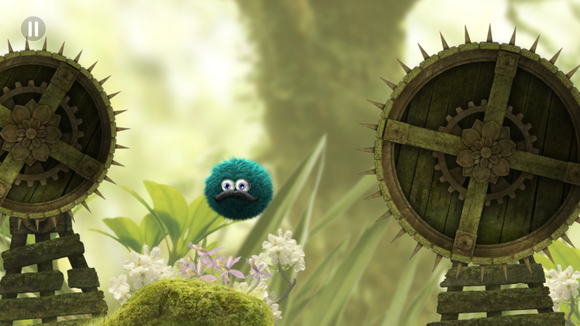 Where a game like Thomas Was Alone feels more "experiential," Leo's Fortune ($6.49) is closer in approach to classic platform games like Mario or Sonic the Hedgehog – albeit specifically designed and tuned to play well on touch screens. Mustachioed hero Leo doesn't have enemies to stomp, but finding his way to the exit requires skill and quick reactions all the same.
Leo can jump, slide and inflate himself to glide through the air, which leads to an array of different scenarios – floating through spiked tunnels, for example, or puffing himself up to activate a switch. A single playthrough is pretty breezy, but bonus objectives amp up the challenge (if you want it), and the presentation is great.
The Banner Saga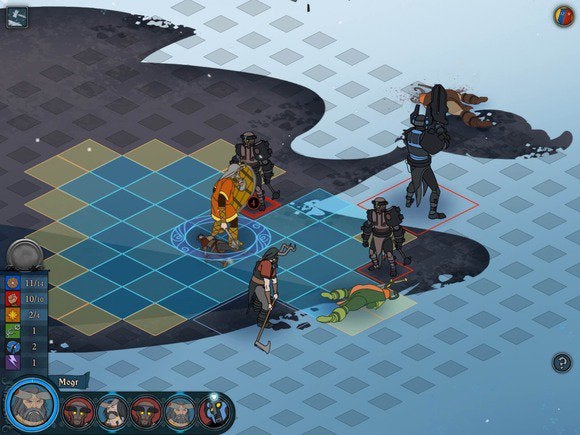 If you're in the mood for something a bit weightier on your iPhone or iPad, The Banner Saga ($12.99) is one of the best 'big' games this year, delivering an involved Viking-inspired quest that sees you leading a caravan of survivors from city to city as the world meets an uncertain fate.
Combat is inspired by turn-based strategic role-playing favourites like Final Fantasy Tactics, but so much of the game is spent off of the battlefield – whether it's guiding dialogue in conversation, or making decisions and managing resources that can determine your group's fate. And the hand-drawn look is simply stunning, offering scenes of beauty amidst the grim premise and events.
Crossy Road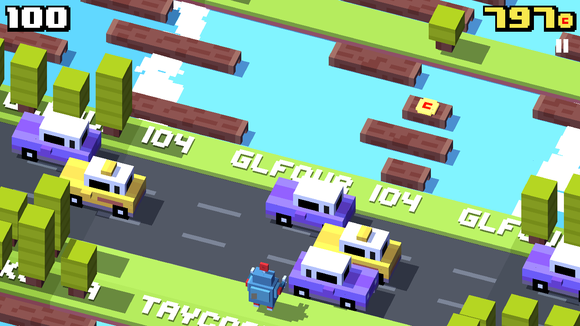 Looking for something sweet and simple to become hopelessly obsessed with? Consider Crossy Road (free), an endless hopper of sorts that tasks you with running into traffic and leaping between floating logs to set the farthest distance possible. Yes, it's basically a twist on Frogger, but the premise works perfectly as a high score chase.
And Crossy Road makes it easy to see whose scores you're smashing – or falling just short of – by plastering them onto the pavement you'll traverse. That social hook makes this timing test all the more appealing, and the bright, Minecraft-esque visuals lend it charm. The friendly freemium design only encourages repeated play, so enlist some rivals and get to hopping.
Smash Hit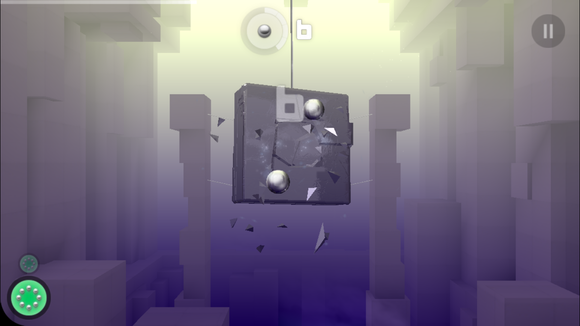 Smash Hit (free) effectively twists the endless runner genre into something new: instead of dodging hazards as you push ahead along a path, you're actually creating the chaos in the world. You'll do that by launching little balls at glass panels, spires and crystals, and you'll need to hit every easily shattered object in sight to do well.
It's a game of momentum and precision, since the run continues until you're out of balls and smashing every crystal gives you free bonus shots. Conversely, missing crystals or running into glass obstacles can quickly kill your supply, which means a shorter run and less chance of reaching the increasingly cool later areas.
Papers, Please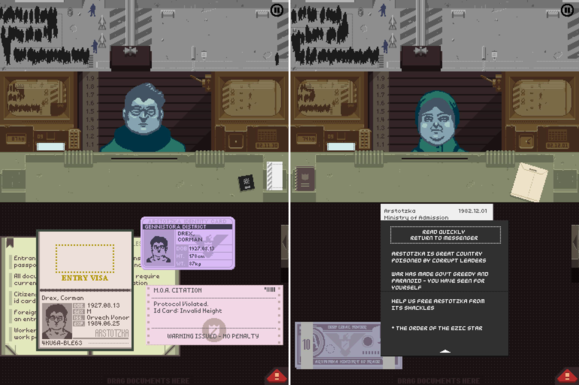 Papers, Please ($9.99) couldn't sound more mundane. You play a newly recruited border agent in a fictional Eastern Bloc country in 1982, making decisions on who can and cannot pass. That means pouring over passports and other documents to verify details, seek out discrepancies and prevent illegals from passing through.
Only it's not just busywork. Your family is sick and starving, and your pay each day is determined by the quality and speed of your work: blow a few details one shift and your son doesn't get medicine. Bribe offers and pleas from would-be immigrants doomed otherwise to death only further complicate your task. It's high drama disguised as drudgery, and Papers, Please makes a very strong impression indeed.
Skylanders Trap Team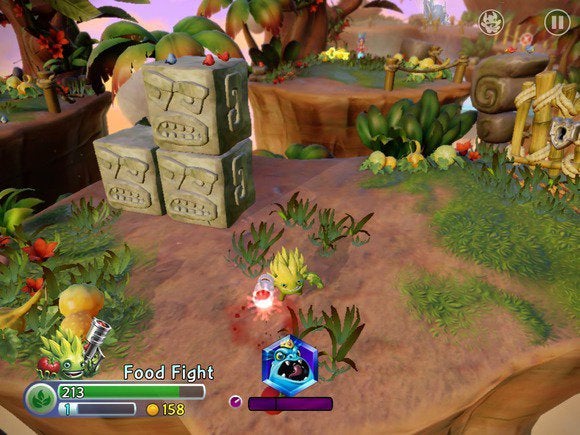 Previous Skylanders games were scaled-down mobile exclusives that couldn't hold a candle to the full console games, but Skylanders Trap Team (free; $75 starter kit required) is the first to deliver the complete experience on iPad. It's a robust, attractive, 3D adventure game that offers platform-hopping action and cartoonish combat – basically a full-fledged Xbox or PlayStation game on your tablet.
Of course, Skylanders is all about merging plastic toys with digital gameplay, so you'll need the starter kit with the Bluetooth portal, NFC-chipped figurines, and a wireless controller. The list price is $75, but we've seen it in the $20-40 range of late, so shop around! It's a very cool experience, especially for kids who haven't fully graduated from physical toys to video games.
XCOM: Enemy Within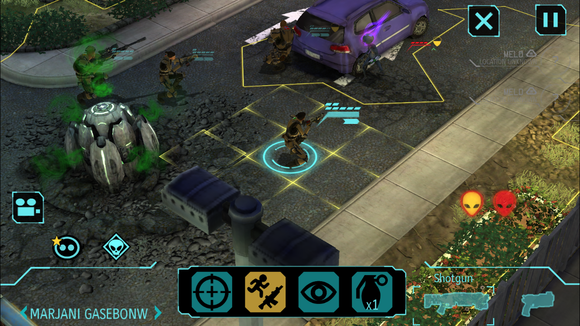 XCOM: Enemy Within ($16.99) might be the priciest game on this list (excluding Skylanders and its starter kit), but it's worth every penny: in fact, it's surely one of the deepest, most content-packed games available on the App Store. It's a newly expanded version of the excellent XCOM: Enemy Unknown, adding a load of fresh content to enjoy.
If you're seeking a deep dive adventure with incredible replay value, XCOM will do the trick. The tactical turn-based battles are complex and challenging, while the between-mission planning and research elements make for a rich, engrossing alien-blasting sci-fi campaign – and that doesn't even take into account the online multiplayer showdowns.
Hearthstone: Heroes of Warcraft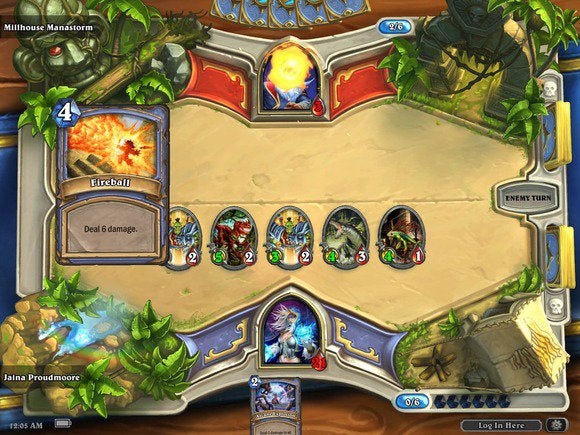 If a collectible card game seemed like an odd spinoff for the beloved fantasy strategy franchise, consider this: Hearthstone: Heroes of Warcraft (free) now has more players than World of Warcraft did at its peak. This free-to-play sensation has taken the gaming world by storm on Mac and PC, but it's the tablet version that has become the go-to pick for many.
Hearthstone is a competitive battler, in which you compile a powerful deck from your digital cards – and try to defeat opponents by playing creatures and leveling attacks. It has a great aesthetic and personality, but the real draw is the tactical combat, which requires a sharp mind and deep understanding of your deck.
Revolution 60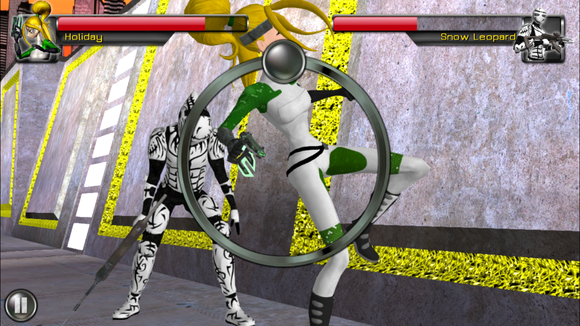 Revolution 60 (free; $7.49 to unlock full game) wraps up a big adventure into a small, mobile-friendly package, with a story of female assassins and spies supported by great writing, exciting action and a distinctive (albeit somewhat scrappy-looking) aesthetic.
We called it "the most ambitious iOS game you'll play all year" back in July, in large part because of how well it condenses a large-feeling quest into an easy-to-play touch affair – whether you're inputting multitouch gestures to complete actions, engaging in grid-based battle or making dialogue decisions to further the plot. Revolution 60 puts its strongest focus on character development, and in the process proves itself a true iOS standout.
Broken Age
Broken Age ($12.99) currently only represents the first half of a complete game experience – the second part was delayed into 2015 – but even so, it's one of the most charming and winningly eccentric things we played all year. In fact, it's a throwback to the classic point-and-click adventure games of old, with two teens united by fate.
Shay is stuck alone on a protective spaceship designed for little kids. Vella is about to be sacrificed by her village to a giant monster. Neither is psyched about what's ahead, so you'll guide them through vibrant locales and solve an array of puzzles to push the amusing story forward. It's short and sweet, but impressively crafted and satisfyingly built for iPad play.
Fotonica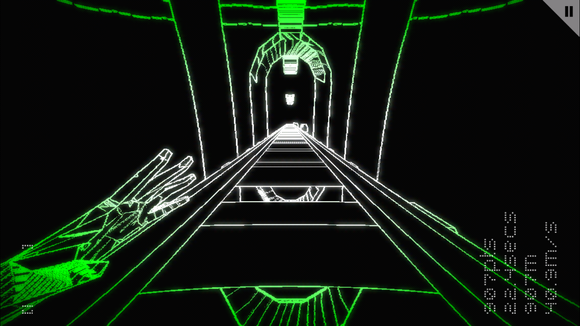 If we played a more exhilarating game on a handheld all year, we've totally forgotten about it. Fotonica ($3.79) is a startling rush of a game: a super-minimal, first-person take on the runner genre that sees you sprinting through wireframe courses and timing leaps and landings alike to avoid falling through the openings.
Each level features the same basic gameplay components, but offers different kinds of terrain to tackle: multi-tiered areas that give you various options, a single flat route with huge gaps that requires precise timing, or even a house and billboards to run along. It'll make your heart thump – just make sure to wear headphones to savour the perfectly paired soundtrack.
Monsters Ate My Birthday Cake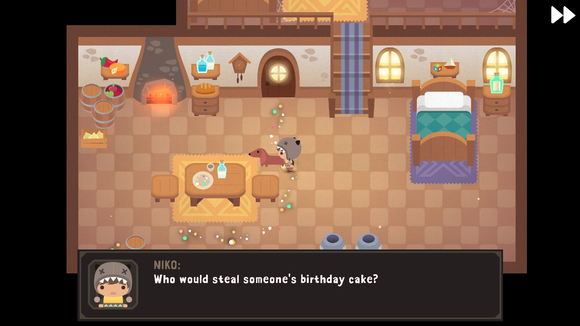 An adorable adventure ideal for all ages, Monsters Ate My Birthday Cake ($6.49) delivers a charming quest to recover a young kid's special treat after local creatures succumb to their "insatiable cakelust." And really, that ought to tell you a lot about the game's winning personality, with hilarious dialogue and fantastic, colourful worlds to explore.
Environmental puzzle solving is on tap in Cartoon Network's original affair, as you'll move objects and manipulate other items to recover cake pieces and defeat evil Boogin monsters. It feels akin to classic console games in spots, but the controls work well for touch – and while a simple playthrough isn't too tough, there's more available for advanced players.