ReadKit
Category:
News
Developer:
Webin
Compatibility:
OS X 10.7 or later, 64-bit processor
Age Rating: 4+
$5.49
---
Available on the App Store
Buy
App Guide
Google's decision to close Google Reader is the best thing to happen to the newsreader industry in a long time. Case in point: ReadKit 2.0 for Mac, a full-featured newsreading client that supports a growing array of services.
And ReadKit is well-equipped to meet your newsreading needs. It supports Feedly, NewsBlur, Feed Wrangler, Feedbin and read-later services like Pocket and Instapaper; it even downloads feeds on its own without a sync service. You can save and share articles via the services OS X supports natively like Twitter and Facebook, as well as via Instapaper, Pocket, Readability, Pinboard and Delicious. It also does a good job of supporting the unique features of some services, such Pocket's separate filters for regular articles, videos and image links that you saved to view later.
ReadKit brings a great deal of style and customisable features to the newsreading table, while keeping most of it out of your way until you want it. It's a great app for the post-Google Reader world.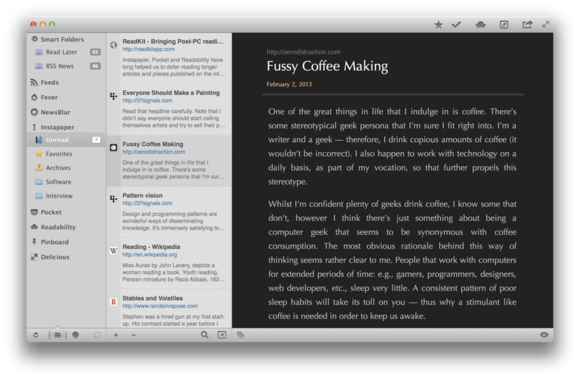 by David Chartier, Macworld