Potty Time with Elmo for iPhone / iPad
Category:
Education
Developer:
Sesame Street
Compatibility:
Compatible with iPhone, iPod touch and iPad. Requires iOS 4.0 or later.
Age Rating: 4+
$2.99
---
Available on the App Store
Buy
App Guide
You'll get a complete package with Potty Time with Elmo, an iPhone and iPad offering from Sesame Street featuring the ubiquitous red muppet. Take note, however—while he may get top billing, Elmo only has a few lines of dialogue in the app. A narrator supplies the rest of the story and even the included songs are performed by a non-Elmo singer. It's not that big of a deal, but if you download the app hoping for wall-to-wall Elmo, you need to dial down your expectations.
What you will get with the app is a rather pleasing story, in which Elmo shows kids how to go to the potty, from knowing when it's time to go to washing your hands afterwards. You can opt between Read & Play, Listen & Play, and Just Watch modes. The Play part of those options is especially noteworthy: Each scene features an interactive element that makes a noise and vibrates when tapped. You'll also hear a squeal of delight from Elmo the first time you discover that tappable element, and it gets stored in an achievement roll.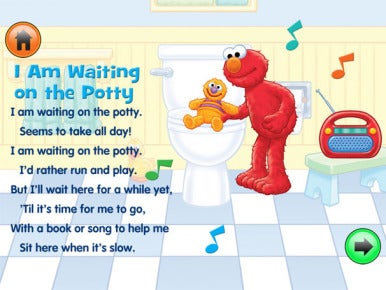 Extras include a four-piece puzzle game that's just easy enough for toddlers to solve and bask in Elmo's appreciative cheers. A sticker reward chart lets parents track when their kids go to the potty, wipe, flush, and wash their hands. It all adds up to a pretty solid one-stop app for your potty-training needs.