App Guide
The school year is coming to a close but teachers can use all the help they can get when it comes to keeping kids focused. The right iPad apps let teachers create dazzling lessons, quickly update parents and stay organised without going crazy.
If you're a teacher, you know the struggle is real. These apps barely scratch the surface of the creative and organisational tools the iPad has to offer, but we found the best ones to help you manage the time for what you actually want to do: teach.
Free
Many teachers connect a computer or iPad to a projector, replacing the traditional whiteboard. Doceri supports both Windows and Mac for easy projecting through a connected computer. The app lets you annotate slideshows and mark up the screen with math equations.
The Mac version of Doceri also supports AirPlay, so you can walk around the room and nudge the students who are nodding off while proceeding with your lesson.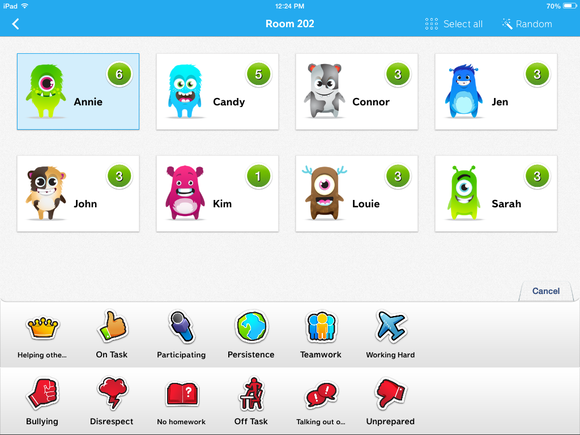 Free
ClassDojo is a behaviour-management app that lets you reward students for specific actions. You can customise types of behaviours you want to recognise and share student data with parents through weekly reports.
Students also get their own account and can check in on their progress and customise their avatars. You can extend ClassDojo with two apps the company released pushed out: ClassDojo Messenger for secure conversations with parents and ClassDojo for Students so the little monsters can check on their progress.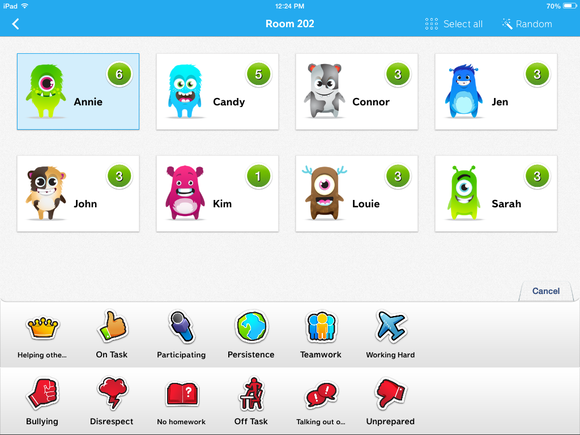 Free
Remind is an excellent way to securely communicate with students and parents. The app lets you send a mass message to a group, remind them of upcoming quizzes, or promote events on campus.
No phone numbers are ever exchanged, so your students and parents don't have to worry about any privacy violations. Remind recently added the ability to get feedback with stamps, so you can use the app to send out a poll question to your class and get instant feedback.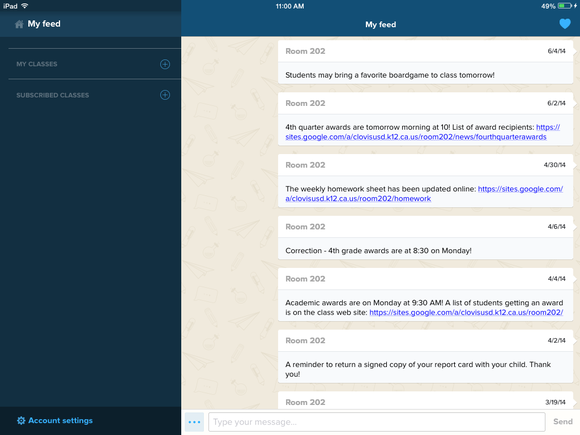 Free
Edmodo has become one of the benchmark classroom management tools, creating an online environment that feels like a social network without any of the issues that come with one.
You can post assignments, announcements, conduct polls and use the app to engage with the class in a variety of ways. Edmodo also recently launched a tool called Snapshot, which lets you assess and measure students' performance with Common Core standards.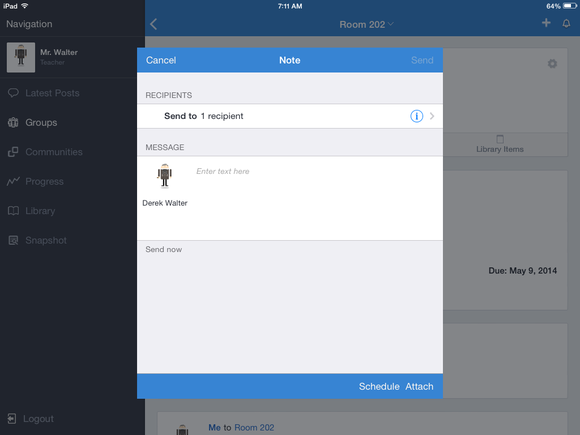 Free
Access all your key files from your iPad by storing them in Google Drive. If you want to edit any of the files, you need the Google Docs, Sheets and Slides apps, which are available as separate downloads from the App Store.
This is especially useful if your school or district is using Google Apps, as you can collaborate in shared files directly on your iPad. With Google pushing its new Classroom site for teachers, Drive could become an essential hub for evaluating students' work.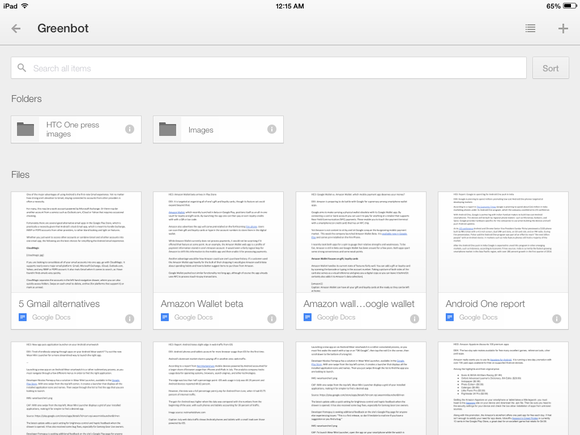 Free
Common Core standards are the norm in most states by now, a change which has been a dramatic one for many teachers used to different expectations.
The Common Core app is an excellent resource, letting you quickly reference standards for lesson creation, collaborate with colleagues and handily impress administrators. It puts all the standards right there for easy access, making it much faster than performing a search in the browser.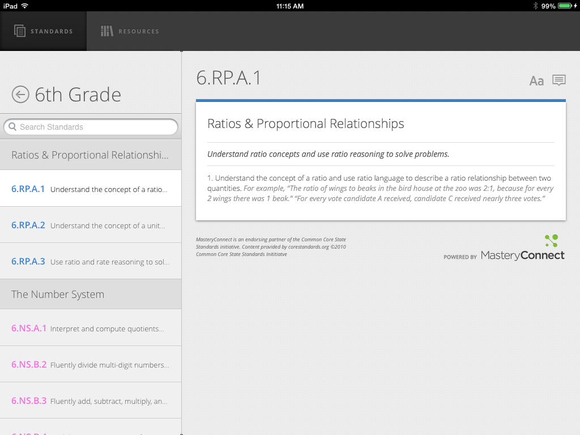 Free
Haiku Deck makes it easy to quickly create visually engaging slideshow decks. Just type a few words into each slide and choose from the auto-generated images. The result: a super impressive and attractive slide without any effort.
You can also sign in with Twitter to quickly share slides with others or embed them on your classroom website. Haiku Deck is also an excellent tool for teaching students how to build slideshows without all the extra confusion that sometimes comes from learning PowerPoint, especially for elementary students.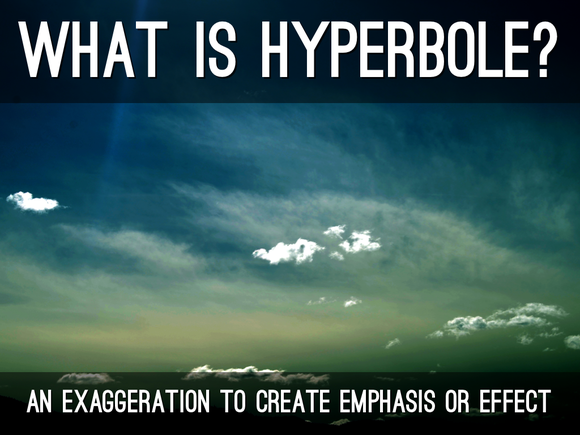 Free
Paper is an incredibly popular way to create elegant sketches and note pages, and for good reason. If you fancy handwritten notes, then the app is especially useful for staff meetings (once they get boring and you would rather doodle).
With in-app upgrades, you can unlock different writing tools. The company also makes its own stylus designed to be hyper-accurate. If nothing else, Paper gives you a blank canvas that can be used for pretty much anything you want: exactly the kind of brainstorming tool you sometimes need as a teacher.
Free
Sushi Monster may technically be for students, but sometimes teachers need to kill some time with fish-gobbling monsters. Use your iPad to play Sushi Monster with the kids or let them have a go at improving their math skills under the guise of learning math.
To win Sushi Monster, you have to appease the beasts by matching the multiplication and addition equations with the given answers. The game also has a catchy soundtrack that only gets slightly annoying the longer students play.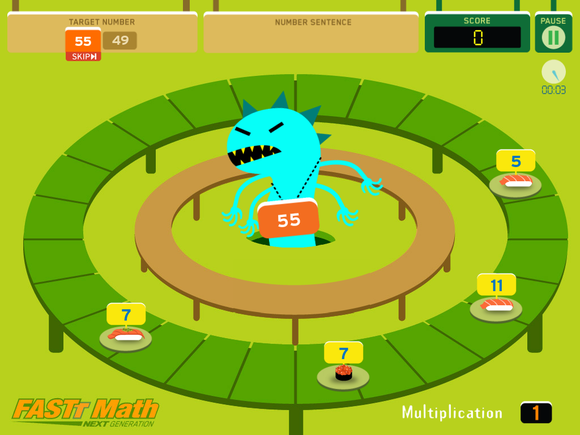 Free
Evernote certainly isn't unknown, but it deserves a shout-out for the ways it can help teachers with the staggering amount of paperwork they accumulate over the course of a school year. Evernote is designed for saving everything, like email attachments and pictures of handwritten notes, and would work well as a hub for lesson plans.
Don't overlook two other key Evernote apps: Penultimate as a digital notebook and Skitch for marking up images, maps and webpage clips.
If you find yourself using Evernote constantly it may be worth the premium subscription, which gets you additional storage and some nice search features for $56.99 per year.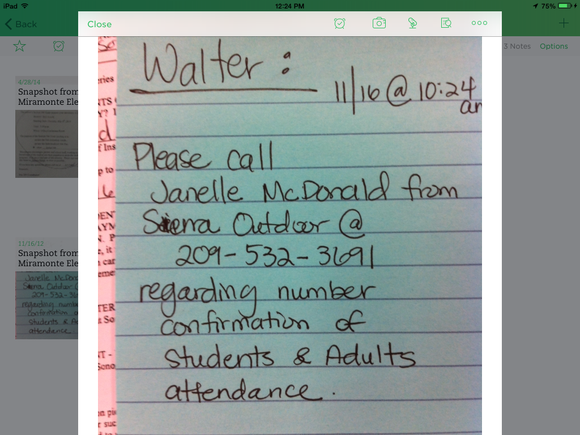 $3.79
While there are plenty of digital notebooks in the App Store, Notability stands out. It comes with plenty of tools for marking up a page, including a highlighter, various pens and (of course) an eraser.
If a staff meeting seems important, and you can record it by simply hitting the microphone button. The app also uses iCloud to sync up your content between the company's iPhone and Mac apps.