Folderol
Category:
Utilities
Developer:
Erica Sadun
Compatibility:
OS X 10.8 or later, 64-bit processor
Age Rating: 4+
$3.79
---
Available on the App Store
Buy
App Guide
Mavericks's Finder tags feature offers a number of benefits over the older file and folder labels, but one of the drawbacks of tags is that items are no longer coloured with your preferred tag (nee label) colour – you see just a tiny, coloured dot next to the file name. The reason for this is clear: While you could apply only a single label to a file or folder in OS X 10.8 and earlier, you can apply multiple tags to files, so OS X wouldn't know which of those tags to use for the item colour.
Still, I really miss the coloured folders of old, as I used those colours as quick-glance "Hey, this is [important/finished/etc.]" indicators. I've been able to restore an approximation of this feature using Erica Sadun's $3.79 Folderol, which makes it quick and easy to colourise the icon of any folder.
Launch Folderol, and its window offers a row of default folder colours; click one to chose that colour, or click the swatch to the right to choose any custom colour using the OS X color picker. Whichever you do, your chosen colour appears in the large drag-and-drop area above. Drag one or more folders into that area, and Folderol instantly gives each folder the appropriate coloured-folder icon.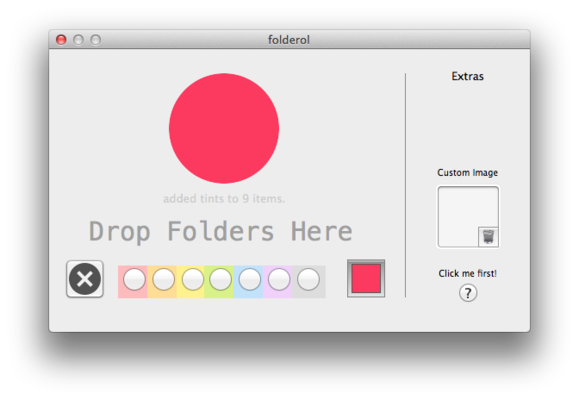 Alternatively, you can easily apply both a custom image and a custom colour to a folder – say, an image of a large exclamation point combined with a bright-red tint – by first dragging the image into the Custom Image well. You then choose your colour and drag the folder to be modified.
A nifty option (Folderol > Tint And Tag) lets you colourise folders and apply Finder tags at the same time. With this option enabled, you type a tag name in the Tag field before dragging your folder into the Folderol window; alternatively, you can leave the Tag field blank to automatically tag the folder with its colour name (for example, Red). However, I couldn't get Folderol to use existing Finder tags – if I typed "Highest" into the Tag field, whenever I used Folderol to tint and tag a folder, the resulting Finder tag was Highest*.
By default, Folderol lets you modify only folders. However, if you choose Folderol > Folders Only to uncheck that option, you can modify file (though not application) icons, as well.
You can remove a Folderol-applied coloured folder by clicking the no-colour (x) button and then dragging a colourised file or folder into the Folderol window again; alternatively, you can use the Finder's Get Info command (File > Get Info) on the folder, select the folder's icon in the Info window, and press Delete.
Now for the caveats: Folderol doesn't highlight the entire icon and name with your chosen colour, as OS X 10.8 and earlier did with labels – it just colours the folder. It also feels like a bit of a kludge: If you have Finder aliases, you have to use Folderol on the original items, not the aliases; Folderol changes the modification date of any folder you use it on; and if a folder has a custom icon, Folderol completely replaces that icon with a coloured-folder icon. Finally, it would be nice if there was a way to automatically sync Folderol colours with Finder tags so, for example, you could sort Finder windows by Folderol colours.
But despite these limitations, for those of us who have long used Finder-label colours as visual cues in the Finder, Folderol is a big improvement over the tiny circles of tags.